Videos: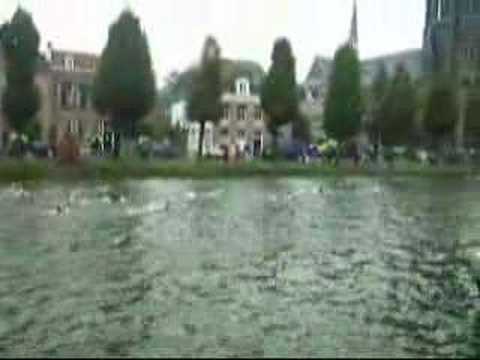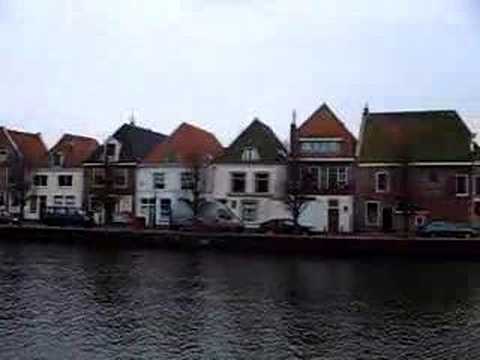 More videos
Weesp
Interesting places in Weesp:
Weesp received city rights in 1355 by William I, Duke of Bavaria.
The small historic centre, the and the waterside streets and quays, are the main attraction of Weesp. Specific sights include:
old Town Hall (1776), Nieuwstraat 41. It houses a small museum for porcelain, (one of the old industries in Weesp), limited opening hours.
the circular fort at Ossenmarkt (1861), cross the Vecht by the wooden bridge. See the online . Behind the fort are two older bastions (circa 1674), Bakkerschans and Nieuw Achtkant (with a view of the windmills).
the two windmills, (Unity) and (Friendship), near each other on the Vecht, east of the centre. They are best seen from the opposite bank, about 10 minutes walk from the centre.
the 15th-century church, Laurenskerk, Nieuwstraat.
former Synagogue, Nieuwstraat 5. Used from 1840 until 29th April, 1942, when the Jews of Weesp were deported.
the moat and eastern bastions, Roozenboom and Draaierschans, built 1674, and now a small park. They are left and right at the end of Nieuwstraat.
the expendable wooden houses across the moat from the bastions, on Utrechtseweg and Molenpad. An area near city walls and forts was kept clear of vegetation and buildings, to give a clear field of fire. Small houses were allowed, but only of wood, so that the garrison could burn them quickly if the enemy approached.
Other fortifications around Weesp, simplified from the , are:
Fort Uitermeer (1845), protecting the lock of the old canal to 's-Graveland, where it joins the Vecht. On the right bank of the Vecht, 4 km east of Weesp.
bunker cluster Uitermeer (1932 and 1939), around the fort. Visible from the main road Weesp-Hilversum (N236), and from the cycle path to Bussum
bunker cluster Hakkelaarsbrug (1931), on both sides of the A1 motorway, near the bridge carrying the rail line to Almere. Some visible from the road to Muiderberg.
bunker cluster Muiderberg (1939), most are hidden in the woods around the village.
Fort Hinderdam, fort island (circa 1848). On the left bank of the Vecht, about 1 km south of the N236 bridge.
Bus 110 takes you from Weesp to in just 5 minutes, and the Muiderslot castle is another 10 minutes walk from the bus stop. You can also walk along the Vecht river, it would take about an hour from Weesp to the castle.
Location is derived from the great work of
WikiMapia
Top photos chosen by u all:
Weesp, 10 augustus 2010
Made by
Coen Ormel
De tegenstelling qua weertype was groot in vergelijking met het begin van de dag. In de inmiddels afnemende regen passeert de Strukton 303002 als trein 55826 van Crailoo naar Rotterdam Centraal ter hoogte van Weesp. De loc vervoerd een trein met grote wisselsecties t.b.v. van de werkzaamheden aan de tunnelbuizen tussen Rotterdam Centraal en Rotterdam Zuid. Fotografisch gezien begon de trein achter de loc helaas met 5 stuks Res'en met spoorstaven voordat de 6 wisselwagens, type Uagoos van WS Logistik, in zicht kwamen. Achterop de trein lopen nog een setje Salmmnps'en mee, gehuurd van DVVO, beladen met korte spoorsecties.
2011-29 Gatekeeper
Made by
Birgitta Seegers
This cute little gatekeepers house in Weesp is the location where I get my BSR treatment. It's a very peaceful place, next to a fortress that was part of the defense line of Amsterdam which protected Amsterdam against his enemies in the 19h century.
www.bodystressrelease.co.za/bsr_whatis.htm
www.stelling-amsterdam.nl/english/index.html
Gezellig groen
Made by
M C N
De viertjes Mat '64 hebben nog echte meterverlichting. Verlichting achter de meters dus, geen lampjes die op de meters schijnen. De meters zijn prima af te lezen, maar de schakelaars zijn wat moeilijker te vinden. Die zijn immers niet verlicht. Gezellig is het wel. Kachel aan, lampjes aan, nog een Intercity voorbij laten gaan en dan mogen wij weer verder richting Leiden. En ondanks de leeftijd van dik 40 jaar rijdt hij nog heerlijk. Treinstel 520, cabine 1.
Annual rings
Made by
lynnlin
When the winter comes, I think that all chinese will think of chinese new year. I am not an exception either. Until now, I start to cook a lot myself and sometimes I feel amazed at it. Because I cook from my imagination. :-D For me, having a coffee outside is expensive. I am a poor student now. But sometimes having one outside is very nice too. ;-) I like the annual rings at the edge of the coffee cup very much. It makes me thinking of time fly. :-)
2010-1411.JPG
Made by
schuttermajoor
Diemen-Bussum. Na Weesp liepen we eerst langs de Vecht. Maar het zicht op de Vecht werd totaal ontnomen door woonboten. Dus daar geen foto van. Maar na een kilometer gingen we van de vechtdijk af de Nieuwe Keverdijkse Polder in. Over de Reaalspolderweg liepen we richting Naardermeer. De rust van dit open land wordt voor een flink deel verpest door de herrie van de A1 en, in mindere mate, de spoorlijnen die dwars door de polder lopen.
20100629-001
Made by
Bob Visser
De 6493 met circustrein 47797 van Awhv naar Bh passeert Weesp op dinsdag 29 juni 2010. Circus Roncalli from Hannover is one of the few (if not the only) cirsusses that uses trains for all of its transportations. After 4 weeks in Amsterdam on Tuesday, June 29, 2010 the circus was brought back to Hannover with 2 trains. The first one passes Weesp underway to Bad Bentheim in the early morning.
08499081-2959 Weesp 19 februari 1987
Made by
peter_schoeber
De oude mDw Jules staat gereed om voor een ATB-meetrit te vertrekken in de richting van Almere. Op deze dag werd de ATB van het nieuwe baanvak naar Almere in dienst gesteld en uiteraard mocht daarbij de oude mDw Jules op komen draven. The old mDw Jules ready to leave into the direction from Almere to measure the Automatic Train Control system on the new line to Almere.
ACTS1251+50021_Wp_10052009
Made by
dennis koster
Met maar 24 uur vertraging passeert ACTS 1251 met aan de haak een nagenoeg volledige beladen Coevorden shuttle (achterin een paar lege plekken) het station Weesp als trein 50021 (Mvtw - Co) richting Coevorden. Volgens sommige zou dit de laatste inzet geweest zijn van de 1250 serie voor de Coevorden shuttle. Het lijkt me zeer onwaarschijnlijk, maar we gaan het zien.
20101105-002
Made by
Bob Visser
De Venice-Simplon-Orient-Express op zijn rondje door Nederland. De 1756 komt met deze trein met 20 minuten vertraging door in Weesp. Vrijdag 5 november 2010. NS 1756 with the Venice-Simplon-Orient-Express on a roundtrip Amsterdam-Utrecht-Arnhem-Zutphen-Deventer-Amersfoort-Amsterdam passes Weesp on Friday, November 5, 2010.
NSR 528, Weesp
Made by
Björn Nielsen
Station Weesp dient voornamelijk als overstapstation tussen de Gooilijn, Flevolijn, Schiphollijn en het stoptreintraject naar Amsterdam Centraal. Plan T 528 staat op station Weesp te wachten totdat de IC naar Schiphol ver genoeg is doorgereden, om vervolgens als trein 5764 naar Schiphol, Leiden en Dordrecht te rijden.
08499083-2962 Weesp 19 februari 1987
Made by
peter_schoeber
De mDw Jules passeert de Vechtbruggen op weg naar Almere. Bij gebrek aan ander vervoer heb ik deze achtervolging van de Jules per fiets uitgevoed. The mDw Jules passes the Vechtbridges on its way to Almere. Because I had no alternative I hunted the Jules with a bike that I rented at the station from Weesp.
Weesp canal bridge
Made by
OrliPix
See where this picture was taken.
The bridge is one of the key attractions in Weesp. Some people might think Weesp is blaaah, but I thought it was quite charming, a nice restful contrast to Amsterdam.
Sneltrein
Made by
Rienk Mebius
Loc 1749 met een rijtje huurlingen (trein IC 1559) op weg naar Amersfoort. Achterop rijdt loos de 1763. Weesp, Zondag 26 Augustus 2007.
Camera: Canon EOS 400D Digital Exposure: 1/2500 sec Aperture: f/2.8 Focal Length: 50 mm ISO Speed: 100 Exposure Bias: 0/3 EV Flash: Flash did not fire
2010-1409.JPG
Made by
schuttermajoor
Diemen-Bussum. Smal Weesp, met de vroegere korenmolen 't Haantje. Geleidelijk aan blijk ik Che steeds meer vrijheid te geven. Een paar maanden geleden was het nog ondenkbaar dat ik Che zo los in de bebouwde kom zou laten lopen.
RN6410+mP 3029+mP 3024_Wp_22012008
Made by
dennis koster
Op dinsdag 22 januari 2008 werden mP 3029 en 3024 overgebracht van Amsterdam Werkplaats naar Amersfoort. RN 6410 met aan de haak mP 3029 en mP 3024 passeert Weesp als trein 53614 van Amsterdam Werkplaats naar Amersfoort.
Femke Halsema op het station
Made by
comicbase
Twee verkiezingsposters van GroenLinks op treinstation Weesp. Update 17-12:
www.jeroenmirck.nl/2010/12/twexit-femke-halsema/
img086
Made by
Bart Zegers
Wegens werkzaamheden tussen Amsterdam CS en Utrecht CS werden de IC- en EC-treinen richting Utrecht omgeleid via Hilversum. Eloc 1601 Amsterdam trekt de omgeleide IC947 naar Heerlen door Weesp. 11-06-1994.
Two Weesper houses
Made by
drooderfiets
Visit
drooderfiets.tumblr.com/
and
know more about this place
Wispe
Made by
krizzz.nl
Both bottle and glass are empty... this white beer, flavored with a hint of cocao is too good to let it wait posing... hopefully the sight of the Vecht and the town of Weesp makes it up somewhat :P
Fort aan de Ossenmarkt in Weesp
Made by
Rens Kokke
Onderdeel van de Stelling van Amsterdam -
GPS route Amsterdam Blauw en Groen - Vecht
Videos:

Weesp kwart Triatlon 2006
triatlon. true the nice little city "Weesp" near Amsterdam, The Netherlands....Sports swimming rivers windmills Weesp. The-Netherlands Holland ducks catholic


Sinterklaas in Weesp
Intocht van sinterklaas in Weesp....Sinterklaas weesp pieten pepernoten tvweesp


Weesp
Weesp...Weesp


Sinterklaas, Weesp, NH, The Netherlands
Sinterklaas tour in the city, November 2007...Sinterklaas Weesp


ICE in Weesp
ICE III van de DB...ICE III weesp station trein spoor DB NS perron snel


DD-AR Weesp
2 DD-AR´s bij Weesp...DD-AR weesp trein station spoorweg perron


DB IC (berlijntrein) in Weesp
dagelijkse berlijntrein (schiphol - berlijn - scecin glowny (PL)...BD 1700 weesp station trein spoor berlijn


Gein
Gein tussen Abcoude en Driemond/Weesp...Gein Abcoude Driemond Weesp


ICM koploper in Weesp
De ICM koploper langs Weesp...ICM koploper NS spoor rails perron Weesp


2 sprinters
op een trein richting Weesp. Amsterdam, 16 April 2007...Amsterdam train trein


Nearest places of interest:
Popular places: