Videos: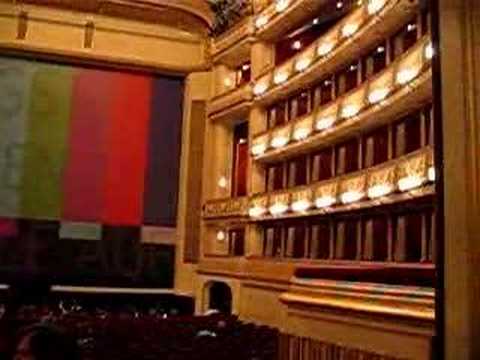 More videos
Vienna State Opera
The Vienna State Opera is closely linked to the Vienna Philharmonic Orchestra, which is an incorporated society of its own, but whose members are recruited from the orchestra of the Vienna State Opera.
Location is derived from the great work of
WikiMapia
Top photos chosen by u all:
Wien, 1. Bezirk, Wiener Staatsoper, Ópera Estatal de Viena, L'opéra d'État de Vienne, Vienna State Opera, Opera Wiedeńska (Neorenaissance)
Made by
Josef Lex
de.wikipedia.org/wiki/Neorenaissance
Renaissance Revival (sometimes referred to as Neo-Renaissance) is an all-encompassing style designation that covers many aspects of 19th century architectural revival styles which were neither Grecian (see Greek Revival) nor Gothic (see Gothic Revival) but which instead drew inspiration from a wide range of classicizing Italian modes. Under the broad designation Renaissance architecture nineteenth-century architects and critics went beyond the architectural style which began in Florence and central Italy in the early 15th century as an expression of Humanism; they also included styles we would identify as Mannerist or Baroque. Self-applied style designations were rife in the mid- and later nineteenth century: Neo-Renaissance might be applied by contemporaries to structures that others called Italianate, or when many French Baroque features are present (Second Empire). The divergent forms of Renaissance architecture in different parts of Europe, particularly in France and Italy, has added to the difficulty of defining and recognizing Neo-Renaissance architecture. A comparison between the English Wollaton Hall,[1] Italian Palazzo Pitti, the French Château de Chambord, and the Russian Palace of Facets, — all deemed Renaissance — illustrates the variety of appearances the same architectural label can take. Neorenaissance oder Neurenaissance ist eine Richtung des Historismus im 19. Jahrhundert, in der auf die Baukunst der Renaissance zurückgegriffen wird. Je nach Einzelfall stammen die Formen schwerpunktmäßig aus dem Repertoire der italienischen Renaissance oder hauptsächlich aus der deutschen Renaissance bzw. Nordischen Renaissance des 16. Jahrhunderts. Der Neorenaissance hatte ihre größte Wirkung zwischen 1870 und 1885, als ihre Formen im strengen Historismus als vorbildlich galten. Dieser löste dabei den romantischen Historismus ab, bei dem die subjektive Interpretation des Architekten den Stil des Gebäudes bestimmte. Propagiert wurden ihre Formen von Gottfried Semper und Hermann Nicolai (Semper-Nicolai-Schule), von Rudolf Eitelberger, dem Gründer der Wiener Kunstgewerbeschule (heute Universität für Angewandte Kunst Wien), sowie von anderen wichtigen Architekten der Zeit. Vor allem in Wien sind ganze Straßenzüge in Bauformen der Neorenaissance gehalten, nicht zuletzt an der Wiener Ringstraße. Nach der im Historismus üblichen Zuteilung bestimmter Stile für bestimmte Bauaufgaben war die Neorenaissance vor allem für Banken, Bürgerhäuser und auch Bildungseinrichtungen bestimmt. Ungefähr gleichzeitig entwickelte sich der Neobarock, der ab 1885 begann, die Hegemonie der Neorenaissance abzulösen. Ausprägung fand die Neorenaissance auch in Innenräumen, bei Kirchenausstattungen und im Möbelbau. Sie endete – mit einigen wenigen Ausnahmen bei Möbeln – um 1900.
Backstage
Made by
wenzday01
Looking into the seats of the Vienna State Opera from the backstage area during our tour. The tour is definitely highly recommended if you're in Vienna, even if you're not a big opera fan. The Vienna State Opera was built back in the mid-1800's, but was heavily damaged in World War II. Parts of it was rebuilt after the War. The interior is absolutely beautiful. It's one of the largest and most important opera houses in Europe. The cost of the tickets is partially subsidized by the Austrian government. The day we were there, they were having the second performance of Das Rheingold (Wagner). We wanted to go see it after hearing about the $3 standing room tickets, but those were sold out. There were a couple of old ladies who had purchased the tickets to the performance some nine months ago and were so excited to see it.
Vienna (Konzerthaus)
Made by
WVJazzman
The Konzerthaus is home to the Vienna Orchestra, which puts on regular concerts of Strauss waltzes. The Viennese waltz developed from the Tyrolean 3-time Landler around 1820. It was introduced to Vienna by Josef Lanner and Johann Strauss, senior, and reached its greatest popularity under his son Johann Strauss, junior (1825-1899), whom the Viennese called Jean because of his great success in Paris. The Blue Danube - ordered in 1867 for one of the Carnival balls - The Artist's Life, Tales from the Vienna Woods and The Emperor's Waltz made Strauss the king of the waltz. He employed 300 musicians who distributed themselves in the ballrooms and whom he conducted in turn. Strauss created the Viennese operetta as typified by Die Fledermaus (The Bat) and The Gypsy Baron.
Wiener Staatsoper
Made by
Istvan
Built as 'Neues Haus' between 1861-1869, designed by August von Siccardsburg and Eduard van der Nüll. The facade was criticized by the media of the age and by Franz Joseph I himself on the opening ceremony, so van der Nüll (a mentally fragile person) committed suicide at the age of 56. His partner, von Siccardsburg was neither a lucky man: he died of tubercolosis 10 weeks later. According to the legend, Franz Joseph I was so shocked by the suicide of van der Nüll that he refrained from public art criticism in his later life. - The building was heavily injured during WWII, but the original outlook had been restored by 1955, and on 5th November 1955 the Vienna opera ensemble returned to its original home. An earlier approach from a different direction can be seen
Belvedere Palace, Vienna...
Made by
Manon van der Lit
The Belvedere is a baroque palace complex built by Prince Eugene of Savoy in the 3rd district of Vienna, south-east of the city centre. It houses the Österreichische Galerie Belvedere museum. In 1720-1723, the Upper Belvedere was built, originally intended simply to provide a suitable end to the main garden axis. The architect was again Johann Lukas von Hildebrandt. Once again there is a central Marmorsaal—the site of the signing of the Austrian State Treaty, that formed modern Austria, May 15, 1955—but the Schloss was soon enlarged to provide the main summer residence of Prince Eugene. Its painted ceilings are by Carlo Carlone, with an altarpiece in the chapel by Francesco Solimena.
Vienna International Centre
Made by
United Nations Photo
The Vienna International Centre (VIC) is home to the United Nations family in Vienna and is one of the four United Nations headquarters worldwide. The VIC, designed by Austrian architect Johann Staber, was handed over to the United Nations and the International Atomic Energy Agency 30 years ago this month on 23 August 1979. Secretary-General Ban Ki-moon attends a special ceremony to mark the 30th anniversary of the VIC. A right side view of the United Nations Vienna International Center. 28/Aug/2009. Vienna, Austria. UN Photo/Mark Garten.
www.unmultimedia.org/photo/
Giacomo PUCCINI Vintage Photo SIGNED
Made by
detengase
Vintage photograph postcard (photo by Künzli Torino 1900) with autograph musical quotation of LA BOHEME (Mi chiamano Mimi) Vienna Okt.1913 originally hand SIGNED by the composer. Puccini spent three weeks in Vienna, he went to the Opera several times. the main reason was to attend the Viennese First Perf. of GIRL FROM THE GOLDEN WEST at the Court Opera with Marie Jeritza and Alfred Piccaver. During these days the Maestro met Erich Wolfgang KORNGOLD and Franz LEHAR for the first time - This is a vintage collectible from my private collection - presented in occasion of the 150th anniversary of Puccini 's birthday.
Please Fill My Cup
Made by
United Nations Photo
A tiny Austrian school boy thrusts his empty cup forward to ask for the hot milk he receives each day, thanks to the United Nations International Children's Emergency Fund (UNICEF). His cup is only one of the many millions throughout the world which UNICEF helps fill daily with milk and other protective foods. [Late 40s]. 1/Jan/1949. , Austria. UN Photo/x.
www.unmultimedia.org/photo/
Opera Entrance
Made by
theodevil
Few weeks ago, I was by the Vienna State Opera house. The whole time this walkway was full of people. So I decided to let it be, but after few steps, I turned around and the walkway was absolutely empty. So I quickly took this shot :). HDR from three shots, taken with Canon 450D with sigma 10-20mm lens, handheld. Also check out my first timelapse video here
hdrshooter.wordpress.com/
Psychedelic Kiss
Made by
FreelyFreeMind
Vienna, Mumok Canon Eos 350D, Canon 18-55 f/3.5-5.6 Ed è quando l'emozione ti prende, come un vortice impietoso, che perdi la forma di te stesso e la misura delle cose. Smarrito nella linea confusa di una strada che non sai capire. Is when the emotion take you - like a merciless vortex - that you lose the shape of yourself and the measure of things. Lost in the confused line of a way that you don't be able to understand.
Miguel (Michele) FLETA in TOSCA
Made by
detengase
Vintage photograph of the celebrated Spanish / Aragonese tenor at his single perf. of TOSCA at the Vienna State Opera in May 1928. Fleta, one of the greatest opera singers to have lived, CREATED Calaf in TURANDOT at the world premiere at La Scala di Milano in 1926, conducted by Arturo TOSCANINI. This is a vintage collectible from my private collection - presented in occasion of the 150th anniversary of Puccini 's birthday.
The Vienna State Opera House. Vienna
Made by
Abariltur
The building was the first major building on the Wiener Ringstraße commissioned by the controversial Viennese city expansion fund. Work commenced on the building in 1861 and was completed in 1869, following plans drawn up by architects August Sicard von Sicardsburg and Eduard van der Nüll. It was built in the Neo-Renaissance style. This was the first opera built in Vienna. Vienna/ Wien (Austria).
Enrico CARUSO
Made by
detengase
Vintage photograph taken in Oct.1907, Enrico CARUSO (together with his agent Emil Ledner and secretary Bruno Zirato) outside his hotel in Vienna on the way to the Court Opera House. Caruso was a very close friend to Puccini and famous interpreter of his roles. This is a vintage collectible from my private collection - presented in occasion of the 150th anniversary of Puccini 's birthday.
~ sightseeing ~
Made by
Nordljus*
This tourist sightseeing bus blocking my view of the Vienna State Opera just wouldn't move away, so I finally gave up waiting, and now I think that it's just perfect for finally giving selective colour processing a try. Thank you for the inspiration and practical tips! :) More on
my new black & white blog
Giacomo PUCCINI Vintage Photography SIGNED
Made by
detengase
Large Vintage photography by Willinger Vienna May 1923 originally hand signed by the composer. Puccini and his son Tonino spent almost three weeks in Vienna. Around this time the Maestro was working on TURANDOT - This is a vintage collectible from my private collection - presented in occasion of the 150th anniversary of Puccini 's birthday. Thanks for 1000 views.....
Puccini TOSCA
Made by
detengase
Vintage program flyer from TOSCA at the Vienna Volksoper 1909 with Gemma BELLINCIONI, Alessandro BONCI and Giuseppe de LUCA, conducted by Leopoldo Mugnone who also conducted the world premiere in Rome on Jan.14, 1900. This is a vintage collectible from my private collection - presented in occasion of the 150th anniversary of Puccini 's birthday.
Wiener Staatsoper - Vienna Opera
Made by
Ginas Pics
one more of vienna's famous buildings The orchestra of the Wiener Staatsoper called the Wiener Philharmoniker is said to be the best in the world. It is here where the famous Opernball, the ball presenting Austrias debutantes takes place . www.concertvienna.com/en/ P1300378
vienna_staatsoper_02p
Made by
ioniriq
Wiener Staatsoper (Vienna State Opera) in Vienna, Austria The original building dating from 1869 (Architects: Eduard van der Nüll and August Siccard von Siccardsburg) was severely destroyed during World War II. It was rebuilt in 1955 (Architect: Erich Boltenstern) without the original baroque decoration. 1709 seats The stage house
Staatsoper, State Opera House, Vienna, Austria
Made by
Snuffy
Built by August von Sicardsburg and Eduard van der Nüll from 1861 to 1869 in Italian Renaissance style. The building itself closely resembles Italian Renaissance, as this epoch was immensely important for art and music. There are also numerous statues and figurative embellishments at the inside and outside of this Opera House.
vienna_staatsoper_01p
Made by
ioniriq
Wiener Staatsoper (Vienna State Opera) in Vienna, Austria The original building dating from 1869 (Architects: Eduard van der Nüll and August Siccard von Siccardsburg) was severely destroyed during World War II. It was rebuilt in 1955 (Architect: Erich Boltenstern) without the original baroque decoration. 1709 seats
Videos: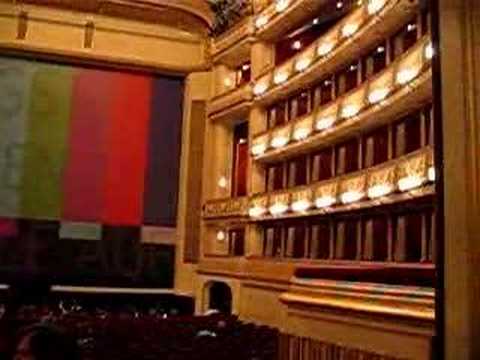 Vienna State Opera
Visit to the Vienna State Opera - view from our standing seats...Vienna State Opera


Nearest places of interest:
Popular places: