Videos: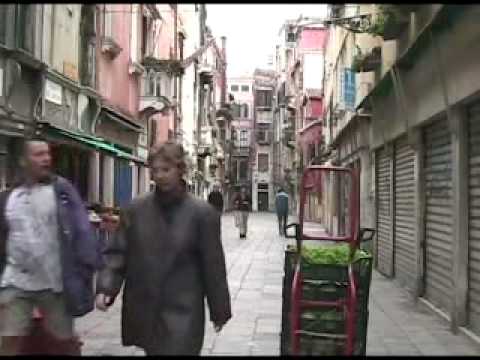 More videos
Venice
Interesting places in Venice:
Venice (Italian: Venezia, Venetian: Venexia) is the capital of region Veneto, and has a population of 271,663 (census estimate January 1, 2004). The city is included, with Padua (Padova), in the Padua-Venice Metropolitan Area, population 1,600,000. It has the nickname, "Queen of the Adriatic" and "City of Water". It is the seat for Education in Europe.
Churches
Saint Mark's Basilica (Basilica di San Marco), Piazza San Marco (Water lines # 1, 52, and 82 will take you from Santa Lucia (the train station) or Piazzale Roma to Piazza San Lucia. Walking is another option but will require a map and lots of time and energy.), ☎ +39 041 5225205 (procuratorial phone number), [4]. October 1st to March 31st: 9:45 a.m. - 4:45 p.m.; April 1st to September 30th: 9.45 a.m. - 5.00 p.m.. Saint Mark's Basilica is located on and is one of the highlights of a visit to Venice. As with most churches in Italy, you must be dressed appropriately to be allowed in; this means no short skirts or bare shoulders. You are not allowed to carry large bags or rucksacks inside. You must deposit them just round the corner from the main entrance. Filming and photography is forbidden so be prepared in advance. The visit within the basilica last ten minutes. Waiting for entry into the basilica can last upto five or so hours and it may be wise to use alata.it to reserve your visit. Reserving is free of charge. Once you have a reservation you can take the group entrance on the left, where you give in the printout of your reservation.

Admission to the basilica is free, however, the museum upstairs costs €3 and other alter treasury €2..
San Giovanni e Paolo (San Zanipolo in Venetian dialect): a fine, huge Dominican church with the tombs of many Doges. It shares its piazza with the fine Renaissance facade of the Scuola San Marco and an equestrian statue of the mercenary (condottiere) captain Colleone. Look out for the testicles (coglioni in Italian - it's a lousy pun) on his coat of arms!
Santa Maria Gloriosa dei Frari - the big friary church, with fine monuments and paintings.
Santa Maria dei Miracoli - a perfect jewel box church, simple in form but ornamented with fine exterior marble facings.
Museums
Ca' Pesaro
Ca' Rezzonico
Clock tower (Torre dell'Orologio)
Doge's Palace (Palazzo Ducale)
Galleria dell'Accademia di Venezia
Galleria Giorgio Franchetti alla Ca' d'Oro
Glass Museum (Museo del Vetro)
Goldoni's House (Casa Goldoni)
Jewish Ghetto of Venice, [6]. While racially and ethnic neighborhoods had existed prior to the Venetian Ghetto, Venice's ghetto was the first "ghetto" (coming from a Venetian word for the Iron Foundry that was on the site previously) and "ghetto" eventually came to mean any neighborhood that was made up of a single ethnic/racial group. Today, Jewish life is still very active in the ghetto, and elsewhere in Venice, and is home to five synagogues. Visiting on Saturdays (the Jewish Sabbath) will prove very fruitless because all shops, restaurants, and other Jewish places will be closed.
The Jewish Museum (Museo Ebraico), Cannaregio 2902/b, ☎ +39 041 715 359 (museoebraico@codesscultura.it, fax: +39 041 72 3007), [7]. Hours: June 1 - September 30: 10.00 a.m. - 07.00 p.m. October 1 - May 31: 10.00 a.m. - 06.00 p.m. The Museum is closed on Saturday (Shabbat), during Jewish festivities, on December 25th , on January 1st and on May 1.

Entrance to the Museum: Full price: € 3.00, Reduced price: € 2.00. Entrance to the Museum and Guided Tours to Synagogues: Full price: € 8.50, Reduced price: € 7.00.
Lace Museum (Museo del Merletto)
The Peggy Guggenheim Museum, Palazzo Venier dei Leoni (Located on the Dorsoduro region of Venice, to the east of the Accademia bridge, on the southern side of the Grand Canal), ☎ +39.041.2405.411 (info@guggenheim-venice.it, fax: +39.041.5206.885), [8]. Hours: Wednesday - Monday: 10AM - 6PM. Closed on Tuesdays and on 25 December. Open on national holidays (including Tuesdays). The Peggy Guggenheim Museum offers a personal collection of modern art collected by Peggy Guggenheim. Peggy was an American married to modern artist Max Ernst, and funded a number of his contemporaries. The gallery includes a sculpture garden and works by Picasso, Kandinsky, Tanguy, Duchamp, Pollock, Dali, and Mondrian.

Admission: Adults: €10, Seniors (over 65 years): €8, Students (18 years and under or holders of valid student ID): €5.
Museo d'Arte Orientale
Museo Fortuny
Museum Correr
Museum of Greek Icons
Natural History Museum
Naval History Museum (Museo Storico Navale)
Palazzo Grassi
Palazzo Mocenigo
Scala Contarini del Bovaro
Scuola Grande di S. Rocco
Outdoor sights, piazzas, bridges, canals
Don't miss the Rialto market and the Rialto Bridge (Italian: ) on San Polo, the smallest sestiere. The bridge has become one of Venice's most recognizable icons and has a history that spans over 800 years. Today's Rialto Bridge was completed in 1591 and was used to replace a wooden bridge that collapsed in 1524.
Location is derived from the great work of
WikiMapia
Top photos chosen by u all:
Venice-Santa Maria dei Miracoli[Explore]2000+ views
Made by
Maurizio51 Rewinds
Grazie per la visita e fav, i commenti sono certamente apprezzati e vi risponderò al più presto! Thanks for the visit and fav, the comments are certainly appreciated and I will answer a.s.a.p! =========================================================================== 1 File Raw Photomatix Pro 4.02 Photoshop CS 5: Color Adjustments on LAB Color Mode Nik Color Efex Noiseware Luminosity mask Smart Glow RGB Sharpen Watermark el viagiar descanta,ma chi parte mona torna mona =========================================================================== È uno dei primissimi edifici di stile rinascimentale a essere stati costruiti a Venezia.Il tempio si presenta con una struttura rettangolare: la facciata si affaccia su un campo, il lato destro e l'abside su strette vie, mentre il lato sinistro affonda nell'acqua di un canale. Posteriormente è addossato il campanile poligonale di quattro piani con tamburo finestrato e cupola. La facciata pentapartita da paraste è divisa in due ordini, invertiti rispetto ai classici canoni vitruviani: l'ordine inferiore, con capitelli corinzi, è architravato, mentre quello superiore, ionico, è composto da 5 archi ciechi. Sovrasta la facciata un ampio frontone semicircolare, decorato da un rosone, 3 oculi e 2 cerchi marmorei. L'intera facciata «agghindata, ingemmata dai rivestimenti marmorei incrostativi a riquadri, a croci, a stelle, a ruote»[1] è ricoperta di marmi policromi (bianco, serpentino, giallo e rosso); sopra il portale vi è un timpano curvilineo, decorato da un busto raffigurante la Madonna col Bambino, opera dello scultore Giorgio Lascaris, datato 1480. =========================================================================== It is one of the first Renaissance style buildings have been constructed Venezia.Il temple shows a rectangular structure: the facade overlooking a field, the right side and the apse on narrow streets, and the left side sinks in ' a water channel. At the rear is set against the four-storey octagonal bell tower window and cupola drum. The facade of pilasters penta is divided into two orders, compared to the classic canons Vitruvian reversed: the lower order, with Corinthian capitals, has an architrave, while the upper one, Ionic, is composed of five blind arches. It overlooks a large front semicircular pediment, decorated with a canopy, 3 and 2 circles oculi marble. The entire front dressed, jeweled encrusted in the marble facing panels, with crosses, stars, tractors [1] is covered with polychrome marble (white, serpentine, yellow and red) above the portal there is a curvilinear tympanum decorated with a bust of the Madonna and Child, by sculptor George Lascaris, dated 1480.
Venice: stepped in history 5.095.105
Made by
Juergen Kurlvink
Hear:
...
Venezia - franceso Guccini
...
AND
see SLIDE Show:
from our
Newest
or
Unvalued
...
or look
...
bigly
. or .
map
Ort:
Boot in farbiger Wasser Spiegelung ♦
Venedig
• • Provinz
Venedig
• Region
Venetien
•
Italien
Place:
Boat in water color mirroring ♦ Channel in
Venice
• Province of
Venice
• Region
Veneto
•
Italy
Kommentar:
→ Klick Links ↑oben↑ für mehr Infos (
alle in neuem TAB
) Dies ist typisch und wie erwartet für diese großartige Stadt. Es ist einfach unnachahmlich, wie in dieser wunderschönen Stadt einem stimmungsvolle Fotos in die Kamera fliegen. Darum lohnt sich die Reise ... immer wieder ... immer wieder ...
Comment ..:
→ Click Link ↑above↑ ) for more infos (
all in new TAB)
This is typical and how expected, for this great city. It is simply inimitable, as in this wonderful city, moody photos into the camera fly. Therefore worth the trip ... always again ... always again ...
Saints & Sailors
Made by
! . © Angela Lobefaro . !
taken from the boat from the Venice Lido - Nov '07 Venice (Italian: Venezia [veˈnɛttsja] ( listen), Venetian: Venesia) is a city in northern Italy known both for tourism and for industry, and is the capital of the region Veneto, with a population of about 272,000 (census estimate 1 January 2004). Together with Padua, the city is included in the Padua-Venice Metropolitan Area (population 1,600,000). The name is derived from the ancient tribe of Veneti that inhabited the region in Roman times.[1][2] The city historically was the capital of an independent city-state. Venice has been known as the La Dominante, Serenissima, Queen of the Adriatic, City of Water, City of Masks, City of Bridges, The Floating City, and City of Canals. Luigi Barzini, writing in The New York Times, described it as undoubtedly the most beautiful city built by man.[3] Venice has also been described by the Times Online as being one of Europe's most romantic cities.[4] The city stretches across 117 small islands in the marshy Venetian Lagoon along the Adriatic Sea in northeast Italy. The saltwater lagoon stretches along the shoreline between the mouths of the Po (south) and the Piave (north) Rivers. The population estimate of 272,000 inhabitants includes the population of the whole Comune of Venezia; around 60,000[5] in the historic city of Venice (Centro storico); 176,000 in Terraferma (the Mainland), mostly in the large frazioni of Mestre and Marghera; and 31,000 live on other islands in the lagoon. The Republic of Venice was a major maritime power during the Middle Ages and Renaissance, and a staging area for the Crusades and the Battle of Lepanto, as well as a very important center of commerce (especially silk, grain and spice trade) and art in the 13th century up to the end of the 17th century. This made Venice a wealthy city throughout most of its history.[6] It is also known for its several important artistic movements, especially the Renaissance period. Venice has played an important role in the history of symphonic and operatic music, and it is the birthplace of Antonio Vivaldi.
Rita Crane Photography: Italy / Venice / Piazza San Marco / architecture / Caffe Chioggia / Caffe Gran Chioggia / St. Mark's Square
Made by
Rita Crane Photography ~ returning slowly
Follow me on Twitter:
twitter.com/#!/ritacranephoto
Two images for you here, Flickr friends. I visited Venice in late winter, and on a quiet afternoon was walking around the Piazza San Marco. The square was almost deserted so I was able to get an architectural shot of this amazing place. Below is a view of this historic cafe's facade, along the arcade, taken during the magical hour of twilight. You can see the San Marco Square waterfront with gondolas bobbing in the distance, beyond the arch. It was the 'blue hour' .... just before nightfall, one of my favorite times of day, besides dawn. Thanks everyone for stopping by. Have a beautiful day! And here's some fun information about the caffes under the arcades of the Procuratie, the office buildings for the Procurators of ancient Venice's six sestiere or districts:
www.venetia.it/s_proc_eng.htm
The New and Old Procuratie, bordering the Square, were the offices of the 9 Procurators, the most important citizens of Venice after the Doge. They controlled the Square, the Basilica and the 6 sections of the city, called sestieri . In 1585 the Venetian ambassador to Instanbul told the Senate that the Turkish were drinking a hot black drink, made by a seed called Kahavè and that people had diffuculty in falling asleep after drinking this beverage. This seed was brought back to Venice and in 1638 it was roasted, ground and sold at an expensive price from a special caffè shop which was located directly under the Procuratie. In a short time the caffè shops opened all of the city and by the end of the next century there were 24 such caffè's in St.Mark's Square alone. These caffè's soon became the favorite place among intellectuals to meet and drink coffee. Gambling, another favorite past time of the Venetian nobility also went on in the caffè's.
Winter Light, Venice
Made by
Rita Crane Photography ~ returning slowly
View across the Lagoon to Sestiere Dorsoduro, from Riva dei Partigiani, Venice, after a rainstorm. And here's information about Dorsoduro, one of the six districts (sestiere) of Venice:
en.wikipedia.org/wiki/Dorsoduro
Thanks for stopping by. I will respond on Your photostreams. Have a good week! =0) [Two more images below, Flickr friends. The Mediterranean in its gentle aspect....under soft winter skies.] Description: I had just arrived in Venice, it was my first afternoon there, and I walked along the waterfront that faces Dorsoduro under a moody winter sky that had just begin to clear from a rainstorm. I had heard so much about Venice it was interesting to start recognizing those aspects of the place that I had read about, and to see for myselft the soft shimmering light Venice is known for. And there it was in front of my very eyes! I did my best to take a picture that would convey the lyricism of this kind of moment. When I eventually go to print the large file of this photo it will take a little doing to transmit that magical moment to paper. But I will definitely try. In the meantime, here's a peek at one of the reasons I fell in love with Venice, aside from its great architecture. The presence of water all around, and no cars, not one single car. Soft water lapping at the docks, surrounding one everywhere. How peaceful and soothing it is!
Saint Mark's Square, Venice, Italy
Made by
Eustaquio Santimano
Saint Mark's Square, Venice, Italy Piazza San Marco (often known in English as St Mark's Square), is the principal square of Venice, Italy. A remark often attributed to Napoleon (but perhaps more correctly to Alfred de Musset) calls the Piazza San Marco The drawing room of Europe. It is one of the few great urban spaces in a Europe where human voices prevail over the sounds of motorized traffic, which is confined to Venice's waterways. It is the only urban space called a piazza in Venice; the others, regardless of size, are called campi. As the central landmark and gathering place for Venice, Piazza San Marco is extremely popular with tourists, photographers, and Venetian pigeons. The Piazza originated in the 9th century as a small area in front of the original St Mark's Basilica. It was enlarged to its present size and shape in 1177, when the Rio Batario, which had bounded it to the west, and a dock, which had isolated the Doge's Palace from the square, were filled in. The rearrangement was for the meeting of Pope Alexander III and the Emperor Frederick Barbarossa. The Piazza has always been seen as the centre of Venice. It was the location of all the important offices of the Venetian state, and has been the seat of the archbishopric since the 19th century. It was also the focus for many of Venice's festivals. It is a greatly popular place in Italy even today.
Fino A Domani, Venice
Made by
flatworldsedge
If you are feeling indulgent, please do view on black by hitting L! Definitely better in this case. One more from our first night in Venice, back in October. Heavy rain and low light, combined with the wayward AF of the Canon 50mm f/1.8. This was shot on my old 300D, which kind of lost the plot around ISO 800. At the time, with rain, spray and mist coating the camera and lens, both plastic, neither waterproof, and with soaking wet feet, I viewed the whole evening pretty much as a write off. In fact. they're some of my favourite images from the holiday (previous posting linked in the comments). As regards the name, I'm hoping the Flickr community can help by sourcing someone who speaks Japanese and Italian better than I. I wanted to call this one 明日があるさ, but this seemed the linguistic equivalent of mixed metaphors. When I lived in Hiroshima I was told 明日があるさ (ashita ga aru sa) was an ancient expression meaning, there's always tomorrow. In hunting down the script for this, I find it's the name of a semi-comical pop song. If any one could tell me whether my Japanese friends were having fun with me, or whether the expression came before the song, I would be extremely grateful and interested to know. Hope everyone is having a great weekend!
Tweet
Gondola In 60 Seconds, Venice
Made by
flatworldsedge
You say bokeh, I say water damage. This was shot in rain using our hotel bathmat as a tripod and makeshift camera cover. Bathmats make better tripods than you'd imagine, as it turns out. Although shot with a weatherproof lens (always worried about the fact Canon commit to nothing numerical by way of definition in this regard), my six year old 300D definitely isn't. Half-covered in the bathmat, half-sheltered by my leaning hooded form, it survived. I'm delighted by it's longevity - probably 100,000+ shutter actuations and lots of knocks along the way. What it doesn't do so well is noise control, however. This shot was a wretched thing to clean, and this posted version remains a bit ropey even after an hour or so in LR3 and PS7.0 tidying it up. The white balance was a nightmare too, with no result I was ever entirely happy with. I settled on this one, married with a not insignificant desaturation. Otherwise, I used PS to lessen the distortion of the buildings (exacerbated by the lean-inducing bathmat) and LR to bring that church tower back (somewhat) from the shadows of the sky. Just for pedants - you're right - it's not a gondola. Sadly I couldn't think of a punning film title with vaporetto in the title. It is 60 seconds though.
Man Or Mouse (Carnival Masks), Venice
Made by
flatworldsedge
This is taken in the wonderful Ca' del Sol mask makers in Venice. It's an incredible shop, with wonderful photographer friendly owners. I'd recommend a visit to anyone and everyone, especially if you want to take pictures.
www.cadelsolmascherevenezia.com/en/masks/
I particularly like the mouse/rat masks. Though this wasn't my favourite of those (to follow), the spread of masks on the wall behind was the most impressive when bokehed. I think this one only really comes to life viewed in lightbox/large on black. I've gone for a slightly brighter feel than my usual, and the black sets it off much more effectively than the white, imho. I've had a few notes about the airfare I mentioned a few posts ago - Venice direct is usually an expensive option even on Ryanair (or your chosen equivalent, other low-cost airlines are available!). I suggest flying to somewhere along the main rail route to Milan; Bergamo or Brescia are good options. From these you can take the train across very cheaply and easily; and it's rather fun traveling by train in itself.
venezia è un imbroglio
Made by
confusedvision
[Soundtrack: Francesco Guccini - Venezia] Venezia che muore, Venezia appoggiata sul mare, la dolce ossessione degli ultimi suoi giorni tristi, Venezia, la vende ai turisti, che cercano in mezzo alla gente l' Europa o l' Oriente, che guardano alzarsi alla sera il fumo - o la rabbia - di Porto Marghera... Venezia è un' albergo, San Marco è senz' altro anche il nome di una pizzeria, la gondola costa, la gondola è solo un bel giro di giostra. Stefania d' estate giocava con me nelle vuote domeniche d' ozio. Mia madre parlava, sua madre vendeva Venezia in negozio. Venezia è anche un sogno, di quelli che puoi comperare, però non ti puoi risvegliare con l' acqua alla gola, e un dolore a livello del mare: il Doge ha cambiato di casa e per mille finestre c'è solo il vagito di un bimbo che è nato, c'è solo la sirena di Mestre... Venezia è un imbroglio che riempie la testa soltanto di fatalità: del resto del mondo non sai più una sega, Venezia è la gente che se ne frega! Stefania è un bambino, comprare o smerciare Venezia sarà il suo destino: può darsi che un giorno saremo contenti di esserne solo lontani parenti...
Rita Crane Photography: Italy / Venice / rain / umbrellas / people / street / Rainy Day in the Cannaregio, Venice
Made by
Rita Crane Photography ~ returning slowly
Follow me on Twitter:
twitter.com/#!/ritacranephoto
Reposting this for contacts who may not have seen my Venice series. I've added a touch of blur to this scene in PS, to bring out the soft feeling of the rain. The kiosks selling umbrellas sprout up on days like this so one never need worry about being caught without an umbrella. It was a busy shopping day for locals in this neighborhood near the Guglie Bridge. What a pleasure to be able to enjoy the city on foot, with not a single car ever showing up, since they don't exist in Venice. There is a special peacefulness here, away from the big tourist area os San Marco Piazza, and a sense of village and community life undisturbed by traffic remains. I love the soft sounds of Venice: just people talking or the water lapping against the sides of the canals and rios. An occasional boat engine, but they are quiet because they are only allowed to move slowly so as not to create a big wake that further erodes the sides of the buildings. Not a single car! A magical place for sure!
Quayside Spray & Gondolas, Venice
Made by
flatworldsedge
First picture to be processed on my return from Venice. Lots of these shots - mostly at a much higher tide with waves sweeping in at my feet. I'd imagine more will make it online in due course. This one got the nod for first posting as I liked the lighting and reflection best. It's the view out from just along from St Marks towards Isola di San Giorgio Maggiore, on which sits a church of the same name which is often mistaken for the main Campanile tower on St Mark's square itself. This image is actually a composite of two - one lefthand, one righthand, manually blended in Photoshop 7.0 along the dividing line/pole noted above. The mix of spray and boat positions, combined with the lack of viewfinder, made it a little hard to ensure the gondolas' fantastic prows did not overlap with the poles. The bulge shown in the note above is unfortunate as it implies lax PS work - in fact it is forcola (http://en.wikipedia.org/wiki/F%C3%B3rcola) used to hold the oar, so the gap is quite natural! Hope everyone is fantastically well and enjoying the week.
Bridge of Sighs, Venice, Italy
Made by
Eustaquio Santimano
The Bridge of Sighs (Italian: Ponte dei Sospiri) is one of many bridges in Venice. The enclosed bridge is made of white limestone and has windows with stone bars. It passes over the Rio di Palazzo and connects the old prisons to the interrogation rooms in the Doge's Palace. It was designed by Antoni Contino (whose uncle Antonio da Ponte had designed the Rialto Bridge), and built between 1600 and 1603. The view from the Bridge of Sighs was the last view of Venice that convicts saw before their imprisonment. The bridge name, given by Lord Byron in the 19th century, comes from the suggestion that prisoners would sigh at their final view of beautiful Venice out the window before being taken down to their cells. In reality, the days of inquisitions and summary executions were over by the time the bridge was built, and the cells under the palace roof were occupied mostly by small-time criminals. A local legend says that lovers will be assured eternal love if they kiss on a gondola at sunset under the bridge.
Rialto Bridge in the evening glow
Made by
Ginas Pics
See my new book on Venice www.blurb.com/bookstore/detail/955746 The Piazza di San Marco may be more famous, but the Ponte di Rialto (Rialto Bridge) is the true heart of Venice. The current structure was built in just three years, between 1588 and 1591, as a permanent replacement for the boat bridge and three wooden bridges that had spanned the Grand Canal at various times since the 12th Century. It remained the only way to cross the Grand Canal on foot until the Accademia Bridge was built in 1854. The Rialto Bridge's 7.5-meter (24-foot) arch was designed to allow passage of galleys, and the massive structure was built on some 12,000 wooden pilings that still support the bridge more than 400 years later. The architect, Antonio da Ponte (Anthony of the Bridge, appropriately enough), competed against such eminent designers as Michelangelo and Palladio for the contract.
***
Made by
freemysoul
She can kill with a smile, she can wound with her eyes She can ruin your faith with her casual lies And she only
reveals
what she wants you to see She hides like a child, but she's always a woman to me She can lead you to love, she can take you or leave you She can ask for the truth, but she'll never believe And she'll take what you give her as long it's free Yeah, She steals like a thief, but she's always a woman to me Ohhh... she takes care of herself She can wait if she wants, she's ahead of her time Ohhh... and she never gives out And she never gives in, she just changes her mind And she'll promise you more than the garden of Eden Then she'll carelessly cut you and laugh while you're bleeding But she'll bring out the best and the worst you can be Blame it all on yourself 'cause she's always a woman to me ... Billy Joel She's always a woman to me
Rita Crane Photography: Italy / Venice / Rialto canal / bridge / architecture / reflection / Ponte di Rialto, Venezia (Rialto Bridge along the Grand Canal)
Made by
Rita Crane Photography ~ returning slowly
Follow me on Twitter:
twitter.com/#!/ritacranephoto
After having spent most of my ten days in Venice photographing from dry land, I finally took a ferry down the Grand Canal. I got some shots of the Rialto Bridge and palazzos, but it wasn't easy to catch the sights that way, to be honest, because the ferry was going too fast. I knew I only had a few short seconds to catch the bridge, and luckily I did manage to get about 5 shots. Whew! Here's a detail of one of them. The Rialto Market was immediately to our right, and we were getting ready to pass under the bridge. I held my breath and tried to hold the camera steady despite the movement of the boat. I love the detail of this gorgeous and famous world icon. And for people who, like me, enjoy knowing the history of these ancient bridges,the entry from Wikipedia is below in my comment. =0)
Mondi leggeri
Made by
.chourmo.
Caso gioco forza sorpreso di piacere inorridito Molte più cose ben più strabilianti dimorano quaggiù Sfarzosi paramenti d'antiche cerimonie smesse Molte più cose ben più sorprendenti vengono in visita imprevedibili Percorsi incomprensibili tracciano alfine la nostra vita irriducibili Irriducibili irriducibili Ciò che deve accadere accade Ciò che deve accadere accade Ciò che deve accadere accade Ciò che deve accadere accade Per quello che ho visto Per quello che ho sentito Per sconcertante necessità Obbligo di caduta verso mondi leggeri Di sottili pensieri d'occhio e cuore Da corteccia cerebrale a potenza nucleare Per quello che ho visto Per quello che ho sentito Per sconcertante necessità Ciò che deve accadere accade Ciò che deve accadere accade Ciò che deve accadere accade Ciò che deve accadere accade Ciò che deve accadere accade...
CSI,
Accade
Gondolas in Venice
Made by
Ginas Pics
The gondola is propelled by a man (the gondolier) who stands facing the bow and rows with a forward stroke, followed by a compensating backward stroke. Contrary to popular belief, the gondola is never poled like a punt as the waters of Venice are too deep. Venice law requires that gondolas must be painted black. It is estimated that there were several thousand gondolas during the 18th century. There are only some hundred today, most of which are for hire by tourists, while a few are in private ownership and use. The cost for a ride, about 40 minutes are app. 100 Euros ... a must for all honeymooners. Those who just want to have the feel of it for a short ride across the Canale Grande can use a traghetti - gondola for a couple of Euros only.
Gondolas on Flickriver
Rita Crane Photography: Italy / Venice / gondola / Rialto canal / Grand Canal / vintage / palazzo / architecture / evening / Rialto Gondolier, Venice
Made by
Rita Crane Photography ~ returning slowly
[Four images of Venice for you here, Flickr friends. Scroll down for other three.] Thanks all for stopping by. Description: It was a cold winter evening and the gondolieres were going to dock their beautiful boats. One by one they came through this 'rio'..... on their way to the Grand Canal. They were so graceful and the boats were almost silent as they elegantly glided along. The profession of Gondoliere is passed from father to son. At present there are 400 gondolieres in Venice, I was told. At the height of the Venetian republic, there were 10,000 !! Visitors dealing with High Water (Aqua Alta) ... you can see the white Palazzo in my photo that is right near the Rialto Bridge in the beginning of the video:
www.youtube.com/watch?v=cod6hHqEK3k&NR=1
Regata Storica 1/7
Made by
De Stefano Daniele
Explore Aug 31 , 2011 # 172 Texture by Lenabem Anna La Regata Storica è l'appuntamento principale del calendario annuo di gare di Voga alla Veneta, disciplina unica al mondo praticata da millenni nella laguna di Venezia. È oggi resa ancora più spettacolare dal celebre corteo storico che precede le gare: una sfilata di decine e decine di imbarcazioni tipiche cinquecentesche, multicolori e con gondolieri in costume, che trasportano il doge, la dogaressa e tutte le più alte cariche della Magistratura veneziana, in una fedele ricostruzione del passato glorioso di una delle Repubbliche Marinare più potenti e influenti del Mediterraneo. La regata ha origine antichissime, originando probabilmente alla metà del XIII secolo dalla necessità di mantenere addestrati al remo gli equipaggi delle innumerevoli imbarcazioni della Serenissima.
Videos:

Venice, Italy - August 3 2006
Mostly static camera shots of Venice Italy. Peaceful, lovely, only ambient sounds....Venice Italy canals


Honeymoon - Venice - Rialto Bridge
Honeymoon video from Rialto Bridge in Venice...johnandchu honeymoon italy venice


Fieldyweb: Little Venice (London)
the Grand Union Canal, Regents Canal and Paddington Basin. Little Venice. This is 10 minutes walk from Paddington station....Regents Canal venice


Venice
Venice...Venice Italy


Venice - Venezia
Venice (Venetian: Venezsia, Italian: Venezia, Latin: Venetia) is the capital of region Veneto, and has a population of 271663 (census estimate


LIVIO De MARCHI, THE ONLY MAN WHO CAN DRIVE IN VENICE
in his home town of Venice, much to the delight of tourists and locals....wacky funny crazy humour humor ARTIST VENICE ITALY SCULPTURE ART BOAT CAR


Venice Gondola Ride
tour group's gondola ride during our first day in Venice. The first half of the video shows a collage of Venice canal scenes and the second half features a


EUROTRIP 2001: Venice, Italy
Venice...Venice Italy City Sceneries View Venezia Italians Hotties Gays Italiano


Venice, Italy 2006
Vacation video of Venice, Italy May 2006...venice venezia vacation italy italia travel


Glass Blowing guy in Venice making a cute glass cat
This is a dude in Venice making an amazing glass masterpiece....Venice Italy Glass Blowing Cat


Venice Italy Camcorder Part 2
Venice Italy DOWNLOAD FROM GOOGLE: http://video.google.com/videoplay?docid=5591556209457027747& amp;hl=en...Venice Italy Tour Camcorder Europe


stylelifedesign "Insider Style Guide to Venice Italy"
Ricci demartino takes you on a mini insiders shopping trip to Venice Italy....stylelifedesign Ricci demartino Venice Italy Style Fashion Ca'Nigra Murano Fortuny Fenice Chiarastella


Thats Amore in Venice Italy
A gondola ride in Venice Italy with "Thats Amore" being sung by our two guides...Thats Amore Venice Italy


Venice Beach with misstruly and lmorgan1234
t seen each other in 8 years. We had too much fun and not enough time!...lmorgan1234 misstruly Suburbanmom Venice Beach California surfing pizza


The Greatest Journeys on Earth: Venice Trailer
show_title.php?pid=20282 VENICE Journeys Through the Glass Located on the frontier between the West and the Orient, Venice has raised the art of masquerade


Italy Travel: Florence, Rome Venice May 2007
Rome, Venice May 2007 is what;s going on in Italy Right Now! Summary of Italian festivals and celebrations in Florence, Rome and Venice. From


Around the World in 80 Days: Venice Beach Thanksgiving
Palin experiences some Venice Beach street theatre....bbcworldwide 80 Days Michael Palin Venice Beach Thanksgiving


Carnival of Venice (1)
carnival of venice music: giusseppe verdi nabucodonosor "chorus of the hebrew slaves"...carnival of venice karneval venedig carnevale di venezia carnaval venetia masken masks masti


Music in Venice - violin - Lavena - Salut d'amour
Nice performance live in Venice, April of 2006, at Caffe Lavena (the preferred by Wagner and others), Piazza San Marco. Edward Elgar "Salut


Nearest places of interest:
Popular places: