Videos: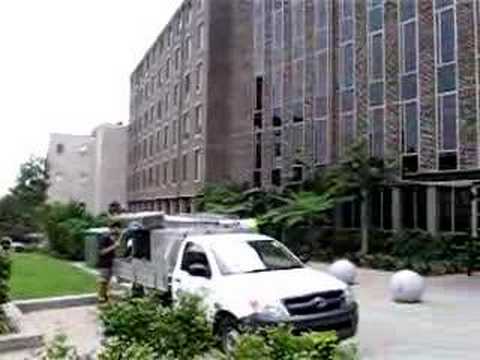 More videos
University of Sydney
Interesting places in University of Sydney:
The University of Sydney, established in Sydney in 1850, is the oldest university in Australia. It is a member of Australia's "Group of Eight" Australian universities that are highly ranked in terms of their research performance; it is one of the country's largest and most prestigious educational institutions (...)
Location is derived from the great work of
WikiMapia
Top photos chosen by u all:
Lady Frances Sidney holding Sidney Sussex College, Cambridge (1596)
Made by
miltonmic
Lady Frances Sidney, Countess Dowager of Sussex detail, The Cambridge window (east wall)
Frances Radclyffe, Countess of Sussex (1531-1589), formerly Frances Sidney
, was a Lady of the Bedchamber to Queen Elizabeth I and the founder of
Sidney Sussex College, Cambridge
. She was the daughter of Sir William Sidney, of Penshurst Place in Kent, a prominent courtier during the reign of King Henry VIII and Lord Chamberlain to King Edward VI, and his wife, the former Anne Packenham. She was the sister of Sir Henry Sidney, and the aunt of both the poet Sir Philip Sidney and the 1st Earl of Leicester. In 1555, she married (as his second wife) Thomas, Viscount FitzWalter, who was appointed Lord Deputy of Ireland in 1556 and who succeeded his father as 3rd Earl of Sussex in 1557. They left no children. In her will, Lady Sussex left the sum of £5,000 together with some plate to found a new college at Cambridge University 'to be called the Lady Frances Sidney Sussex College'.
sydney uni sunset
Made by
elyse patten
yesterday afternoon a storm was closing in just on sunset. Somehow the sun lit up the entire cloud this incredibly bright shade of orange for just a few minutes. Luckily I was just on my way home, and stopped to wonder. Believe it or not this is basically straight out of the camera. All I did was increase the fill light on the building a little bit - and I had to decrease the saturation on the sky! it was just too crazy. The whole sky was a strong gradient of orange, but I guess the camera didn't know what to do with it - and so split it into yellow and red. It was strange to look at the back of the camera and see this split that my eye couldn't see. I had a look around flickr to see if anyone caught this sunset - check out incredible shots from the other side of the city.
meet Marco (9/100)
Made by
elyse patten
press L to view large! Walking home from work early on a Friday night a line of army helicopters are flying low over the city. Marco and his young boy stop to gaze and wonder, and I couldn't help myself but take a shot. After noticing me Marco left the frame so I could photograph the cute kid by himself. But I asked him to go back to what he was doing before I interrupted – since they looked so cute! Marco, thanks for letting me capture this special moment. And thanks for being part of my 100 strangers project. Find out more about the project and see pictures taken by other photographers at
www.100Strangers.com
graffiti tunnel @ sydney uni
Made by
jay woüf
I left the tripod in this on i like the raw feel of it Tech: camera: canon 400d Lens: 18-55 f/3.5-5.6 F stop used : f. 11 3 exposures @ 1/6th, 1/25, 0.6th 200 ISO View this panorama in the
interactive viewer.
(This will open a new window to SPi-V, an interactive panorama viewer created by and hosted at fieldofview.com. Requires
Adobe Shockwave
.)
Gothic Revival HDR
Made by
reinlady
My alma mater is a rather unfortunate patchwork of architectural styles. The Quadrangle, where this photo was taken, represents my personal favourite architectural style: Gothic Revival. Gargoyles! Engravings! Mouldings! Leaded glass windows! All culminating in a building so decorated it looks a bit ridiculous :D Constant fixtures of the Quadrangle include intense navel-gazing philosophy students and migrating clouds of tourists. Don't be put off, it's still a lovely place to escape from the general hubbub of campus.
New Building
Made by
SoulJance
I originally was out to test out a new lens I got of eBay, a Nikkor 28mm f3 PC. What it does it help control the converging verticals. My original though of this shot was to take a shot of the buildings as there were are plenty of vertical lines. I was waiting for the people to clear off but after waiting 5min it was obvious it was not going to happen so I waited for each of the path ways to be in use (another 3-4min). The conversion to mono was to strip away the colour so you have to focus on the forms and shapes.
When I go fishing for words...
Made by
borra
A long long long time ago I made a promise to myself that I'd go for a photoshoot at Fischer Library before I graduate. With only about a week left I figured I should go act on that promise... Apparently Fisher lib has the biggest collection of books in the southern hemisphere...and I'd believe it. You really get a sense of its epicness when you catch an elevator to the 9th floor and dance around in the old book collections where there's no one around. It's probably the most quiet place in the world...
58/365 - ascent_2 (sydney university, nsw)
Made by
agrippinamaior
www.hht.net.au/sydneyopen
Lace up those walking shoes and experience the buzz on our streets as we open some of Sydney's best buildings. Sydney Open 08 is your day pass to uncover sites of architectural significance, ranging from award-winning contemporary designs to greatly loved heritage buildings and lesser-known urban curiosities. Explore rooftop vistas, inspiring spaces and exciting design not usually accessible to the public.
Sydney University Graffiti Tunnel - Manning Entrance
Made by
reinlady
The Graffiti Tunnel is a legal graffiti wall running between the Manning and Holme Buildings, near Technology Lane. The university and campus security guards only request that you keep the content clean (say, g-rated) and leave the door handles alone ;) While formerly open to the public, the policy has since changed to restrict access to current students only. Nevertheless, non-students come to still graffiti here :)
Australian Medical Students Association Emergency Medicine Challenge 2011
Made by
icemanpro
This year at the AMSA National Convention in Sydney, James Cook University won the Emergency Medicine Challenge for the 2nd successive year. In the last 3 years we got 2nd in 2009 and 1st in 2010 and 2011. Next year the students have a lot to live up to, to try and make it 3 in a row!!!
www.facebook.com/Lachlan.Gordon.Pro
Quad in Duplicate
Made by
borra
The University of Sydney is so incredibly photogenic that I couldn't resist taking photos of the Quadrangle. It had been raining all day but the weather cleared up just as the sun went down, resulting in the beautiful lighting and reflection. There's probably a million improvements I could make next time but this was my first day out with the Tamron 10-24 and I'm more than impressed :P
Gothic jacaranda
Made by
mattyp_
Walked home through the grounds of Sydney University and on my way through the quadrangle was taken by the vivid jacaranda there... a beautiful setting that I had to try to capture... and at 702 we're trying to get
images of a Sydney summer
- feel free to email them, send me a link, or post them to .
31.
Made by
- Devon ♫
31/365 Hung out with David for the first time in ages on this day. Gatecrashed USYDs orientation and chilled there, it feels like hogwarts, the architecture is amazing. I will never forget this day, or the night that came with it. Best night of my life, without a doubt.
Devon Hanna Photography on Facebook.
Mest 137/365
Made by
christinelam.com
Mest @ Manning Bar Mest are one of those bands that I never thought I'd end up seeing, considering they broke up a few years ago. Sure the lineup has changed a little but I still can't believe that I've heard their songs live. I know I committed the cardinal sin of using flash at a gig, but there was no photo policy tonight and Manning Bar was VERY dark.
Graffiti Tunnel Entrance
Made by
betta design
Entrance of the Graffiti Tunnel at Sydney University Entrada do Túnel do graffiti, na Universidade de Sydney
To browse through my Sydney photos using flickriver/ Para ver minhas fotos de Sydney com o flickriver
Happy Smiley Face from Urine Samples
Made by
epSos.de
Happy smiley face constructed out of urine samples in plastic bottles. Brave scientists have to stay positive while testing the health of other people. This creative art was created by the happy employee of the month. It is very motivating for the other scientists in the lab. The red eyes of the smiley face are the urgent samples.
Graffiti Tunnel #01
Made by
betta design
Graffiti Tunnel at Sydney University Túnel do graffiti, na Universidade de Sydney
To browse through my Sydney photos using flickriver/ Para ver minhas fotos de Sydney com o flickriver
Sydney University Graffiti Tunnel - Holme Entrance
Made by
reinlady
The Graffiti Tunnel is a legal graffiti wall open to university students. It runs between the Manning and Holme Buildings, near Technology Lane. Further inside the tunnel, the lighting gets a bit grim until you reach the open section between the upper and lower tunnels. Taken from the entrance near Holme Building.
Day 13: Blind date with knowledge
Made by
reinlady
What is research but a blind date with knowledge?
-- Will Harvey Amongst the stacks of the Fisher Research Library, level 3. It's is a funny building, really. Looming over the main library, I like to think of it as an awkward giant - it's not quite sure how it got there but isn't sure it should move.
At Sydney Uni
Made by
betta design
The Clock Tower at the Sydney University Main Quadrangle A Torre do Relógio no Pátio Principal da Universidade de Sydney
To browse through my Sydney photos using flickriver/ Para ver minhas fotos de Sydney com o flickriver
Videos:

Aun-Aom-Som University of sydney
First time at university at sydney...-aun-


悉尼大学介绍(The University of Sydney, USYD) Part 1
Chinese introduction about Sydney University...悉尼大学University Sydney USYD


悉尼大学介绍(The University of Sydney, USYD) Part 3
Chinese introduction about Sydney University...悉尼大学Sydney University USYD


St John's College, University of Sydney - Capital Appeal
St John's College, University of Sydney - Capital Appeal...St John's College University of Sydney Capital Appeal


Australia's first university, the University of Sydney
Sydney University official video clip...University Sydney Australia


University of Sydney inside Main Quad (part I)
University of Sydney inside Main Quad...University of Sydney Main Quad Camperdown Campus USYD


The University of Sydney
Visiting Sydney University...sydney university maidengoddess


悉尼大学介绍(The University of Sydney, USYD) Part 2
Chinese introduction about Sydney University...悉尼大学Sydney University USYD


What is IT (University of Technology, Sydney)
Faculty of IT promo...UTS University Technology Sydney Faculty IT Information Computer Science


2006 UTS Movie University of Technology Sydney
2006 UTS Movie University of Technology Sydney...UTS Movie University of Technology Sydney Study


Future Entrepreneurs of the World Summit (FEWS)
of the World Summit (FEWS) is a conference for young people who have what it takes to be successful entrepreneurs. The 2007 event is held in Sydney


EF International School of English - Sydney
one of the world's most exciting cities! Sandy beaches at Bondi and Manly offer surfing, sailing and paragliding. Take the harbor ferry for a view of the


Study Abroad Sydney australia '06
Glimps of my time in sydney...Study abroad sydney australia pictures exchange 2006 macquarie university party semester


University of Sydney inside Main Quad (part II)
University of Sydney inside Main Quad...University of Sydney Main Quad Camperdown Campus USYD


Conception day 2007
Student at macquarie university, sydney...conception day macquarie university sydney australia


Bridge over Parramatta Road @ USYD
Walking on the bridge over Parramatta Road @ USYD...USYD Parramatta Road University of Sydney Australia


Sydney Harbour Bridge Day 2007
On the 75th anniversary of the opening of the bridge in Sydney they closed off traffic so that people could walk across. They also handed out free hats.


MQ Dolphin & whalewatch Trip
15 October 2007, I went on a Whale Watch trip from Macquarie University (Sydney, Australia) and it was the best ever!! Saw Dolphins (


Macquarie Trip Home
Macquarie University Sydney- the trip home in the afternoon from Marsfield to Refern. Done on a Sony Cybershot...Macquarie University road trip


Nearest places of interest:
Popular places: