Videos: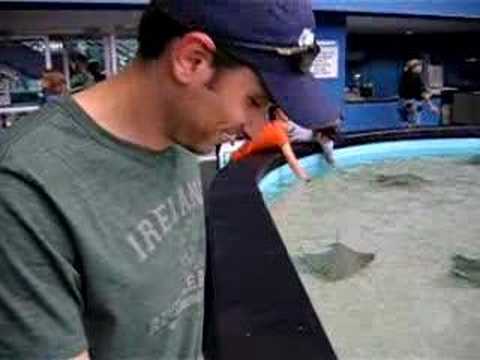 More videos
Tropicana Field
Tropicana Field is a domed stadium in St. Petersburg, Florida, which has been the home of Major League Baseball's Tampa Bay Devil Rays since 1998.
Location is derived from the great work of
WikiMapia
Top photos chosen by u all:
magicJack St Petersburg Bowl DSC_2464
Made by
ChristopherTaylor
ST. PETERSBURG, Fla. (AP) - Matt Grothe and South Florida didn't have a problem getting motivated for what amounted to an extra home game. After floundering the second half of the season, the St. Petersburg Bowl gave them a chance to feel good about themselves again. ''I think the last few weeks we were trying so hard to win a game that we forgot how to play football,'' Grothe said after throwing for 236 yards and three touchdowns on the way to a 41-14 rout of Memphis on Saturday. The junior quarterback moved ahead of West Virginia's Pat White as the Big East's career total offense leader, also rushing for 83 yards on 15 carries to earn the most outstanding player award. Grothe and White, a senior who will finish his season in the Meineke Bowl on Dec. 27, are the only players in league history to amass more than 10,000 yards total offense. White has 10,142 in 49 games, and Grothe finished the night with 10,242 in 39 games. ''Its easy to get away from (playing the way he expects to play) and easy to lose focus whenever we get down,'' Grothe said. ''In my opinion, whenever ... we can just go out and play football and not worry about what people are saying, then we do well.'' USF (8-5) scored on four of its first five possessions to build a 24-14 halftime lead, forcing Memphis (6-7) to play catch-up and essentially taking 1,000-yard rusher Curtis Steele out of the Tigers' game plan. ''The bottom line was we couldn't tackle the quarterback,'' Memphis coach Tommy West said. ''They beat us pretty good on both sides of the ball.'' Arkelon Hall threw for one TD and ran for another, however Steele was held to 48 yards rushing on 12 attempts by a stout run defense determined to redeem itself this postseason after giving up 253 yards to Oregon's Jonathan Stewart during USF's lopsided loss in last year's Sun Bowl. Grothe threw TD passes of 26 yards to Taurus Johnson , 13 to Ben Busbee and 24 to Dontavia Bogan before being replaced by Grant Gregory with USF leading 34-14 late in the third quarter. Hall, meanwhile, was 15-of-31 for 154 yards and no interceptions, with much of that coming on a swing pass that Steele turned into a 50-yard gain early in the second half. He ran 3 yards for a first-quarter touchdown, then threw 2 yards to Duke Calhoun for the Tigers' other TD just before halftime. It was the first meeting between the former Conference USA rivals since USF left that league for the Big East in 2005. The teams split four games between 2001 and 2004, and Memphis relished the challenge of facing an opponent from a BCS conference for the first time in five bowl appearances under coach Tommy West. The Tigers, who won six of nine games to become bowl eligible after an 0-3 start, viewed Saturday as an opportunity to gauge how much they've progressed toward a goal of having a BCS-caliber program. On this day, they were nowhere close to a South Florida team that began the season with high expectations after being ranked as high as No. 2 in 2007. The Bulls won their first five before stumbling badly in the Big East and winding up in a bowl game just 32 miles from USF's main campus in Tampa. Tropicana Field in downtown St. Petersburg is close enough that coach Jim Leavitt and his players bused from the team hotel back to campus for practice all week, truly making it seem like an extra home game rather than a bowl trip. ''Our guys did a great job of getting us to this stage. We've got some work to do to belong on this stage,'' West said, adding that the Tigers were not fast enough or physical enough to keep pace with the Bulls. Memphis fell to 0-3 against opponents from BCS conferences this season and is 2-13 since 2001. ''We're pretty good at throwing it and catching it. But when you're a non-BCS team playing a BCS team, to play on that stage you have to match what they do, and you have to get more physical,'' West said. ''You could see today why they're a BCS team and we're not.'' - Associated Press
Alien Skin Bokeh
Made by
robert_rex_jackson
Interesting test of Alien Skin's new software release, Bokeh. This is a photo I took last summer at a Rays game of Shields pitching against the Red Sox. I was shooting with an Olympus E-3 with a 150mm f/2 lens. Because of the small sensor there's a lot of depth of field, even at f/2. So you could read the Game Stop signs, for example. Using Bokeh the background instantly became much creamier and more attractive. Amazing piece of software. I downloaded the demo to give it a shot and was really surprised at how well it worked. The image really pops now. Of course, now the background is noiseless and the foreground is pretty noisy. Not something the average viewer might notice, but photographers would pick up on that pretty fast. It would be less of an issue with my D700 since there's so much less noise at these ISO levels. I loved that little 150mm f/2 lens, though. It was so light and small for something that effectively served as a 300mm lens. Of course, as the photo shows, it was effectively working as a 300mm f/4 would work on my D700. Dropping out the background with a small sensor is pretty tough. A 300mm f/2.8 would do a much better job on the D700, but at a significant weight penalty. So many tradeoffs. Still, it's kinda cool that Bokeh works so well. The EXIF data got lost when I combined these two shots, so here ya go: Camera: Olympus E-3 Exposure: 1/2500 sec Aperture: f/2 Focal Length: 150 mm ISO Speed: 1250
3 Base Foul Post
Made by
AllerJ
We were on the field for the Haulin' Oats Concert after the Rays beat the White Sox. At the Tropicana Field, when the Rays win, they turn orange lights on that point towards the fabric roof. From the outside it looks like a big Tropicana Orange Slice. I promised some people I was sitting next to that I'd post my photos for them to have. The only place I could think to tell them was here on Flickr, so there's going to be a pile of Baseball photos in my current Disney stream, I just wanted to get everyone prepared for it. Thanks for your patience
Pena Scores! (2008 ALCS Game 2). Sequence: 3 of 3
Made by
Mark Schraeger
Carlos Pena scores a go ahead run in the bottom of the 5th inning in game 2 of the 2008 American League Championship Series (ALCS). Carl Crawford looks on. Evan Longoria doubled off of Josh Beckett with Pena on first to make the score 7-6. The Tampa Bay Rays went on to beat the Boston Red Sox 9-8 in 11 innnings. Sequence 3 of 3.
Tropicana Field, St Petersburg FL DSC_8062
Made by
ChristopherTaylor
Tropicana Field is a domed stadium in St. Petersburg, Florida, which has been the home of Major League Baseball's Tampa Bay Rays since 1998. It has also served as the host stadium for the St. Petersburg Bowl, an NCAA-sanctioned college football bowl game since December 2008. - wikipedia.org
Tropicana Field Dome
Made by
TheBusyBrain
Final Home game for the Tampa Bay Rays 2008 REGULAR Season. We had seats in Right Field. You can find me on
Twitter
! Want to use this photo in a publication? Please
Read This First
!
Sean Rodriguez Takes Out Mike Napoli (3 of 3)
Made by
Mark Schraeger
Sean Rodriguez of the Tampa Bay Rays plows into Mike Napoli of the Texas Rangers in Game 4 of the 2011 ALDS. Napoli dropped the ball, and Rodriguez was safe, scoring the first run of the game for the Rays. Yes I know the Rays lost, but it was a very exciting play.
Kotchman Safe at the Plate
Made by
Mark Schraeger
Tampa Bay Rays' Casey Kotchman slides in safe at the plate before Boston Red Sox catcher Jarred Saltalamacchia could apply the tag. He was driven in on a single by Sam Fuld. 3rd inning, July 15, 2011 Tropicana Field, St. Petersburg, FL Rays won 9-6
Who's With Me?!? 100_0100
Made by
ChristopherTaylor
What? Over? Did you say over? Nothing is over until we decide it is! Was it over when the Germans bombed Pearl Harbor? Hell no! And it ain't over now. 'Cause when the going gets tough . . . the tough get going. Who's with me? Let's Go! Come on!
GO RAYS, BUCK FOSTON
Made by
kevkev44
Within the AL East, the Rays are the biggest underdogs. Now 61-53, and just 4 games back of the 09' AL Wild Card, they're making another comeback in 2009. Watch out Yanks & Boston, and whoever else thinks they can get in their way!
92/365
Made by
Vanessa Guzan
92/365 - 4/2/2011 I went to Tropicana Field to watch the Rays play the Orioles. Have I mentioned how happy I am that baseball is back? BF helped with the processing. He is far better at photoshop than I am.
Play At The Plate: Carlos Pena (2008 ALCS Game 2). Sequence: 1 of 3
Made by
Mark Schraeger
Carlos Pena trying to score on a double by Evan Longoria in the bottom of the 5th inning in game 2 of the 2008 American League Championship Series (ALCS) against the Boston Red Sox. Sequence 1 of 3.
Evan Longoria Post Swing
Made by
Mark Schraeger
Evan Longoria squibs a foul ball during the last game of the 2011 regular season against the New York Yankees. He also hit some pretty big home runs in that game. Wish I'd gotten pictures of those.
Sean Rodriguez Incoming (1 of 3)
Made by
Mark Schraeger
Sean Rodriguez of the Tampa Bay Rays a split second before he plows over Mike Napoli of the Texas Rangers in Game 4 of the 2011 ALDS. Yes I know the Rays lost, but it was a very exciting play.
Bronson Arroyo Display
Made by
ESJablair
There's a Bronson Arroyo display at the Ted Williams Museum featuring some of Arroyo's equipment from the 2004 season. The display also features a photo of the Arroyo-Arod slap play.
Martinez Out at the Plate
Made by
Mark Schraeger
Detroit Tigers' Victor Martinez is tagged out at the plate by Tampa Rays' catcher Kelly Shoppach. 6th inning, August 25, 2011 Tropicana Field, St. Petersburg, FL Tigers won 2-0
Cubs vs Rays 100_7020
Made by
ChristopherTaylor
Somewhere in Hell the temperature is dropping rapidly. A possible World Series preview? The NL Central leading Chicago Cubs face off against the AL East leading Tampa Bay Rays.
Tropicana Field Panorama
Made by
nick.park
A panoramic view of Tropicana Field from between Sections 305 and 303 Panoramic stitching performed using
Hugin 2011.0.0
View From Above 100_8645
Made by
ChristopherTaylor
The pinball machine aka Tropicana Field. It may not be the House That Ruth Built, Fenway, or Wrigley. But its all we have. And when there are cheering fans, the place rocks!
Go Rays! Game 7, ALCS
Made by
Damgaard, (TheObsessivePhotographer.com)
The Tampa Bay Rays dispatch the Boston Red Sox in a 3-1 victory at Tropicana Field in game 7 of the ALCS,October 19th. We're World Series Bound Baby! More shots tomorrow...
Videos:

After the game and shoutout to Brooke (SpAaZzCat)
After the game ended we show a panorama of Tropicana Field from the very top behind home plate, then we give a shoutout to our sister, Brooke (


Entry #10: Three Favorite Places in St. Petersburg, Florida
. I miss home. Enjoy!...three favorite places in your city st. petersburg florida saint pier tropicana field devil rays beach ralph schofield


Will Dave touch the cownose ray?
didn't want to stick his arm in the water. Will he do it this time??...tropicana field tampa florida cownose ray


Pam touching the cownose rays
that people could touch. Here is a video of me trying to touch the rays in the tank....tropicana field tampa florida cownose ray


Dave thinking about petting a cownose ray
Dave was at Tropicana Field at the Ray tank and I was trying to convince him to pet a cownose ray....tropicana stadium tampa florida cownose ray


Dave thinking about petting a cownose ray again
're not high enough" because he didn't want to stick his arm in the water....cownose ray tampa florida tropicana field


Nearest places of interest:
Popular places: