Videos: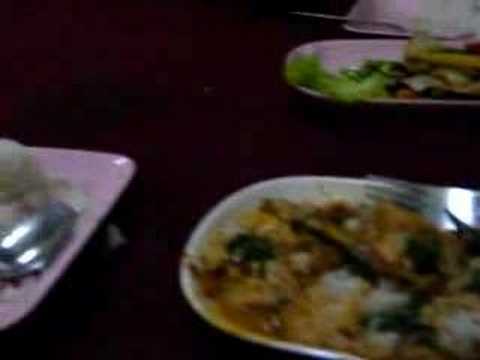 More videos
Surat Thani
Surat Thani (Thai: ª¸£²©£²µ) is a city in Amphoe Mueang Surat Thani, Surat Thani Province, southern Thailand. It is the capital of the province Surat Thani.
Being here is different than for most cities, as the residents here are used to seeing foreigners but don't bother with trying to sell things to foreigners for a living. Most tourists here are just passing through to the islands, as there are no real attractions within the city.
A popular place for picnic as well as for sports is Ko Lamphu, a small car-free island in the river Tapi, connected by bridge to the city at the city pillar shrine. A nice view is the riverfront, built as a promenade. In the evening hours there are also some food stalls there, however the night market concentrates at a sidestreet next to Wat Sai.
There are several Buddhist as well as Chinese temples within the city, however none really notable. To the north is the Roman Catholic St.Raphael Cathedral, actually a small wooden church.
Outside the city, there is a monkey training centre near by in Kanchanadit. The hill Khao Taphet south of the city offers a great view over the city, as well as a the Si Surat chedi as some billboards with the animals living in that non-hunting area. Further south is the Khun Thale swamp, a nice small lake but without any further attractions.
Videos:

Train ride to Surat Thani
is a test video of our train ride from Bangkok to Surat Thani. Complete version to come!...Thailand Surat Thani Train Party Car Suratthani


Local bus to Surat Thani
Local bus from Khao Lak to Surat Thani...Bus Khao Lak Surat Thani


Train Ride from Surat Thani to Bangkok
Train Ride from Surat Thani to Bangkok...Train Ride from Surat Thani to Bangkok


Night boat to Surat Thani
Thailand...suratthani thailand triptales


Train Ride from Surat Thani to Bangkok
Train Ride from Surat Thani to Bangkok...Surat Thani


Incl. Surat Thani, http://www.thailessons.co.
Free !!! learn Thai language at http://www.thailessons.co.nr You can download mp3 files level 1, at no charge


Koh Samui Suratthani Video 3
Boot Tour Koh Samui www.SiamVideoVision.de.vu...boot tour koh samui


Koh Samui Suratthani Video 1
Samui Airport - Hotels - Beach www.SiamVideoVision.de.vu...airport hotel beach


Koh Samui Suratthani Video 7
Affen Schule Suratthani Part 1 www.SiamVideoVision.de.vu...affen schule suratthani


Koh Samui Suratthani Video 4
Boot Tour Suratthani Part 1 www.SiamVideoVision.de.vu...boot tour suratthani


Koh Samui Suratthani Video 8
Affen Schule Suratthani Part 2 www.SiamVideoVision.de.vu...Affen schule suratthani kohsamui samui


Koh Samui Suratthani Video 2
Easy Divers - Restaurant - Chaweng Beach by Night www.SiamVideoVision.de.vu...easy divers chaweng beach


Paseo en lancha cerca de Surat Thani (Tailandia)
Todo el exotismo que uno esperaba encontrar, lo tiene aquí en cada rincón. Demasiado turismo quizás....Tailandia


Koh Samui Suratthani Video 11
Kitty Cat Thai Massage www.SiamVideoVision.de.vu...Thai Massage Koh Samui made by Kitty Cat


Bangkok Hua Lamphong Train Station
The platforms at Hua Lamphong, Bangkoks main train station and the train from Surat Thani just arrived....surat thani bangkok trains station visa run


Koh Samui Suratthani Video 6
Boot Tour Suratthani Part 3 www.SiamVideoVision.de.vu...Boot Tour Suratthani


Koh Samui Suratthani Video 5
Boot Tour Suratthani Part 2 www.SiamVideoVision.de.vu...boot tour suratthani


Koh Samui Suratthani Video 9
Chinese New Year Part 1 www.SiamVideoVision.de.vu...Chinese New Year


Koh Samui Suratthani Video 10
Chinese New Year Part 2 www.SiamVideoVision.de.vu...Chinese New Year


Nearest places of interest:
Popular places: