Find hotels near Suez Canal
Videos: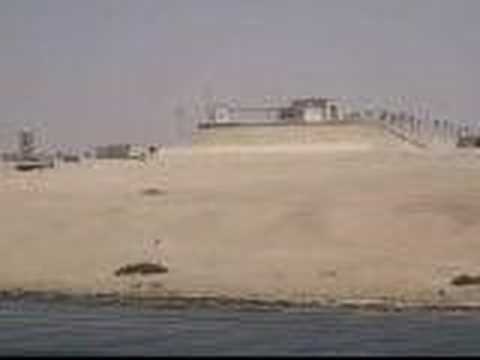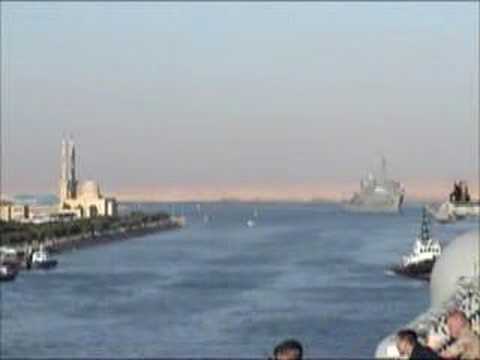 More videos
Suez Canal
Interesting places in Suez Canal:
The Suez Canal (Arabic: q+n+a+tm a+l+s+w+y+s+, translit: Qana al-Suways), is a large artificial maritime canal in Egypt west of the Sinai Peninsula. It is 163 km (101 miles) long and 300 m (984 ft) wide at its narrowest point, and runs between Port Said (Bur Sa'id) on the Mediterranean Sea, and Suez (al-Suways) on the Red Sea.
Location is derived from the great work of
WikiMapia
Top photos chosen by u all:
War And Peace
Made by
China Chas
Kwangtung Voyage #39 Tuesday 21st June 1994: Suez Canal Northbound
In 1994, I spent three months working on a container ship sailing between Europe and ports in the Indian Ocean. I recently discovered my slide photos from the trip, and have scanned some of them into my computer. One of the interesting sights in the canal (apart from my first sighting of a camel) was this reminder of the tensions between Egypt and Israel:
During my four hours on the bridge, we passed what appeared to be a driving school for tanks. As a good piece of irony, there was a memorial to the Second World War directly behind. But next to that was a group of mobile rocket launchers, all aimed east. And finally, beside them was a mosque.
Scenes along the Suez
Made by
NixBC
The Suez Canal Defence Monument at Ismalia, Egypt. The monument was designed by the French, is 50 meters high, 240 meters long and used 4,700 tons of granite in the building. The monument was erected to commemorate the defence of the Canal Zone from the threat of the Turkish Army in WWI.
Suez Canal
Made by
Ghintang
A section of Suez Canal passing through the city of Ismailiya in Egypt. Each fifteen minutes one ship passed through the section, while we watched them from a restaurant garden. It's amazing the amount of money this canal generates!
Mubarak Peace Bridge
Made by
Ghintang
Mubarak Peace Bridge is just a name given to the only bridge connecting Africa to Asia. This photo taken from the Asian side, shows the entire clearance height, under which cargo ships can pass easily.
EGYPT 2007
Made by
<Fen...D<< in Melbourne
A long queue to enter the Suez Tunnel. Suez Tunnel is the tunnel under the water. this tunnel is the only way to connect from Port Suez to Sinai.
Port Suez
Made by
<Fen...D<< in Melbourne
Port Suez.. Located in the gulf of Suez in the Red Sea.This is the gateway for all ships to enter the Suez Canal. Ismailia , Egypt 2007
030 Lake Timsah (Ismailia) June 1942
Made by
Simon Whitson
Dave C.Pittuck (Electrician) Ted ? Unknown Dick Foote (Fitter Armourer) Pills Beecham (Fitter Engines) Len Keeper (Fitter Armourer)
symbol
Made by
mogew
On the Eygptian side of the Suez is this structure at a military training site...
suez_monument.jpg
Made by
msreed
A monument to Egypt's World War I service members as seen from the Suez Canal
EGYPT 2007
Made by
<Fen...D<< in Melbourne
Rahman,me and Nurdin at the waterfront. Behind us is the Suez Canal..
Suez Canal - Ships of the desert
Made by
Joeka
Suez Canal Egypt. Photo taken from a train running along the canal
Suez Canal
Made by
<Fen...D<< in Melbourne
Waterfront of the Suez Canal Ismailia, Egypt 2007
Suez Defense Monument
Made by
Patch_Adams
Defense Monument on the Suez Canal.
suez
Made by
Paul Woodroffe
Suez Canal transit on board HMS Echo
EGYPT 2007
Made by
<Fen...D<< in Melbourne
The only Pelican in Port Suez?
Suez Canal
Made by
Ugborough Exile
Northbound transit, July 2009
Djibouti, Suez, Rome '05 084
Made by
Penngwen
transiting the Suez Canal
EGYPT 2007
Made by
<Fen...D<< in Melbourne
Inside the Suez tunnel
Scenes along the Suez
Made by
NixBC
Scenes along the Suez
Suez Canal
Made by
Ugborough Exile
March 2009
Videos:

mv Barentzgracht at the suez canal
Dutch mv Barentzgracht at the suez canal 1985...schip ship suez sea zee scheepvaart seaman zeeman shipping


54th Peace Boat Voyage: Suez Canal
went through the Suez Canal to Egypt. It is not what I expected but nonetheless is was cool....54th Peace Boat Voyage Suez Canal


USS Bataan Suez Canal Transit Part 2
in response to the September 11th attacks the USS Bataan was sent to support the war against terrorism in Afghanistan...USS Bataan Suez Canal Egypt terrorism


Egypt - Suez canal trip (few minutes)
Suez Canal!We had a whole day for doing nothing! It was fun! We drank egyptian freshes!Veeeery good ones!...Egypt Dj Rudi


USS GEORGE WASHINGTON HMCS TORONTO SUEZ CANAL
and the HMCS Toronto transiting thru the Suez Canal and some sights at the southern edge....US NAVY USS GEORGE WASHINGTON HMCS TORONTO SUEZ CANAL


USS Bataan Suez Canal Transit Part 1
in response to the September 11th attacks the USS Bataan was sent to support the war against terrorism in Afghanistan...USS Bataan Suez Canal Egypt terrorism


ship of cape merlin red sea suez canal
ship...gemi suez canal cape merlin 3rd officer big ship


Italian Navy - Suez Canal
Suez Canal...suez ship military sea enduring freedom


Ride under the Suez Canal
Holy Land visit 2007...landmark


Suez Canal on a nuclear aircraft carrier
). We are going through the Suez Canal enroute to the Persian Gulf for Iraq war #1....Suez Canal aircraft carrier cvn iraq


Suez Canal Transit
View of USS IWO JIMA and Destroyer transiting Suez Canal in Summer 06'...suez canal navy destroyer iwo jima bulkeley ddg officer egypt sinai middle east transit


Italian Family Reunion (1967) # 3
northbound through the Suez Canal for the last time before the outbreak of the Arab-Israeli War in June 1967 that led to the Suez Canal being closed until


PORTSAID (EGYPT)
on the northern entrance of the Suez Canal, portsiad is a wonderful city....portsaid port-said egypt بورسعيد مصر port said suez canal


suez canal
ships in the desert...Suez Canal ships


Around the World 2 - Egypt to Portugal
Egypt, Jordan, Suez Canal, Turkey, Greece, Sicily, Italy, Monaco. Music by the Chambers Brothers...Egypt suez canal Jordan Turkey Greece


passage du canal de suez par bcr somme
traversee du canal de suez par le batiment de commandement et de ravaitaillement de la marine nationale français somme base à toulon ****copyleft***


Herghada and Suez
Suez canal in Egypt. Bonus clip at the end of the video that explains some trouble we had getting through the security checkpoint....Egypt Herghada Suez


Yemen... The hidden Jewel of Arabia
. 1839: The British captures Aden. 1869: The building of the Suez Canal brings Aden to an important position in international trade. 1882- 1918:


Nearest places of interest:
Popular places: