Videos: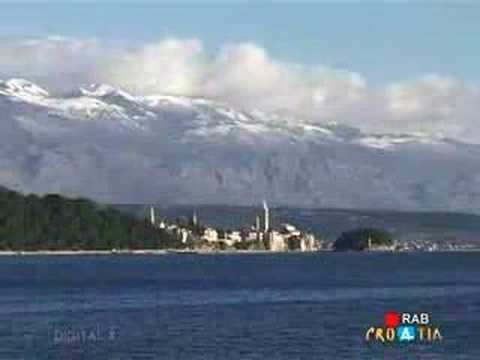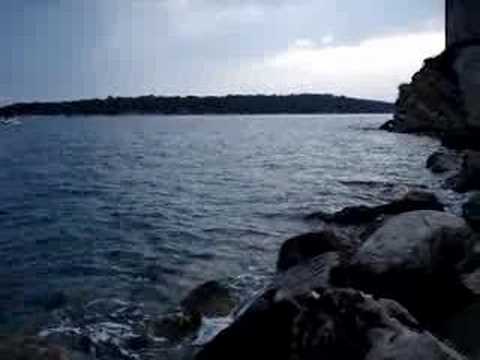 More videos
Rab
Interesting places in Rab:
Rab (Italian Arbe) is an island and a town of the same name located just off the northern Croatian coast in the Adriatic Sea, today in the Primorje-Gorski Kotar county. The island was the frontier between Liburnia and Dalmatia.
Location is derived from the great work of
WikiMapia
Top photos chosen by u all:
A Night in Rab
Made by
Screen Door Slams
Going back to some photos from Europe for this one... For the last two and a half weeks of our trip, we jumped on the train from Rome to Trieste, on the Adriatic, then took a bus south to Pula, Croatia. The whole trip took about 20 hours and was somewhat unpleasant, but getting to Croatia was rather worth it. We rented a car - a nice Opel Astra - that did the trick perfectly, even if getting used to driving standard again was a bit of an adventure, especially on the tight, winding Croatian roads. We started in Pula, on the Istrian peninsula, and gradually headed south along the Adriatic coast. Based on a suggestion made by a great hostel owner in Pula, we headed to the little-known island of Rab, where I took this photo after a long day of driving. It had been cloudy and overcast all day, and our ferry to Rab arrived around 8PM, just as the sun was setting. We weren't sure where we were going to sleep that night, but as the sun cut through the clouds and dipped below the horizon, that didn't seem to matter much. We ended up setting up a campfire and relaxing for the night before deciding to sleep in the car. Not the best decision, but sometimes such decisions have to be made when traveling in relatively remote spots. The price you pay, I suppose. Regardless of the difficulties we had with accommodation in Rab, this sunset alone made the trip to the island worthwhile. It was an incredible spot, relatively untouched by tourism. After spending a month in Germany, the Czech Republic, Austria and Italy, it was rather nice to escape the tourists and find a spot that seemed a little more pure and less refined. Definitely a good change. Rab felt incredibly authentic - especially the people we met there. I have nothing but good things to say about the island...definitely head there if you have a chance! The map below outlines the rest of the trip down the Dalmatian coast. Unfortunately, our trip ended in late June in Dubrovnik, as we once again headed for home. Along the way, though, we had a hell of a time in Croatia, so I'll be posting a few photos over the next few weeks to show you just how spectacular a place it was.
View Larger Map
Please view large! All comments and criticisms appreciated.
Podšilo, Lopar, otok Rab
Made by
giricinka
Otok Rab je iako poznat u arheološkoj literaturi, nedovoljno je vrednovan. Naglasak je uvik bi na grodu Rabu, a premalo pažnje je dobivo ostatak otoka! Okolica Lopara je pribogata kulturnim i prirodnim blagom. Zornjo vrime to je pripoznoto ko veliko vridnost... Jemodu geopark, ali tot se ne staje... Dil otoka sjeverno od Lopara je roj na zemji. Netaknuta prekrasna i neobična priroda, izvori vode, zelenilo, prekrasne plaže, mir, mirišljove biljčice, divota!
The Four Towers of Rab
Made by
usabin
My photostream on Black
The city is a typically medieval urban centre surrounded by walls that are in large part still standing. The old city is dominated by four bell towers mainly in the Romanesque style.
usabin Photography on Facebook
Adriatic Sunset on Rab
Made by
deymosD
I've just returned from a 10 day holiday that I spent on the island of Rab. This is one of the first photos I took, from near Kamenjak, the peak of the island. It's showing the moon just above the island of Pag, south of Rab. I hope to catch time to post some of the shots I think are worth posting... [
more about Rab...
]
The karate kid
Made by
Bloody Nick
A. Choose a not so high spot behind the sun. B. Try to reach it with your naked hands and your sandals. C. Let your wife take a picture while your standing on a single foot and, all around you, there are only sharp-edged rocks and tons of cute sea-urchins. D. Meanwhile...try not to breathe because a silhouette shot is bloody cruel with your body!
"listening to sheeps"
Made by
Ledényi
back from croatia. i got up a small hill right before sunrise to take some pictures. there was a shepard nearby talking to his sheeps. he made a sheep-like-noise, they answered and followed him accross the hill. this went back and forth for about 15 minutes and was pretty amusing soundtrack to my trip ;) hope you enjoy the image!
Sunset over Rab Island
Made by
deymosD
Another photo from my Rab summer series taken from the road above the town: it's showing the Sun setting behind the Cres island. It's showing the town of Rab, the Frkanj peninsula and Kalifront woods. The scene was breathtaking, hope this picture conveys the sense of the nature's magnificence... This is a 6exp HDR.
Sunset in Rab
Made by
tripuz
We reached a small and empty beach by feet, through the tracks in the Kalifront natural park on the island of Rab, and we waited for the sunset down there. Abbiamo raggiunto a piedi, tra i sentieri della riserva naturale del Kalifront sull'isola di Rab, una piccola spiaggia deserta, e lì abbiamo atteso il tramonto.
Rab - A Nightscape
Made by
deymosD
The second photo of my Rab series - another one taken from the steep road leading to Kamenjak, the peak of the island. This is a 3exp HDR, my first night HDR. The lower part is quite noisy and underexposed, but I think it's ok considering it's the first I managed to assemble.
Zooming in Rab
Made by
deymosD
A view from the tower of the Church of St. John the Evangelist in Old Town Rab. I tried something different with this one, zooming out during the exposure. Later I fixed the sky by adding blue overlay as it was dull and hazy and cropped to square format.
Rooftops, one more from Rab
Made by
deymosD
Another look at Old Town Rab, showing the 4 church towers and the Velebit mountain in the background. A bunch of tourist was waiting for me to finish this shot and one more panorama from the same spot at the viewpoint, hope they didn't mind (too much).
Boat Passing Through The Night
Made by
usabin
My photostream on Black
usabin Photography on Facebook
Street Lamp - Rab
Made by
deymosD
After three last shots taken from near the peak of Rab island, let's go to the Old Town - this is a street lamp that cought my eye, I think it's mounted on the walls of the Church of the Holy Weeping Cross.
Brrrrrr
Made by
izio_5
An incredible sunset in Slovenia Here you can find the cropped image. thank's for the suggestion Soundtrack:
www.youtube.com/watch?v=fGYb524OY7o
Beyond Beads and Paper
Made by
venana
Early seaside morning, cool and quiet. Only a light sound of waves along the beach, a seagull laughing on the pier and a quiet woody sound of beads knocking against each other on a light breeze.
Old house
Made by
venana
An old house on Middle street (Srednja ulica) in the old town in Rab, Island Rab, Croatia. (Ignore the geotag name; Mali Lošinj is a different island, a bit further down south from Rab.)
Golden Sunset
Made by
venana
Sunsets in Gonar (Island Rab, Croatia) are often incredible. This is just one of hundreds of sunset photos I have, not even the best one, but the only one I have on me right now.
RAB I campanili
Made by
puma63
Rab. I 4 campanili della cittadina sono stati costruiti 'in linea'. L'intento era quello di farli sembrare gli alberi di un veliero agli occhi di chi si avvicina dal mare.
Tranquillity
Made by
mischuge
Patience is not my strong suit but Filip was great and only because of him I did not give up on setting my camera :-) so I have these night shots... Thank you :-*
The Wonderful Land of Oz
Made by
VjekoslavK
from left to right: Cowardly Lion (without courage), Tin Woodman (without heart), Dorothy (without Toto in this case), Scarecrow (without brain).
Videos:

Rab
Croatin island Rab...Croatia Rab island Sea more otok otoci Hrvatska ljepota


Meki Marokko 2007 [Marwan Khoury Ft Carol Samaha - Ya Rab]
Samaha - Ya Rab Marwan Khoury Ft Carol Samaha - Ya Rab Marwan Khoury Ft Carol Samaha - Ya Rab Marwan Khoury Ft Carol Samaha - Ya Rab Marwan Khoury


more, otok rab, 22.06.2007.
more u predvečer na rabu...more otok rab


Island Rab,Croatia
slideshow of island Rab,Croatia-enjoy!!!...Island Rab Croatia Hrvatska Kvarner Jadran Adriatic


Auslaufen aus Rab
Auslaufen aus der ACI-Marian von Rab...Dudelsack Kroatien Rab


Rab Centar
Dvosobni stan u centru Raba. http://free-ri.t-com.hr/zekojereko/...Prodaja stana


Rab-Kampor-Anton
Croatia, island Rab, village Kampor, apartments Anton...Croatia Rab Kampor Anton


Beautiful Rab in the Adriatic
A view from the Hebridean Spirit over Rab, the Adriatic and distant islands. This quick look gives a taste but is nothing like actually being there - it


Rab Night
La nostra notte a Rab...rab 2007 notte


Het strand in de ochtend. Rab
Swimming in the morning. Rab Croatia...zwemmen s'morgens s'ochtends rab eiland kroatie croatia barbat


Rab Night - 2
Ancora Gasta Show...Rab - Croazia 2007


Rab Night - 3
...cosa c'è da dire?!?!...Notte Croata


Cesta na ostrov Rab (Chorvatsko)
Cesta na ostrov Rab (Chorvatsko)...Croatia Chorvatsko Chorvátsko Rab


krug rab
krug rab...krug


Rab and Karen Video
The Coal Yard...Yard


Croazia Motive - Rab 2007
La canzone dell'anno......Vacanze Croazia 2007 Rab


rab-nevera u sup.dragi
rab...video


A-rab Kids
A-rab kids...the old city


Rab Barbatkanal Kroatien 1 Motorboot
Rab Barbatkanal Kroatien 1 Motorboot...Rab Barbatkanal Kroatien Motorboot


Nearest places of interest:
Popular places: