Find hotels near Potsdamer Platz
Videos: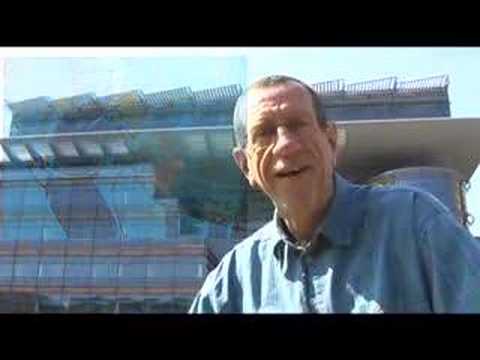 More videos
Potsdamer Platz
Interesting places in Potsdamer Platz:
Potsdamer Platz is an important square and traffic intersection in the center of Berlin, Germany, lying about 1 km south of the Brandenburg Gate and the Reichstag (German Parliament Building), and close to the south east corner of the Tiergarten park. It is named after the city of Potsdam, some 25 km to the south west, and marks the point where the old road from Potsdam passed through the city wall of Berlin at the Potsdam Gate.
Location is derived from the great work of
WikiMapia
Check this place on
Socialmapia
Top photos chosen by u all:
.. . Roof Impressions . ..
Made by
tommatsch (New Gallerys"Noisy & EOS")
Das Sony Center ist ein Gebäudeensemble am Potsdamer Platz in Berlin. Der Architekt Helmut Jahn, Geschäftsführer des Chicagoer Büros Murphy/Jahn, hat mit dem Sony Center einen Komplex mit sieben Gebäuden auf einem etwa 26.000 m² großen Grundstück im Bezirk Mitte geschaffen, die Bauzeit betrug knapp vier Jahre. Bereits am 20. Januar 2000 wurde der Entertainmentbereich des Centers eröffnet, die Eröffnung des gesamten Komplexes fand dann am 14. Juni 2000 statt. Angeordnet in einer charakteristischen dreieckigen Form bietet das Sony Center Platz für eine Kombination aus Arbeiten, Wohnen und Unterhaltung. An der Spitze dieses Dreiecks befindet sich der 103 Meter hohe BahnTower – neben den drei anderen Hochhäusern am Potsdamer Platz ein weithin sichtbares Gebäude. Die Baukosten des Sony Centers betrugen 600 Mio. €. Am 18. April 2008 wurde das Sony Center kreditfinanziert für 600 Mio. € an eine Investorengruppe aus Deutschland und den USA verkauft[1], es gab also in den 10 Jahren keine Wertsteigerung bzw. Minderung. Das stahl- und glasdominierte Ensemble beinhaltet das ovale Forum, das sich als Teil des öffentlichen Stadtraumes versteht und daher nicht von den umliegenden Straßen getrennt ist. Die Dachkonstruktion stellt eine spektakuläre Ingenieursleistung dar. Ein aufgefächertes Zeltdach aus Stoffbahnen ist mit Zugankern an einem Stahlring befestigt, der auf den umliegenden Gebäuden aufliegt. Es soll eines der Wahrzeichen Japans, den heiligen Berg Fujisan, symbolisieren. Nach japanischem Glauben wohnen die Kami in den Bergen, da Berlin jedoch in dem Sinne keinen Berg hat, wurde kurzerhand das Sony Center als künstlicher Wohnsitz für die Kami gebaut, damit Sony auch in Europa im Schutz dieser steht. In einem der futuristischen sieben Gebäude gegenüber der Philharmonie am Kemperplatz gelegen befindet sich die Europazentrale von Sony. Den historischen Kern des Sony Centers bilden die erhaltenen Teile des Hotels Esplanade. Der sogenannte Kaisersaal mit seinen 1.300 t Gewicht wurde in einem komplizierten Verfahren um 70 Meter verschoben, um die Verbreiterung der Potsdamer Straße für das geänderte Verkehrsaufkommen zu ermöglichen. Bei einem weiteren Teil des ehemaligen Hotelgebäudes handelt es sich um den Frühstücksraum, der ebenfalls aufgrund von Auflagen des Denkmalschutzes zu erhalten war. Dieser Raum ist in etwa 500 Teile zerlegt worden und später mit dem verschobenen Kaisersaal an neuer Stelle im Sony-Center wieder aufgebaut worden. Diese zunächst nicht eingeplanten Leistungen zum Erhalt denkmalgeschützter Bauwerke hatten beträchtliche Kosten zur Folge. So musste für die 20 m hohe Nur-Glas-Fassade eine Seilnetz-Konstruktion entwickelt werden, die den Denkmalschutzbereich überdeckt. Eine aufwändige Hochtechnikbrücke wurde über das alte, denkmalgeschützte Bauwerk gespannt und führt zur neuen Esplanade Residence, die luxuriösen Wohnraum zur Verfügung stellt. Im Sony Center befinden sich auf einer Bruttogeschossfläche von etwa 132.500 m² verschiedene Büroflächen von insgesamt etwa 68.000 m², Wohnflächen von insgesamt etwa 26.500 m², ein Filmhaus mit etwa 17.500 m², ein Unterhaltungszentrum mit etwa 17.000 m², sowie Flächen für den Einzelhandel und die Gastronomie von etwa 8.100 m². English: The Sony Center is a Sony-sponsored building complex located at the Potsdamer Platz in Berlin, Germany. It opened in 2000. The site was originally a bustling city centre in the early 20th century. Most of the buildings were destroyed or damaged during World War II. From 1961 on, most of the area became part of the No Man's Land of the Berlin Wall, resulting in the destruction of the remaining buildings. After the fall of the Berlin Wall on 9 November 1989, the square became the focus of attention again, as a large (some 60 hectares), attractive location which had suddenly become available in the centre of a major European capital city. As part of a redevelopment effort for the area, the center was constructed. The centre was designed by Helmut Jahn and construction was completed in 2000 at a total cost of €750M. In February 2008 Sony sold Berlin's Sony Center for less than €600M to a group of German and US investment funds, including investment bank Morgan Stanley, Corpus Sireo and an affiliate of The John Buck Company. Sony Center contains a mix of shops, restaurants, a conference centre, hotel rooms, luxurious rented suites and condominiums, offices, art and film museums, cinemas, an IMAX theater, a small version of Legoland, and a Sony Style store. Free Wi-Fi connections are available for all visitors. During the 2006 FIFA World Cup, the centre also had a large television screen on which the games were broadcast to viewers sitting in the large open area in the middle. The Sony Center is located near the Berlin Potsdamer Platz railway station for easy walking accessibility. A large shopping centre is nearby, as is a whole bunch of hotels, the Deutsche Bahn central offices, and an office building featuring the fastest lift in Europe. @wikipedia
Rooftop
Made by
Pieter Musterd
2011q1007-8024 Het fantastische dak van het Sony Center aan de Potsdamer Platz is wat mij betreft het nieuwe icoon van de stad Berlijn van na de hereniging tussen Oost en West, Technische informatie (wiki) Om de constructie van het dak eenvoudig uit te leggen moeten we het geheel concretiseren. Het dak bestaat uit vier onderdelen, te zeggen: De ring drukstaaf trekstaaf boven trekstaaf onder De ring is misschien wel het meest belangrijke component in de dakconstructie. De ring moet namelijk naast het opvangen van trekkrachten ook de drukkrachten van het dak overbrengen.
Nergens ligt hij verankerd
, zodat de krachten die vrijkomen bij het uitzetten opgevangen kunnen worden. De maximale overspanning die de ring heeft is 35 meter. De ligger is een 3d-spant. Hiervoor is gekozen, omdat hij in alle richtingen stijf is. Een normale ligger zou enkel stijf zijn in twee assen. Deze ligger is stijf in alle drie de assen. Glazen wanden binnen het Sony-Center De drukstaaf brengt, zoals de naam al zegt, drukkrachten over. Het principe is het best te vergelijken met een pijl en boog. De pijl brengt de drukkrachten over waardoor de boog op spanning blijft. De drukstaaf is zo fors uitgevoerd omdat het in alle richtingen momentvast moet zijn. Daarnaast moet het een soort contragewicht zijn tegen het opwaaien van het dak. Op een winderige dag is het mogelijk dat de punt van de drukstaaf 60 cm beweegt. Volgens de constructeur is dit enkel een humoristisch gezicht en levert het geen gevaar op. De bovenste trekstaven dragen het glas. Dit kan omdat er zoveel spanning op de kabels staat dat het net liggers zijn. Het glas ligt als het ware op de trekstaven. De onderste trekstaven houden de drukstaaf op zijn plaats. Deze zijn hydraulisch bevestigd waardoor er nog mogelijkheden zijn om de spanning in de kabels te veranderen. De bovenste ring draagt bij aan de stabiliteit in de constructie. Het houdt de zeilen en touwen bij elkaar. Hier op de foto is goed te zien dat de zeilen gedraaid zitten. Dit is om de stabiliteit te vergroten. Op deze manier hebben de zeilen net als kabels een trekkracht maar werken ze ook mee aan de stabiliteit. In de ring zitten enkel trekkrachten, daarom kan deze zo slank worden uitgevoerd. Samen vormen deze elementen de constructie van het dak. Het dak is niet gebouwd volgens eisen die zijn opgegeven door de wet. Dit omdat er nog geen regels zijn voor overkappingen als deze. Bij het bouwen van de constructie van het dak is men als volgt te werk gegaan: men heeft eerst door middel van steigers de drukstaaf in het midden gehangen, daarna heeft men de buitenste ring gemaakt en verbonden met de drukstaaf. Op deze manier kon men het dan op spanning brengen.
nl.wikipedia.org/wiki/Sony-Center
| | |
Made by
RaSeLaSeD - Il Pinguino
Buildings in Potsdamer plaz, Berlin Potsdamer Platz è un'importante piazza berlinese, posta nel quartiere Tiergarten, al confine con Mitte. Prende nome dalla città di Potsdam, situata 25 km a sud-ovest, e si trova nel punto in cui la strada per Potsdam (attuale B 1) oltrepassava la cinta doganale attraverso il Potsdamer Tor. La piazza ha avuto una storia travagliata, risentendo degli eventi che hanno trasformato Berlino durante il XX secolo: negli anni della repubblica di Weimar costituiva il maggiore centro commerciale, culturale e di trasporti della città; successivamente fu spodestata dall'area del Neuer Westen circostante Breitscheidplatz; devastata dalla guerra e drammaticamente segnata dall'erezione del Muro, ha costituito negli anni novanta il più ambizioso progetto urbano della città riunificata. Attualmente Potsdamer Platz è centro di un nuovo quartiere residenziale, direzionale e commerciale; costituisce un eccezionale richiamo turistico e simboleggia la nuova Berlino. La piazza resta tuttavia separata dalla città circostante, e non è riuscita ad imporsi, come auspicato, come nuovo centro della città. Da:
it.wikipedia.org/wiki/Potsdamer_Platz
(vedi link anche per maggiori info) Potsdamer Platz is an important public square and traffic intersection in the centre of Berlin, Germany, lying about one kilometre south of the Brandenburg Gate and the Reichstag (German Parliament Building), and close to the southeast corner of the Tiergarten park. It is named after the city of Potsdam, some 25 km to the south west, and marks the point where the old road from Potsdam passed through the city wall of Berlin at the Potsdam Gate. After developing within the space of little over a century from an intersection of rural thoroughfares into the most bustling traffic intersection in Europe, it was totally laid waste during World War II and then left desolate during the Cold War era when the Berlin Wall bisected its former location. Since German reunification, Potsdamer Platz has been the site of extensive redevelopment. From:
en.wikipedia.org/wiki/Potsdamer_Platz
(see also for further info)
Butterfly wings...
Made by
Sinuhé Bravo
Hi, First of all I want to say
THANK YOU VERY MUCH
to you all for: 1. Stopping by and commenting on my photos. 2. Making some of my photos your favorites 3. Writing very nice comments, and last but not least 4. Supporting me and my crazy ideas!
You Are AWESOME!!!
So, here a manipulated shot of an Illuminated building at Postdamer Platz, I was not sure on what to do with this one so, I just inverted the colors and added a second layer of the original one and, well I like it :D What do you think? More shots of the Festival of lights later on .
Berlin - "Der Sozialismus Siegt!"
Made by
roger4336
Der Sozialismus Siegt (socialism is victorious) is one of the slogans that the East German regime used. The tour bus left East Berlin, and the sun came out. The last stop was a place where you could climb up steps and look over the wall into East Berlin. This looks toward Potsdamer Platz, which had been one of busiest places in Berlin in the 1920s and 1930s. In 1963, with the Wall, nothing but empty spaces and tank traps. I took a photo over the barbed wine, then tried a shot through the barbed wire. This is the result. It is my favorite Berlin Wall photo.
Acumulación de chicles
Made by
Tyrexito
Las acumulaciones espontáneas de chicles usados son un tipo de arte urbano no premeditado que surge en lugares frecuentados por turistas y domingueros que me fascina. En esta ocasión he descubierto una en los márgenes de unos restos del muro de Berlín, pero las hay por todo el mundo. Una de las más famosas, por ejemplo, se haya en el puente de El paseo misterioso del Monte Igueldo. ¿Recordáis alguna más? Estoy por hacer un grupo de Flickr sobre el tema. Foto de Maurizio Lanzillotta.
Sony Center
Made by
96dpi
A fanned out tent roof made from textile panels is affixed to a steel ring that connects to the surrounding buildings. It is meant to symbolize a Japanese landmark, the holy mountain Fujisan.
Ein aufgefächertes Zeltdach aus Stoffbahnen ist an einem Stahlring befestigt, der auf den umliegenden Gebäuden aufliegt. Es soll eines der Wahrzeichen Japans, den heiligen Berg Fujisan, symbolisieren. Quelle: Wikipedia
Leaning Towers
Made by
Ole Begemann
Eckig vs. rund und Stein vs. Glas am Potsdamer Platz: Kollhoff-Turm mit der tollen Aussichtsterrasse links, Bahn-Zentrale rechts.
// Round vs. angular and brick vs. glass at Potsdamer Platz: the Kollhoff Tower on the left and Deutsche Bahn HQ on the right.
. Mein erstes . Ich geb's zu, ich hab' geschummelt und war schon eine halbe Stunde früher an Ort und Stelle. Da ist dieses Bild entstanden...
berlin from above
Made by
marc von martial | hometrail.de
Berlin from the top roof. Taken from the panoramapoint on Kollhoff-Tower at Potsdamer Platz with my Arax Tilt Adapter, Carl Zeiss Jena MC Biometar 2.8 / 80, 5d MkII combo. Also on my fotoblog:
www.hometrail.de/schwarzundweiss/oben-potsdamer-platz-til...
best seen pressing »L« on your keyboard
Potsdamer Platz
Made by
SophieMuc
...at night, 20 seconds exposure @ 10mm it was :) one of my favorite Berlin pictures I think, I like a lot that it's not totally dark yet and that you can still see some clouds... and I prefer this not so colorful version to the quite blue and red original... maybe I'll show you a small version of it if anybody is interested.... anyway, view it :)
40 years ago...
Made by
patrickjoust
Agfa camera (maybe an Agfa Ambi Silette) Kodachrome These photos were taken 9 years before I was born, by my father, in the summer of 1969. I thought I would upload them for the official anniversary of the fall of the Berlin Wall. Happy anniversary Berlin!! :)
view large
Potsdamer Platz, Berlin, May 1989
Made by
feelix
The Berlin Wall at Potsdamer Platz, just six months before it came down. To see how that place looked in 1975 and have more details, please go to that picture: To see how the same location looks now see this:
www.flickr.com/photos/peterkinsella/3430868247/
Postdamer Platz 10 - HDR
Made by
R.Duran
El numero 10 de Postdamer Platz, con el sol de la tarde - HDR de un unico archivo RAW - Berlin (Alemania) - 24 de marzo de 2007
Nikon D200 obj Nikon 18-200 mm VR f:7,1 - 1/320 seg @ 28mm - ISO 100
No. 10 at Postdamer Platz, with the evening sun - HDR from a single RAW - Berlin (Germany) - March 24th 2007
Berlin Potsdamer-Platz 1946
Made by
Wolfsraum
Unterschrift: Berlin- Das größte Ruinenfeld der Weltgeschichte Potsdamer Bahnhof und Haus Vaterland 1946. abfotografiert bei Icke,der vor ser Nikolai-Kirche alte ansichten auf Schauwänden zeigt. ---- Bahnhof und Gleisgelande ist heute der breite Grünstreifen neben dem Gebäude-Komplex am Potsdamer-Platz
Berlín underground.
Made by
Roy Batty - Javier Enjuto
(Ver grande. To view larger)
♫♪ traveling around the world, I hope see you - onso n-teract ♪♪♫♪
ernst fuchs : berlin 2007
Made by
rockstro
Ernst Fuchs (born February 13, 1930) is an Austrian visionary painter, draftsman, printmaker, sculptor, architect, stage designer, composer, poet, singer and one of the founders of the Vienna School of Fantastic Realism.
www.ernstfuchs-zentrum.com
2008-06-20-001
Made by
Alex //Berlin _ Alexander Stübner
The Black and White Version Potsdamer Platz. (2008, June 18). In Wikipedia, The Free Encyclopedia. Retrieved 10:16, June 20, 2008, from
en.wikipedia.org/w/index.php?title=Potsdamer_Platz&ol...
Potsdamer Platz, Berlin
Made by
hannes.trapp
Handheld Shot with my Praktica L and the Revuenon 28mm f/2.8 Lens on ISO 400 Kodak Film.
twitter this
Berlin Beisheim Center
Made by
david.bank (www.david-bank.com)
The Beisheim Center on Berlin's Potsdamer Platz is characterised by its elegant, American-influenced architecture and contains high-quality offices and shops as well as apartments and hotels. The complex was opened in January 2004.
Empty Station
Made by
AJ Brustein
This station in Berlin Germany - Potsdamer Platz - was surprisingly empty despite its central location and very clean appearance. So, why not take a picture of the empty bench while checking it out. Thus, this picture.
Videos:

Short history of Potsdamer Platz
us about the early days of Potsdamer Platz and how the square was reconstructed in the 90s....Berlin Germany Deutschland Tiergarten potsdamer platz architecture construction


Dinner and dessert at Potsdamer Platz, Berlin.
Dinner and dessert at Potsdamer Platz, Berlin....ridanos Potsdamer Berlin


Berlin Potsdamer Platz 12.05.01 Part 1 Art+Music Video
this when the architects and workers have just finished the new centre around the Potsdamer Platz in Berlin out of the blue. The music is by a group called


Potsdamer Platz - Daimler Chrysler City
Potsdamer Platz, Berlin, Germany - still under construction in 2003. Daimler Chrysler City was the first part of Berlin's new heart to open in 1998. DCC


Potsdamer Platz - Sony Center
Potsdamer Platz, Berlin, Germany - Sony Center Berlin with its impressive dome, a real tourist attraction. For more information please visit: www.kiekma.


Berlin Potsdamer Platz/Bundestag 12.05.01 Part 2 Art+Music
the original sound from a saxophonplayer in the underground without overdubs....Berlin Impressions 2 Ernst Horn Falun Gong Snakeman Show Japan Exhibition Bundestag Potsdamer Platz


POTSDAMER PLATZ BERLIN
POTSDAMER PLATZ BERLIN...POTSDAMER PLATZ BERLIN


Potsdamer Platz - Future World
Potsdamer Platz, Berlin, Germany - still under construction in 2003. For more information please visit: www.kiekma.com...Berlin Potsdamer Platz Germany


Berlin Potsdamer Platz Christmas Market 2006
Berlin Potsdamer Platz Christmas Market and Winterworld with skiing snowboarding curling an hot wine drinks kids by http://www.prestige-online.com


wet potsdamer platz
a shower in potsdamer platz in berlin...potsdamer platz berlin db ubahn sony


next stop: Potsdamer Platz
U-bahn Berlin...potsdamer platz u-bahn anhalt umsteigen


Potsdamer Platz - House of Film
Potsdamer Platz, Berlin, Germany - taking a stroll through the House of Film located at the Sony Center Berlin. For more information please visit: www.


Berlin Travels: Potsdamer Platz at night
a 360 degree view of the famous downtown of Berlin at night...potsdamer platz night 360 view degrees skyscrapers berlin germany travel


ICE Potsdamer Platz
......Potsdamer Platz


potsdamer platz Berlin
near to Sony center / a prop del Sony center / cerca del Sony center...potsdamer platz sony center Berlin


Berlin panorama Potsdamer Platz
Panorama from Potsdamer Platz, next to the train station....Berlin Potsdamer Platz


Potsdamer Platz - Beisheim Center
Potsdamer Platz, Berlin. For more information please check: www.kiekma.com....Berlin Hi-Flyer Beisheim Center


Potsdamer Platz
Fahrt über den Potsdamer Platz in Berlin am 3.10.06...Berlin driving night Potsdamer Platz


Nearest places of interest:
Popular places: