Videos: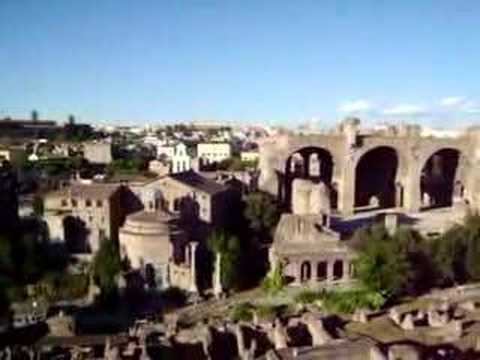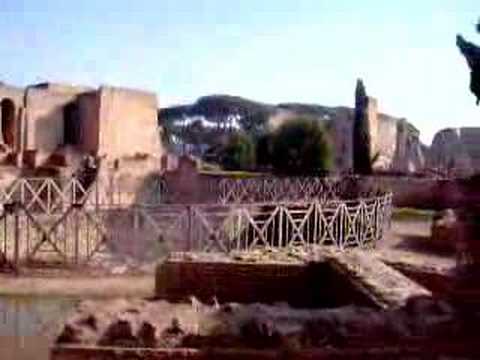 More videos
Palatine Hill
Interesting places in Palatine Hill:
The Palatine Hill (Latin: Palatium) is the centermost of the seven hills of Rome and is one of the most ancient parts of the city of Rome in Italy. It is some 70 metres high and looks down on one side upon the Forum Romanum and on the other side upon the Circus Maximus.
Location is derived from the great work of
WikiMapia
Top photos chosen by u all:
The Colosseum from Palatine Hill
Made by
MarcelGermain
Rome (Italy).
The Colosseum, originally the Flavian Amphitheatre, is an elliptical amphitheatre in the center of the city of Rome, the largest ever built in the Roman Empire. It is one of the greatest works of Roman architecture and Roman engineering. Occupying a site just east of the Roman Forum, its construction started around 70 AD under the emperor Vespasian and was completed in 80 AD under Titus, with further modifications being made during Domitian's reign (81–96). Capable of seating 50,000 spectators, the Colosseum was used for gladiatorial contests and public spectacles. As well as the gladiatorial games, other public spectacles were held there, such as mock sea battles, animal hunts, executions, re-enactments of famous battles, and dramas based on Classical mythology. The building ceased to be used for entertainment in the early medieval era. It was later reused for such purposes as housing, workshops, quarters for a religious order, a fortress, a quarry, and a Christian shrine. It has been estimated that about 500,000 people and over a million wild animals died in the Colosseum games. Although in the 21st century it stays partially ruined due to damage caused by devastating earthquakes and stone-robbers, the Colosseum is an iconic symbol of Imperial Rome and its breakthrough achievements in earthquake engineering. It is one of Rome's most popular tourist attractions and still has close connections with the Roman Catholic Church, as each Good Friday the Pope leads a torchlit Way of the Cross procession around the various levels of the amphitheatre. The Colosseum is also depicted on the Italian version of the five-cent euro coin. [Adapted from Wikipedia]
Look out, gypsy approaching! (2 more inside)
Made by
Aardewerk
17/01/2011; This was 1 of those moments that proved to me once again that some of the funniest moments on a trip, happen completely spontaneously. For some reason, this group of tourists stopped instantly once they were within 10 meters away from the gypsy. Thank heaven I still had my camera stand-by. :D And oh yeah, puns and jokes about the position of her back are not allowed, m'kay? It does make me realize again that everybody has a different explanation to what they consider to be the quality of life. This woman clearly had some screwed up things in her back, and then I'm not excluding the thought that there might be something wrong with her that's not so obvious to see. Given the fairly dead-end position this poor and probably older woman will most likely be in, without any hope of improvement anywhere near this lightyear, you'd think it would drive someone so crazy that he or she might want to kill him or herself. But apparently, this woman is still strong enough to find her little pieces of happiness in life every once in a while, despite all the battles she has to fight on a daily basis. And at least that is something for which I'd like to take my metaphorical hat off.
Massimo Silenzio n.2
Made by
giggex
"Massimo Silenzio" è una installazione di luci e colori tra storia e futuro ideata da Giancarlo Neri e realizzata grazie alla collaborazione e al sostegno di ENEL, con la produzione di Zètema Progetto Cultura in collaborazione con Hfilms.10.000 globi luminosi, posti direttamente a terra, che cambiano colore lentamente e in dissolvenza nel magico scenario del Circo Massimo. L'installazione luminosa si potrà ammirare fino all'11 settembre. "Maximum silence" is an installation of lights and colours between history and the future created by Giancarlo Neri and produced thank to cooperation and support from ENEL, and produced by Zètema Progetto Cultura in cooperation with Hfilms.10.000 luminous globes, placed directly on the ground, slowly changing colours and fading in the magic setting of the Circus Maximus. The luminous installation will be on show until September 11th. Notice: Pictures have not been treated, just adapted to be shown here. So, colors and lights are exactly the same as they came out of the camera.
Arco di Tito - Viewed from the West
Made by
Storm Crypt
One more shot of the arch of Titus -- from the west, before I get started with the Colosseum series. From this side of this pure marble arch, built in the 1st century, the inscription reads: INSIGNE · RELIGIONIS · ATQVE · ARTIS · MONVMENTVM VETVSTATE · FATISCENS PIVS · SEPTIMVS · PONTIFEX · MAX(IMVS) NOVIS · OPERIBVS · PRISCVM · EXEMPLAR · IMITANTIBVS FVLCIRI · SERVARIQVE · IVSSIT ANNO · SACRI · PRINCIPATVS · EIVS · XXIIII The English translation means: (This) monument, remarkable in terms of both religion and art, had weakened from age: Pius the Seventh, Supreme Pontiff, by new works on the model of the ancient exemplar ordered it reinforced and preserved. • In the year of his sacred rulership the 24th • These inscriptions were added on orders of Pope Pius VII, after its restoration in 1821.
Arco di Tito (Arch of Titus) Via Sacra Roman Forum Rome, Italy
Roma metropoli-museo-giardino..
Made by
emilius da atlantide
Better view on black
?
Il cielo di Roma cattura la tua attenzione quanto le rovine maestose che spuntano ovunque.. L'aria di Roma è forse inquinata come quella di altri posti ma respirandola riesci a cogliere qualcosa del Mediterraneo che dista una manciata di chllometri di strade trafficate.. e poi, nella natura dei prati verdi e degli alberi di pino marittimo, avverti quegli aromi che anticipano i Colli Albani dove i papi (quelli del Vaticano) si rifugiano a smaltire la calura dell'estate, circondati da splendidi angoli di bosco superstite e frutti della speculazione edilizia di palazzinari che avevano le mani in pasta piu' di un panettiere del centro storico..
KAP over the Coliseum in Rome with a Canon S95
Made by
Pierre Lesage
This one is SOOC (Straight out of the Camera) Thanks to Jim Powers (alias Windwatcher) as well as Fany & Anthony (alias Nonsenz) for their previous Kaptures of the Coliseum in Rome, that really helped us to find out where we could take off for our KAP session this afternoon. (Google Earth was also very useful) The weather was just beautiful, the light warm as Rome can be, the wind was light and strong enough for the only kite we had with us (Dan Leigh delta R8 Travel version) and for our dual camera autoKAP rig equiped with a Canon S95 and GoPro HD. No authority to tell us not to fly a kite, KAP at its best... a great session we are happy to share. Type L to see it large and or F if you like it !
Colosseum, Ancient Rome
Made by
**Anik Messier**
The Colosseum or Coliseum, originally the Flavian Amphitheatre is an elliptical amphitheatre in the centre of the city of Rome, Italy, the largest ever built in the Roman Empire. It is one of the greatest works of Roman architecture and engineering. Occupying a site just east of the Roman Forum, its construction started between 70 and 72 AD under the emperor Vespasian and was completed in 80 AD under Titus, with further modifications being made during Domitian's reign (81–96). The name Amphitheatrum Flavium derives from both Vespasian's and Titus' family name (Flavius, from the gens Flavia).
Finché esisterà il Colosseo...
Made by
paperinikkio
...esisterà anche Roma; quando cadrà il Colosseo, cadrà anche Roma; quando cadrà Roma, cadrà anche il mondo.
(Profezia del venerabile Beda, VIII secolo )
English translation:
As long as the Colosseum, Rome will also exist; when the Colosseum will fall, Rome will also fall; when Rome will fall, the world will also fall.
(prophecy of the Anglo-Saxon priest Beda, VIII century)
Luckily it is still there and in pretty good shape :)
Canon 450d Canon 17-40 L
View Awards Count
Circus Maximus
Made by
Gauis Caecilius
The Circus Maximus was and is the largest sporting stadium the world has ever known. Holding it is calcualted 250,000 and 300,000 people. Believe me when you walk round it circumphrance this does not seem the least improbable. Its primary use was for chariot races. It is also just about the oldest Roman remains in Rome or anywhere else pre dating most of what you can see by hundreds of years. It was built in the sixth century B.C. making it over 25000 yars old.
palatine in the snow
Made by
Cåsver
The
Palatine Hill
is one of the Seven Hills of Rome, the one where legends told that the city was first found, and imperial palaces were laid down. The so called Stadium in the Palace of Domitian shown here on the Hill was actually a garden and occasionally converted hippodrome. Voigtlander Bessaflex TM + Carl Zeiss Jena Flektogon 2.8/20mm + Fujifilm Velvia 100. Scanned by Minolta Scan Dual IV.
Nero (Take a Bow)
Made by
josemanuelerre
Nerón hace una reverencia
blog
facebook
youtube
twitter
tumblr
The Temple of Vesta, The Forum, Rome, Italy
Made by
nigelfj
The Temple of Vesta dates back to the 7th century B.C. and was one of the earliest structures located in the Forum (although it was rebuilt many times). Its circular form is probably derived from an original Etruscan shrine on the site. The temple was used as the storehouse for the wills and legal documents of prominent citizens as the Romans believed that the fortunes of the Temple of Vesta were closely tied to those of the city.
.
Made by
lollo [neon]
Scattata sul colle Palatino, a Roma, le rovine sono quelle dello stadio di Domiziano. la foto non è niente di che, ma mi piaceva la luce che c'era, la rendeva un po surreale... Magari è una c****a, ma a me piace... :) a voi l'aruda sentenza! intanto vi consiglio di ascoltare I miei complimenti di Marina Rei.
www.youtube.com/watch?v=CpNTnNbxJ2A
Window on a bygone age
Made by
Xerones
Window in a wall of the Domus Flavia, the state rooms of the Imperial Palace on the Palatine, Rome. How many people had stood at this window pondering matters of state, betting on the races (the Circus Maximus is to the left of the shot) or what to have for lunch? The dome just visible through the left of the window is that of the Jewish Synagogue in Rome in the heart of what is known locally as the Ghetto.
2008 - Nella mia ora di libertà..
Made by
Sid BlackLizard = Francesco Napoli
Di respirare la stessa aria dei secondini non ci va abbiamo deciso di imprigionarli durante l'ora di libertà venite adesso alla prigione state a sentire sulla porta la nostra ultima canzone che vi ripete un'altra volta per quanto voi vi crediate assolti siete lo stesso coinvolti. Per quanto voi vi crediate assolti siete lo stesso coinvolti. (nella mia ora di libertà - Fabrizio De Andrè)
Enough Roman To Shake a Stick At!!!
Made by
brackenb
I was reminded of my trip to Rome today! I CAN'T BELIEVE IT. I took a candid of a guy dressed as a Roman gladiator and he has only gone and found himself on Flickr and left a comment! So glad we weren't too rude about him lol! This is the fourth time this has happened to me! Oh - this is the Forum, Rome. Don't ask me what all the buildings are as I haven't a clue :o)!!
Palatine Hill, Rome
Made by
**Anik Messier**
December 2007 - Taken by Birdman. Birdman and I each travelled with our own camera this time. Him with the Canon PowerShot S2, me with the Canon PowerShot S5. You will be surprised to see some of the good shots Birdman took, although he only recently started to be interested in photography (having his own camera to play with without interference). ;-))
Monte Palatino & Colosseo
Made by
dongga BS
Rom die ewige Stadt oder Stadt der alten Steine :) Weitwinkelaufnahme vom Monte Palatino in Richtung des Amphitheatrum Flavium. HDR aus 3 Bildern ( handhold ), 12 zu 6 beschnitten Schwarz Weiss konvertiert, Deckkraft der S/W Ebene etwas reduziert und zum Schluss noch eine Texture eingearbeitet - schon fühlt man sich dem alten Rom etwas näher ;)
The seller of ocarina
Made by
tomato umlaut
This man sits at the entrance of the church Santa Maria in Cosmedin (more famous as the church with the drain cover known as the boca della veritas or mouth of truth). Apart from the usual touristy stuff like reproductions of the boca, he sells the little oval whistles known as
ocarinas
.
Arch
Made by
Rickydavid
[...] I am a part of all that I have met; yet all experience is an arch wherethrough gleams that untravelled world whose margin fades for ever and for ever when I move [...] -- Quote by Alfred, Lord Tennyson (English poet often regarded as the chief representative of the Victorian age in poetry, 1809-1892) Rome, Italy (May, 2007)
Videos:

Palatine Hill - Roman Forum - Colloseum
did two guided tours...one of the Colloseum and another of Palatine Hill...It was hard to absorb all the info, so the


View from Palatine Hill
Overlooking Circus Maximus from Palatine Hill, Rome, January 20, 2007...Rome Palatine Circus Maximus


Palatine Hill or Nova Scotia
Ian explains the habitats of the Eastern folk of Dartmouth, Nova Scotia....Cortona Trip


Ruins of Palatine Hill
Ruins of great palaces on Palatine Hill, January 20, 2007...Rome Palatine


Circus Maximus
From Palatine Hill...Palatine Hill Circus Maximus Italy Rome


Roman Forum and Roman Colosseum, Rome Italy
The Roman Forum is located in a valley that is between the Palatine hill and the Capitoline hill. It originally was a marsh, but the Romans drained the


Palatine excavations
Excavations on the Palatine hill in Rome...archaeology rome excavations palatine


Rome: Part Two
Our trip to the Colesseum, the Forum and the Palatine Hill....rome roma italy holiday vacation spring palatine collesseum coliseum colesseum jamandell


Vanished Rome
This is a clip from a documentary about an archaeological excavation on the Palatine Hill in Rome, Italy....archaeology


Rome - Day #2
trip to Rome, Italy in October 2007....Pantheon San Pietro in Vincoli Colosseum Foro Romano Palatine Hill Rome Italy trip ruins ancient holiday church


Palatine Chapel, Palermo, Sicily
Palatine Chapel, Palermo, Sicily http://www.flyingmonk.com/sicily.html We traveled to Sicily for almost two weeks and if there


Ancient Rome
A pan across ancient rome, as seen from Palatine Hill....rome roman ancient


THE JAY-LEAVX SHOW EPISODE IX: ROMAN HOLIDAY
photos from our recent trip to Rome. Includes shots of the forum, Palatine Hill, Circus Maximus, the Trevi Fountain, and...the Colisseum


Ancient Rome
A view across Ancient Rome from Palatine Hill. http://www.jeremikarnell.com...Rome Italy Jeremi Karnell Travel


Quedlinburg Germany Castle Views UNESCO world heritage site
of the castle-hill, Saxon Duke Henry is to have been offered the royalcrown in 919. He and his successors made the Quedlinburg palatinate an important centre


Slovakia Cachtice (Bathory) Castle
The castle hill in Čachtice was inhabited as early as in a prehistoric era. Findings of different items excavated directly in courtyards of the castle or close to the


Heidelberg Germany
old capital of the Palatinate and an ancient university town celebrated in song and poetry, lies at the point where the Neckar emerges from the hills of the Odenwald


Trier Germany
in a valley between low vine-covered hills of ruddy sandstone in the west of the state of Rhineland-Palatinate, near the German border with Luxembourg and


Open House 10/28 2-5 pm - Gurnee Schools! Ideal Location
Heights, Algonquin, Alsip, Antioch, Aurora, Bannockburn, Barrington, Barrington Hills, Bartlett, Belvidere, Bensenville, Berwyn, Bloomingdale, Bolingbrook, Buffalo


Nearest places of interest:
Popular places: