Videos: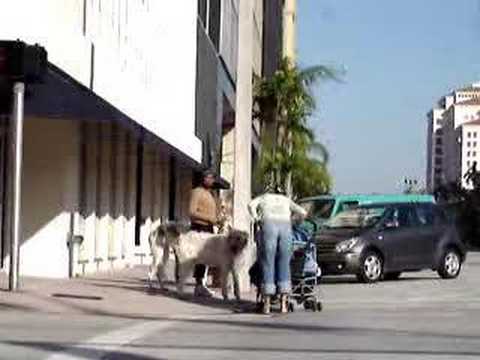 More videos
Miami, Florida
Interesting places in Miami, Florida:
Miami is a major city in southeastern Florida, in the United States. Miami and the surrounding metropolitan area are situated on northern Biscayne Bay between the Everglades and the Atlantic Ocean. By population, Miami is the largest city in Miami-Dade County and the county seat, the largest city in the South Florida metropolitan area, which comprises Miami-Dade County, Broward County, and Palm Beach County, making up the largest metropolitan area in the Southeastern United States and the sixth largest metropolitan area in the United States. However, based on city limits, it is the second-largest city in Florida (after Jacksonville).
Ancient Spanish Monastery, 16711 West Dixie Highway , 945-1461. M-Sa 9AM-5PM, Su 1PM-5PM . Originally built in Segovia, Spain in 1141, this monastery was originally supposed to be a part of William Randolph Hearst's property in California. Partly because he ran out of money and partly because the United States would not allow the monastery to be built in California, the monastery remained in New York Harbor until 1954, when a couple of businessmen bought the property and assembled it in Miami. Parts of the monastery have not been assembled because the government removed the pieces from numbered boxes and then placed the wrong pieces in the wrong boxes. Today the monastery is a church as well as a popular marriage location. As seen on the History Channel show Adult admission $5, senior and student admission (with valid ID) $2.50, child admission $2.
Holocaust Memorial, center of Meridian Drive and Dade Boulevard, 538-1663. Daily 9AM-9PM. This memorial was created with the help of Miami Beach Holocaust survivors and sculptor Kenneth Treister in 1984; it was finally opened to the public in 1990. The most noticeable features of this memorial are its large arm with Holocaust victims trying to climb up the arm (it even has an Auschwitz tattoo similar to the ones issued at Auschwitz), its pool with a dedication to the "Jewish victims of the Holocaust" just outside the pool and sculptures of a mother and her children perishing to death surrounded by Anne Frank quotes. Behind the massive arm is the Garden of Meditation, dedicated to life, and a history of the Holocaust etched (with some covered-up errors) in granite. Surrounding the arm is a tunnel highlighted by an eternal flame. The tunnel has the names of the concentration camps sculpted inside of it and leads you to more sculptures surrounding the arm as well as names of victims of the Holocaust etched in granite and items such as Jewish candles placed by visitors honoring the memory of the dead. Free.
Coral Castle, 28655 South Dixie Highway, (305) 248-6345. An odd complex of stone structures, built with enormously heavy stones, and allegedly by one man, without the help of modern equipment.
Jewish Museum of Florida, 301 Washington Avenue, 672-5044 (fax 672-5933). Tu-Su 10AM-5PM. Closed on Mondays and civil and Jewish holidays. This museum, located in a 1936 synagogue that hosted Miami's first Jewish congregation, has a permanent exhibit detailing how Florida's Jews arrived in Florida as well as their history in Florida and their customs. The museum also has videos to view while you're inside the museum, temporary exhibits in the center of the synagogue and a gift shop. Adult admission $6, senior and student admission $5, family admission $12, children under six and members of the Jewish Museum of Florida free. Admission is also free on Saturdays.
Bass Museum of Art, 212 Park Avenue, 673-7530 . Tu-W and F-Sa 10AM-5PM, Th 10AM-9PM, Su 11AM-5PM. This art museum, expanded by Japanese architect Arata Isozaki, houses several European artworks from the 15th to the 20th century. Baroque and Northern European artworks are the highlights of the Bass Museum's collection. The Bass Museum also hosts touring exhibitions and the New Information Workshop, a computer laboratory that allows visitors to create their own artwork. $12 adults, $10 students and seniors, children under 6 years of age free. Free admission the second Thursday of each month from 6PM-9PM.
Wolfsonian-Florida International University, 1001 Washington Avenue, 531-1001 . M-Tu and F-Sa 11AM-6PM, Th-11AM-9PM, Su 12PM-5PM. Back in the 1930s and 1940s this building was the headquarters of the Washington Storage Company, a facility where the rich could stash their valuables whenever they were out of town. Movie theater heir and Miami native Mitchell Wolfson, Jr. stored so much artwork here that he decided to buy the storage company and later give the building to Florida International University, hence the museum's odd name. The Wolfsonian hosts a large modernist art collection on its upper three floors (the only floors, excluding the first floor, that are open to the public) that includes propaganda posters and postcards and Art Deco household items as well as touring exhibits. There is also a café, bookstore, fountain and a modernist-inspired artwork on the first floor. After paying admission, patrons enter the Wolfsonian with a sticker that has a picture of an artifact from the museum's permanent collection. $5 .
Venetian Pool, 2701 DeSoto Boulevard , 460-5306 . Hours are around 11AM-5PM every day, but call to verify hours. In the 1920s Denman Dink transformed this limestone quarry into a pool with a waterfall, an area for kids and an area for adults. The water in this pool comes from a spring and is drained daily. In addition to the swimming facilities there is a snack bar (you bring outside food into the Venetian Pool) and lockers. Swimming lessons are also offered here. The Venetian Pool is best known for having Esther Williams and Johnny Weissmuller (the silver screen's first Tarzan) swim here. $6 for people 13 years of age and older, $3 children under 13 ; $9 for people 13 years of age or older, $5 children under 13 .
Vizcaya Museum and Gardens, 3251 South Miami Avenue, 250-9133. European-inspired estate. Includes a main house filled with art and furnishings and ten acres of gardens on Biscayne Bay. $12 adults, $9 Miami-Dade residents with ID, patrons using wheelchairs, seniors 62 years of age or older with ID and students with ID, $5 children 6-12. Admission free for children 5 years of age or younger.
Bayfront Park, 301 Biscayne Boulevard (in Downtown Miami). In addition to two amphitheaters (one large amphitheater and a smaller one, the South End Amphitheater, which hosts live performances), this park has memorials for the astronauts who perished in the Challenger spaceship accident, former president John F. Kennedy (the JFK Torch of Friendship), and a fountain dedicated to Claude Pepper, a distinguished US congressman.
Oleta River State Recreation Park, 3400 N.E. 163rd St, +1 305 919-1846. Daily 8AM-sunset. The largest urban park in Florida has trails for biking, a beach for swimming, picnic areas and a playground for kids. Get a canoe or kayak to row to a mangrove island within the park. Several animals such as eagles and fiddler crabs also make their home here. Fourteen cabins with air conditioning are also on the premises, but bathrooms, showers and grills are located outside the cabins and guests should bring their own linens. $5 for a vehicle carrying up to eight passengers, $1 bicyclists, pedestrians and extra passengers .
Location is derived from the great work of
WikiMapia
Top photos chosen by u all:
Freedom Tower, Miami
Made by
bridgepix
The
Freedom Tower
is a building in Miami, Florida, that serves as a memorial to Cuban immigration to the United States. It is located at 600 Biscayne Boulevard. On September 10, 1979, it was added to the U.S. National Register of Historic Places. This tower is not to be confused with the Freedom Tower in New York expected to be completed in 2010 and open in 2011. Originally completed in 1925 as the headquarters and printing facility of the Miami News & Metropolis newspaper, it is an example of Mediterranean Revival style with design elements borrowed from the Giralda Tower in Seville, Spain. Its cupola on a 255 foot (78 m) tower contained a decorative beacon. In the 1950s the Miami News vacated the building to share facilities with the rival Miami Herald. As refugees from the Castro regime arrived in Miami, the federal government used the facility to process, document and provide medical and dental services for the immigrants. After the first major wave of immigration had passed, the government sold the building in the 1970s. Passing through several owners, the dilapidated building was eventually abandoned until 1997 when a prominent and controversial member of the Cuban-American community, Jorge Mas Canosa, purchased the building for $4.1 million US. The building was restored and converted into a monument for the refugees who fled to the United States from communist Cuba. It houses a museum, library, meeting hall, and the offices of the Cuban American National Foundation. Recently the Freedom Tower was purchased by developer Terra who wished to demolish 75 feet (23 m) of the original tower and develop 683 condominium units. A group of preservationist organized and successfully stopped the demolition, Miami Dade County Preservationists included Armando Gutierrez Jr, Rafael Penalver, Richard Heisenbottle and Dade Heritage Trust. The developers were unable to gain approval. The developers then donated the Freedom tower to Miami-Dade College, which plans to use it as a monument to the Cuban community. The city later granted approval to the developers to build on the back of the property without demolishing the original tower. Currently, the Freedom Tower is used as an Art gallery, having housed the New World School of the Arts BFA show, and exhibitions through the Miami Art Museum displaying work from famous artist Francisco Goya as well as Janet Cardiff & George Bures Miller The Killing Machine & Other Stories (Wikipedia)
Miami Skyline at Sunset from I-95
Made by
srcohiba
There are some crazy idiot photographers out there who like to go up in hot air balloons or para-sail with expensive equipment for their shots or there are those like me who will take a shot the side of I-95 which happens to provide the best views of the city. Well here you go. The skyline in golden light. Please kids, don't do this at home. It is insane. Damn, would you believe I took this exactly one year ago? Time flies huh?
A Lot of Plywood
Made by
ASurroca
Obviously, the hi-rises in Downtown Miami are still a mess well after the rest of the city has relegated Hurricane Wilma to a distant memory. That is a lot of broken windows for Cat 1 level winds! Someone is going to get sued over this, I'm sure.
Dade County Courthouse
Made by
srcohiba
Shot of the Miami Dade County Courthouse and Downtown Miami. Shot on Agfa Scala on a Mamiiya 7ii 6x7 Rangefinder w/80mm lens. Scanned and cropped in photoshop. I used a deep yellow filter on this.
BacardiBldg1
Made by
babyfishfel
It's a monument in my childhood memories. This is the Bacardi building on Biscayne Blvd in Miami.
Videos:

Real Estate Condos Homes for Sale Miami FL Four Seasons
condo hotels units and 222 room hotel. For more info www.condohotels.com...Real Estate Condos Homes for Sale Miami FL Four Seasons


A Stroll Thru Coral Gables, Miami Florida
"Vida Atlantico- Miami & The Palm Tree Culture"...Tropical Miami streetscene Sun Art coralgables Architecture People Fun Music


Road Trip Tampa to Miami 08-16-07
Road Trip Tampa to Miami 2007 - I was using Glidecam 2000 Pro to stabilizer the video...Road Trip to Miami 2007 Florida St. Petersburg Skyway Bridge


Carnival Victory 1st day Miami florida
Carnival Victory Cruise ship Miami Florida. & day cruise to eastern caribbean. seagulls and the arnival Valor behind us. Watch as the ship gets ready to sail


South Beach Miami
Miami FL, Shows a good view of buildings and cruise ships. And video of South Beach itself with some nice cars....Driving South Beach Miami


I95 I-95 miami florida highway interestatal 95
i95 i-95 miami florida interstate highway bridges in the downtown... i95 i-95 miami florida interestatal puentas en el centro de la ciudad.


Bayside Residents Association, Miami, FL
Biscayne Blvd. (US 1). The old homes architecture, the Bay and Parks and surrounding area....Florida Miami Homes Architecture xxxx1


Weekend Getaway Miami Florida Shark Hunting
Shark Hunting in Miami Florida. http://www.adventureweekends.net...weekend travel vacation


Miami, Florida, USA City Profile - in Mandarin
A profile on the city of Miami, Florida, USA, in Mandarin...miami florida usa tourism


Concierge.com Travel Video: "24 Hours in... Miami,...
, Miami. See famous landmarks such as the Delano Hotel, Lummus Park, Scotty's Dock and Star Island. Visit the renowned art deco house of Miami,


Promo Trump Condominiums Miami Florida
for potential buyers of the luxurious condominiums of Trump Grande and the Trump Towers in Miami Florida....Trump Towers Miami Florida Real Estate Luxury Condominiums


South Beach Miami Florida Portofino
South Beach Miami Florida Portofino...South Beach Miami Florida Portofino Continuum Murano yachtclub Bentley Apogee Apoggee


Miami florida
Florida trip with crocket's theme...Florida miami vice crockets theme lamborghini diablo everglades


downtown, Out Of Town- Miami Florida
"Vida Atlantico- Miami & The Palm Tree Culture"...Tropical Art Sun fun Archtitecture cruiseships Water downtownmiami Port Of Miami


Infrared Doral Isles, Miami - Florida
Infrared pictures of Doral Isles....Doral Miami Florida


American Boeing 737-800 landing - Miami, FL
American 737-800 lands in Sunny Miami March 2007 BNA-MIA...American AA miami airport boeing 737 landing airline airplane


Miami Florida with Will Smith
Ride from Miami to Key West...Miami Florida Chrysler Prowler Buick


South Beach Miami Florida Portofino
South Beach Miami Florida Portofino...condo real estate apartment South Beach Miami Florida Portofino


Take Off from Miami Florida
Take Off from Miami International Airport in Florida...Take Off Miami Florida


Nearest places of interest:
Popular places: