Videos: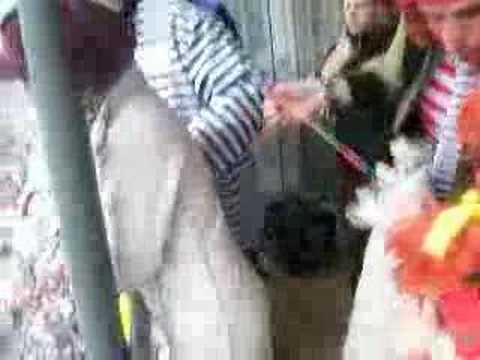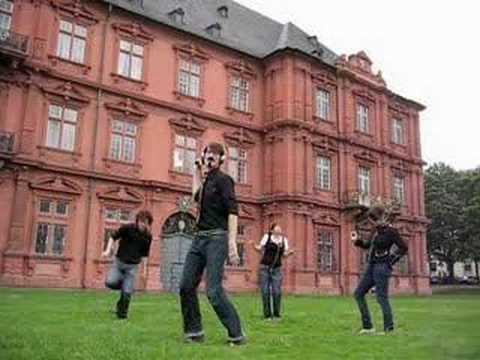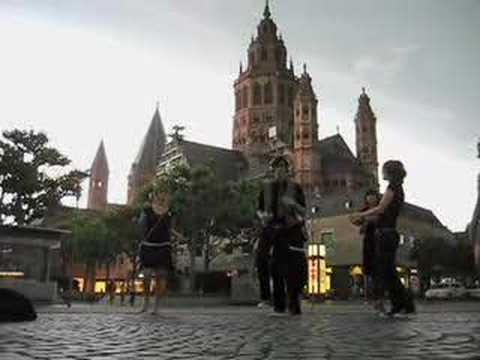 More videos
Mainz
Interesting places in Mainz:
Mainz is a city in Germany and the capital of the German federal state of Rhineland-Palatinate. Mainz is located on the river Rhine across from Wiesbaden, in the western part of the Frankfurt Rhine Main Area.
Romanesque cathedral (one of Germany's oldest; others are in: , )
"Stephanskirche", world-famous Chagall windows (blue)
River Banks with lots of restaurants and (night) clubs.
The Theodor Heuss Rhine Bridge between Mainz and is one of three Rhine bridges that connect Mainz with and the state of . Like almost all other German Rhine bridges, the former bridge had been destroyed in World War II. The bridge was rebuilt in the early 1950s and named after the first president of the Federal Republic of Germany, Theodor Heuss. Kastel, a former Mainz suburb and several other villages on the right side of the Rhine, has been separated from the city after the war, as the Rhine was the border between the French and American occupation sectors. Even today, Kastel, Kostheim, Amoeneburg, Ginsheim, Gustavsburg and the other former suburbs consider themselves part of Mainz, although they are administered by Wiesbaden and Hesse.
The City Hall was built in the early 1970s by Danish architects, who used many tons Swedish marble for the facade. Considered at the time it was built, the city hall is not very popular today, many consider it too monumental, some even ugly. From the extensive city hall platform there is a beautiful view on the Rhine promenade and the river.
Schillerplatz. Beautiful, leafy square in central Mainz with the fountain said to represent the jesters and fun of Mainz's fastnacht celebration.
Mainz is also the home of the man identified by Time magazine as the most important individual in the last millennium, Johannes Gutenberg, inventor of the moveable type printing press. At the Gutenberg Museum (Liebfrauenpl 5, Ph: 011 49 06131 1266-4044, Website: www.gutenberg.de), there are reconstructions of print shops and Gutenberg's hand press, an exhibition of incunabula, and the first two Gutenberg bibles are on display in a strong room. They also have a section devoted to the far East with colored woodcarvings and prints from Japan, China and Korea.
Unique to Mainz is the Museum für Antike Schifffahrt (Museum of Ancient Navigation), where the remains of five 5th century Roman warships have been restored. These ships were found when the local Hilton was expanding its property.
Location is derived from the great work of
WikiMapia
Top photos chosen by u all:
Zollhafen Mainz #6
Made by
Markus Lenhart
The Port of Mainz (or Mainzer Hafen in German) is the port of Mainz, Germany. Lying on the western bank of the Rhine river, it has a long history reaching back through the Middle Ages to Roman times. The modern port facilities, existing for approximately 120 years in their general environs, are located mostly to the north of the city proper, and will be extended to the north of their current location during the coming years to make space for a new residential area. Roman times Mainz ('Mogontiacum' in Latin times) during Roman times was a major colonial town, the centre of Roman life in the area for many centuries. The facilities included a trade port at the 'Dimesser Ort' (in the area of the current port), and a military port (in the area of the current old town), from which the vessels of the Roman river navy patrolled the Rhine. During the gradual Roman retreat from their remaining possessions in front of invading German tribes, some of the naval vessels were abandoned in a section of the port (likely around 407 AD, when the city was sacked for the second time). Their remains rested in the earth and mud of the riverbank before being recovered 1981/1982 during excavation works for a Hilton hotel. They are now exhibited together with two life-sized replica ships in a dedicated local museum. Middle Ages For the early Middle Ages, there is limited information about any port facilities, possibly reflecting the much-reduced stature of the city. However, in 1317 Mainz, in addition to becoming a market town, received staple rights. This meant that any river trading ship had to unload its goods and offer them for sale to the local citizenry for three days. Only after this period was it allowed to travel on with its remaining goods. This legal control over the merchant shipping on the Rhine helped make the city rich. Modern age Industrial Age The increasing importance of the wine trade in Mainz helped keep the port prosperous after the end of the Middle Ages. During 1860-1885, the Rhine was also being channelised and dredged to become a major route for the increasing trade of an industrialising Europe. This resulted in two new port areas being built for the city, the Winterhafen ('Winter port') south of the old town (just north of the Südbrücke), while a new Zollhafen ('Customs Port') was constructed north of the city, in the general area of the old Roman trade port. The Zollhafen was surrounded by fortresses, but its commercial function was clearly expressed in the many stately warehouses that were soon erected around the 12 ha water and on the 15 ha land area. At the time, it was considered one of the most modern river ports of the world. Beyond World War II During the Second World War, the Zollhafen (by now clearly the main industrial port), was about 85% destroyed. Of the old buildings, few survived, amongst them the massive wine storage building, a concrete structure erected in 1912. However, the port quickly recovered, and as early as 1950 reached its pre-war average annual turnover, with 740,497 tonnes. The 1 million tonnes mark was reached in 1952. In the following decades, most changes were operational or technical only, such as the installation of modern cranes in the 1980s. In the 1990s, plans were then begun for a possible extension or relocation of facilities that were increasingly by their location close to the growing residential areas of the city. Ihr findet mich auch auf:
Markus Lenhart Blog
Follow me on Twitter
Alte Ziegelei Mainz
Made by
Markus Lenhart
Die Alte Ziegelei in Mainz wurde um 1900 durch Ludwig Anselm Rosbach in der unmittelbaren Nähe ergiebiger Lehmvorkommen gegründet. Nachdem 1904 der Ringofen fertiggestellt worden war, wurden in industriellem Maßstab Ziegel produziert. Der ringförmig angelegte Ofen erlaubte das kontinuierliche Brennen von Wand- und Dachziegeln durch eine ständig wandernde Feuerzone. Dieses Prinzip war 1858 von dem Berliner Baumeister Hoffmann entwickelt worden und war eine der technischen Vorbedingungen für die Expansion der Städte im 19. Jahrhundert. Die Ziegel wurden jetzt auch nicht mehr einzeln mit der Hand gestrichen, sondern maschinell geformt. Mit einem Stammpersonal von 23 Mann konnten in der Ziegelei pro Tag etwa 30.000 Ziegel hergestellt werden. Dies entsprach etwa der Menge, die man damals für den Bau eines Zweifamilienhauses benötigte. 1922 wurden bei der Modernisierung des Betriebes Nebengebäude und neue Arbeiterwohnungen errichtet. 50 Jahre später musste die Ziegelei jedoch aufgegeben werden, da die oberflächen- nahen Lehmvorkommen erschöpft waren und die Konkurrenz durch neue Brenntechniken und moderne Baustoffe zu groß geworden war. Längere Zeit waren Gelände und Gebäude ungenutzt, jedoch wurden zahlreiche Planungsideen für das Wildgrabental und die Ziegelei entwickelt. Die Bandbreite reichte von einem Gelände für die Bundesgartenschau über ein Gewerbegebiet bis hin zu einem kommerziellen Freizeitpark. Als Reaktion darauf setzten sich 1976 Bretzenheimer Bürgerinnen und Bürger in einem VHS Gesprächskreis mit alternativen Planungsideen auseinander. Als Folge dieses Engagements entschloss sich die Stadt Mainz 1978 zum Kauf des Geländes. In enger Zusammenarbeit zwischen Stadt und Bürgerinitiative erfolgten Bestandssicherung und Ausbau bewusst mit einfachsten Mitteln. Viele der umfangreichen Aufräum- und Baumaßnahmen wurden freiwillig und kostenlos von zahlreichen engagierten Helferinnen und Helfern geleistet. Mit dem Ringofen, dem Schornstein, zahlreichen Trockenschuppen für Ziegelrohlinge, Schienenwegen usw. gehört die Ziegelei zu den wenigen erhaltenen Anlagen dieser Art im weiten Umkreis. Sie steht daher aus technikgeschichtlichen Gründen seit 1992 als Denkmalzone unter Schutz. Ihr findet mich auch auf:
Markus Lenhart Blog
Follow me on Twitter
Drehbrücke am Winterhafen in Mainz
Made by
Markus Lenhart
Hi one of my last picture with selective coloring... I take it in my last Mainz visit... Die Drehbrücke am Winterhafen in Mainz wurde um 1877 erbaut und zählte somit zu den ältesten noch erhaltenen Drehbrücken. Sie überquert den Winterhafen und dient als Verbindungsstück zwischen der Altstadt und der Mole am Victor-Hugo-Ufer. Zwölf Jahre nach Eröffnung des Winterhafens 1865 ermöglichte die Drehbrücke eine Schiffsdurchfahrt bei jedem Wasserstand. Nach der Rheinufererweiterung gab es zwei Drehbrücken in Mainz. Die Brücke am Zoll- und Binnenhafen wurde jedoch nach 1945 abgebrochen. Das Objekt steht unter Denkmalschutz und gilt als Kulturdenkmal. Die Drehvorrichtung der Brücke am Winterhafen war seit den 1980er Jahren nicht mehr funktionstüchtig und wurde 2009 ersetzt, da sie sprödbruchgefährdet war. Außerdem sollen künftig auch Yachten in den Winterhafen fahren können um den Freizeitwert für ein nahes Baugelände zu steigern. Die Demontage der alten Drehbrücke erfolgte am 20. März 2009 unter Beteiligung von Riga Mainz. Die neue Drehbrücke wurde ab April des gleichen Jahres in den Werkstätten des Wiesbadener Unternehmens Huhle Stahl-und Metallbau gefertigt. Die Montage der neuen Stahlkonstruktion erfolgte am 29. Oktober 2009.[1] Das Bauwerk ist 37,50 Meter lang, 4,50 Meter breit und 54 Tonnen schwer. Das alte Brückenteil wog lediglich 21,5 Tonnen. Vom Typ handelt es sich um eine asymmetrische, zweiflügelige Straßendrehbrücke aus genietetem Stahlfachwerk. Damit soll das Aussehen der neuen Brücke weitgehend an das der alte Brücke angepasst werden. Die Konstruktionsmaterialien entsprechen modernen Anforderungen, so besteht der Bodenbelag aus Aluminium, statt wie früher aus Holzbohlen. Der "Königszapfen" als Drehpunkt ist auf einem Sandsteinpfeiler platziert. Dieser nun nicht mehr sichtbare Teil der Mechanik hat einen Durchmesser von 20 Zentimetern. Vom Bewegungsmechanismus kann man ausschließlich den Lauf- und Rollkranz des Drehpfeilers erkennen. Die Brückenwiderlager werden durch Balustraden akzentuiert, die in gebogenen Mauerstücken mit Steinbänken ausklingen. Die Gesamtkosten für das Projekt wurden auf 1,1 Millionen € beziffert. Ihr findet mich auch auf:
Markus Lenhart Blog
Follow me on Twitter
Mainz at Night
Made by
Markus Lenhart
Der Hohe Dom zu Mainz ist die Bischofskirche der römisch-katholischen Diözese Mainz und steht unter dem Patrozinium des heiligen Martin von Tours. Der Ostchor ist dem Hl. Stephan geweiht. Der zu den Kaiserdomen zählende Bau ist in seiner heutigen Form eine dreischiffige romanische Pfeilerbasilika, die in ihren Anbauten sowohl romanische als auch gotische und barocke Elemente aufweist. Mainz Cathedral or St. Martin's Cathedral (in German Mainzer Dom, Martinsdom or - officially - Der Hohe Dom zu Mainz) is located near the historical center and pedestrianized market square of the city of Mainz, Germany. This 1000 year-old Roman Catholic cathedral is the site of the episcopal see of the Bishop of Mainz. Mainz Cathedral is predominantly Romanesque in style, but later exterior additions over many centuries have resulted in the appearance of various architectural influences seen today. It comprises three naves and stands under the patronage of Saint Martin of Tours. The eastern quire is dedicated to Saint Stephen. The interior of the cathedral houses tombs and funerary monuments of former powerful Electoral-prince-archbishops, or Kurfürst-Erzbischöfe, of the diocese and contains religious works of art spanning a millennium. The cathedral also has a central courtyard and statues of Saint Boniface and The Madonna on its grounds. Ihr findet mich auch auf:
Markus Lenhart Blog
Follow me on Twitter
Mainzer Südbrücke
Made by
Markus Lenhart
Geschichte: Sie war seit römischer Zeit die erste feste Brücke über den Rhein und die vierte Rheinbrücke, die in Deutschland errichtet wurde. Im Eisenbahnverkehr ersetzte sie ein Trajekt, das der Rhein-Main-Bahn seit dem 1. August 1858 für die Rheinquerung diente. Die Südbrücke wurde zwischen 1860 und 1862 errichtet, wurde am 20. Dezember 1862 in Betrieb genommen und seit dem 3. Januar 1863 im fahrplanmäßigen Betrieb befahren. Die Südbrücke fiel dem Zweiten Weltkrieg zum Opfer. Sie wurde in den letzten Kriegstagen von Pionieren der Wehrmacht gesprengt, um die vorrückenden amerikanischen Truppen aufzuhalten. Amerikanische Pioniere errichteten daraufhin oberhalb der zerstörten Brücke eine eingleisige hölzerne Behelfsbrücke. Diese Behelfskonstruktion behinderte mit ihren engen Feldern den Schiffsverkehr jedoch stark und hatte nur eine sehr eingeschränkte Kapazität. 1948 bis 1949 erfolgte der Wiederaufbau der Südbrücke mit zwei nebeneinander liegenden parallelgurtigen K-Stahlfachwerkträgern. Nur noch die westlichen Brückentürme zum Stadtpark Mainz hin sind erhalten geblieben. Die Brücke quert die Landesgrenze zwischen Hessen und Rheinland-Pfalz. Auf Hessischer Seite ist sie Kulturdenkmal nach dem Hessischen Denkmalschutzgesetz. Ihr findet mich auch auf:
Markus Lenhart Blog
Follow me on Twitter
Mainz at Night
Made by
Markus Lenhart
In modern times, paint, particularly spray paint, and marker pens have become the most commonly used graffiti materials. In most countries, marking or painting property without the property owner's consent is considered defacement and vandalism, which is a punishable crime. Sometimes graffiti expresses social and political messages and a whole genre of artistic expression is based upon spray paint graffiti styles. To some, it is an art form worthy of display in galleries and exhibitions; to others it is merely vandalism. Graffiti has evolved into a pop culture existence often related to underground hip hop music, b-boying, and a lifestyle that remains hidden from the general public. Graffiti can be used as a gang signal to mark territory or to serve as an indicator or tag for gang-related activity. Controversies that surround graffiti continue to create disagreement amongst city officials/law enforcement and graffitists who wish to display and appreciate work in public locations. There are many different types and styles of graffiti and it is a rapidly developing artform whose value is highly contested, reviled by many authorities while also subject to protection, sometimes within the same jurisdiction. Ihr findet mich auch auf:
Markus Lenhart Blog
Follow me on Twitter
Zitadelle Mainz
Made by
Markus Lenhart
The Mainzer Zitadelle (Citadel of Mainz) is situated at the fringe of the Old Town in direct proximity to the railway station Mainz Römisches Theater. The fortress was constructed in 1660 and was an important part of the Fortress Mainz. The Jakobsberg hill, where the citadel was constructed, had been occupied by a Benedictine abbey during the middle ages (since 1050). Halfway up the hill, the amphitheater of the Roman settlement of Mogontiacum, which has been recently excavated, must also have been visible at that time. The Jakobsberg hill, however, had not been integrated in the ring of the defensive city walls of the town and this flank of the city was therefore only slightly protected. This position immediately at the gates of the town opened a strategic gap, as an aggressor could use the hill for a raid into Mainz or for a cannonade. The construction of the Schweickhardtsburg fortress under the supervision of cathedral vicar Adolph von Waldenburg during the years 1620-29 provisionally filled this gap and integrated the hill into the system of city walls. The name of the irregularly pentagonal fortification honors the reigning monarch of that time, the prince-elector Johann Schweikhard von Kronberg. Ihr findet mich auch auf:
Markus Lenhart Blog
Follow me on Twitter
Mainz vor dem Frühlingsanfang
Made by
Markus Lenhart
Ich habe hier versucht den ankommenden Frühling darzustellen. Indem ich selektive Farbe benutz habe, alles was schattig auf dem Bild ist wurde in schwarz/weiß gehalten. Die Sonnigen Ausschnitte habe ich Farbig gelassen. Ich fand die Idee recht witzig zu zeigen wie die Frühlingssonne das schlichte Grau aus uns verbannt. Denn hier in Mainz treiben die ersten Sonnenstrahlen des Frühlings die Leute auf die Straße. Die Erstellung: Es ist eine Aufnahme von der ich 6 virtuelle Kopien erstellt habe und diese +3 über 0 und -2 von der Belichtung eingestellt habe. Dann in Photomatrix zu einem HDR zusammengefügt und in S/W konvertieren lassen. Hier habe ich dann für das Licht die Sättigung auf +8,0 eingestellt, somit wurden zumindest zu 70% schon die selektiven Farben erstellt. Den Rest habe ich in Lightroom erstellt, wie? Gute frage ich mach das immer aus dem Bauch heraus ;-) Ihr findet mich auch auf:
Markus Lenhart Blog
Follow me on Twitter
Mainz
Made by
Extra Medium
A 12 hour flight sitting in the same row as an angry old lady in a hood, speaking a completely foreign language does not make for the best travel mate. So sleeping wasn't really an option. I got to the airport, and the reservation I made with Hertz got messed up, and instead of my pre-reserved Audi A4, I get a Ford Focus wagon. (strike 2) But my new GPS worked, and I made it to my hotel on the Rhine, and got a couple hours to walk around the city and explore Mainz. Instead of having bratwurst, I went for one of my other European favorites... doner kabab!! So, now I'm off for a walk for a pint, which should put me to sleep at approximately 10pm and then... off to a very long day tomorrow. gute Nacht! (and internet access is $37/day at my hotel!) And here is my shot
LARGE
and I won't even charge extra.
Classis Germanica
Made by
SBA73
A Mainz es troba un museu dedicat a mostrar les restes de vaixells romans trobats a la riba del Rhin en aquella ciutat. Mainz era Mogontiacum, i com a tal, un dels centres militars de Germania al llarg del imperi. La Flota de Germania en llatí s'anomena Classis Germanica. --------------------------------------------------------------
Enlarge This Photo
In Mainz there's a museum for the remains of roman ships found in the Rhine. In roman times, Mogontiacum (Mainz) was one of the strategic positions of the roman army in Germania. The latin name for the Rhine's navy is Classis Germanica.
www2.rgzm.de/navis/musea/mainz/aid.htm
Susi & Many
Made by
Digital Agent 
The love Lock, as it is known, is when two people profess their eternal love for each other and want to signify that love and let the world know by fixing a lock to a railing or other secure part of a bridge and tossing the key into the river. In this case Susi and Many locked their love 13 August 1991 on the railing of a bridge crossing the Rhine River in Mainz Germany. Folklore suggests the lovers lock got it's start in Cologne Germany but it quickly spread to other places on the Rhine....I don't know if this phenomenon is here, but next time I cross a bridge in North America I will be looking...:-)) Read what a local German paper has to say about this.....
here
Mainz at night
Made by
Markus Lenhart
Nachdem ich ja viel mit HDR in letzter Zeit gemacht habe, möchte ich gerne wieder ein wenig auf das normale forografieren zurück. Also habe ich gestern Abend die Chance genutzt um in Mainz eine kleine Runde zu drehen. Hier eine Langzeitbelichtung von gestern Abend in Mainz. Der Brunnen befindet sich direkt am Mainzer Marktplatz, so wirklich zufrieden bin ich mit der Aufnahme noch nicht. Ich denke ich muss da einfach nochmal bissel die Settings meiner Kamera überdenken! Ihr findet mich auch auf:
Markus Lenhart Blog
Follow me on Twitter
Portrait series #2
Made by
Markus Lenhart
As you all know I try to improve my portrait skills. So I just bough an studio flash with 60 cm softbox and an constant light with 1,40 meter softbox. I have made this following captures with my Metz AF 50 flash without any softbox or reflectors. Equipment Pentax K-5 with Tamron 17-50 f 2.8 lens, and thanks on my model Katrin what is also my muse :-) I will try to upload some captures over this day... Ihr findet mich auch auf:
Markus Lenhart Blog
Follow me on Twitter
Quinqueremes
Made by
SBA73
A Mainz es troba un museu dedicat a mostrar les restes de vaixells romans trobats a la riba del Rhin en aquella ciutat. Mainz era Mogontiacum, i com a tal, un dels centres militars de Germania al llarg del imperi. --------------------------------------------------- In Mainz there's a museum for the remains of roman ships found in the Rhine. In roman times, Mogontiacum (Mainz) was one of the strategic positions of the roman army in Germania.
www2.rgzm.de/navis/musea/mainz/aid.htm
Mainz at Night
Made by
Markus Lenhart
Hier zu sehen ist das Rheinufer in Mainz, direkt am Rheingold. Im rechten Ausschnitt sieht man noch ein Stück des Mainzer Radhauses. Die Belichtung war recht schwierig, denn die Laternen strahlen ein recht ungewöhnliche Farbtemeratur aus,so das ich hier meinen Graukarte benutzen musste. Ihr findet mich auch auf:
Markus Lenhart Blog
Follow me on Twitter
Rainbow in the Moonlight
Made by
DOS82
A very beautiful night in Mainz, Germany. There's no Photoshop manipulation ore anything like that, I did only some RAW contrast adjustments (as I always do). Settings: Canon EOS 400D , Sigma DC 50-200mm @ 200mm, Tripod, Cable Remote f/5.6, 8sec. @ ISO 400. ISO 400 makes a little noise in long exposures but the moon is moving too fast, to get this in a lower ISO.
Museum Christuskirche
Made by
BackFromLeave
After a day-long cruise up and down the Rhine River the past weekend, we made the long trek back to the car in Mainz as the sun started setting. Captured here is the Museum Christuskirche, which split up the Kaiserstrasse very neatly. It's a shame that I didn't get a chance to go inside to explore, but this was built in 1903 so I can just imagine the elaborate designs and architecture inside.
Staatstheater Mainz
Made by
nodomain.cc
This is the result of playing around with Lightroom 3 beta. I think I am going to try more with different aspect ratios when editing images. Update:
nodomain.cc/2010/01/13/was-lightroom-so-alles-kann.html
- here's how I did it. (German only, sorry)
[:vitality:]
Made by
[:NikonOnFire:]
This Scuplture is called Vitality (Lebenskraft) and is made by Andreu Alfaro in 1979. I choosed this perspective to emphasis the power. The power of life is the double helix, it refers to the structure of DNA.
de.wikipedia.org/wiki/Andreu_Alfaro
Saturday Market in Mainz
Made by
szeke
Saturday market in downtown Mainz, around the corner from the beautiful cathedral. Mainz is a very nice old town, forming part of the roman empire. It is also the birth place of Gutenberg, and there is a nice Gutenberg museum with many old books and history of the printing press. Pretty cool. Germany.
Videos:

Fassenacht (Carnival) in Mainz
Aisha and Zhané partying at Carnival in Mainz...carnival fassenacht mainz


MAINZ - Davey Dance Blog- "Never Be Alone"
Davey Dance-BLOG. Pick a pop song. pick a location of historical interest. then dance. (additional dancing by the Harth sisters and Heber Villegas


MAINZ 2 - Davey Dance Blog- "Suspicious Character"
Davey Dance-BLOG. Pick a pop song. pick a location of historical interest. then dance. (additional dancing by the Harth sisters, Dani Schmitt


Mainz,Germany
Pictures taken by me during the three month stay in germany in 2004....Anshu Mainz Perfect Circle Renholder


Mainz
Mainz, Germany, July 2007...Mainz


24.11.07 mainz meeting [1]
mainz gammel gammel bahnhof...walk mainz meeting battle


24.11.07 mainz meeting [3]
battle mainz meetinq whateva xD...mainz meeting battle 24.11.07


24.11.07 mainz meeting [2]
mainz mainz kp eyii xD...mainz meeting battle 24.11.07


Kinderfestival in Mainz 2007
Das hier hat der Sony Picture Package Auto-Music-Video-Maker ausgespuckt......Kinderfestival Kinderfest Mainz 2007


Beach Club Mainz 2
Beach Club Mainz-Kastel...Beach Club Mainz-Kastel


12+1 reasons to visit Mainz
12+1 reasons to visit Mainz, the Rhineland-Palatinate capital in Germany: http://tinyurl.com/23wmnz (German)


Rosemondnacht in Mainz
Fassenacht in Mainz am Rhein...mainz rosenmontag dom rosemondnacht germany carneval februar


Network Meeting 2007 AEGEE Mainz/Wiesbaden
---...---


Mainz
Germany...Germany


Carneval in Mainz
Carneval Parade in Germany...Germany


Mainz - Europa Cantat 2006 - lunch time!!
our personal restorant "la stalla" :D...europa cantat 2006 choir travel music mainz deutschland germany food fun


Mainz, Germany Fasching
Parade in Mainz Germany 2007....Fasching Germany Parade


2007 Fasching Parade in Mainz Germany
Parade with band...Mainz Germany Parade Fasching Damian


24.11.07 mainz meeting [4]
mainz .........mainz meeting battle 24.11.07


Nearest places of interest:
Popular places: