Videos: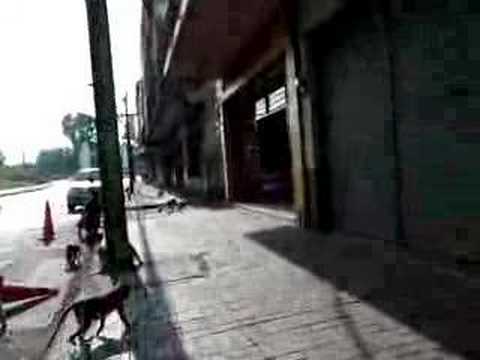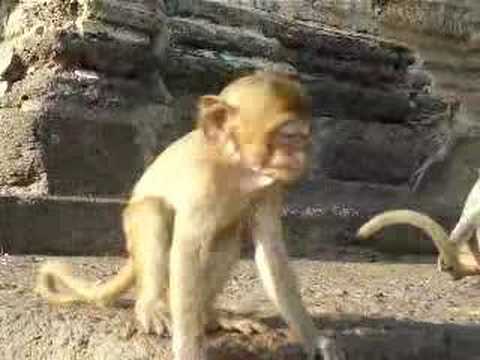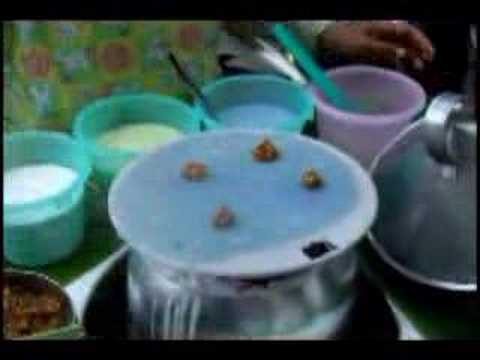 More videos
Lopburi
Lopburi is the capital city of Lopburi province in Thailand. It is located about 150 km north-east of Bangkok, at 14°49'N 100°37'E, and has a population of 54,000. Prang Sam Yot, the Khmer temple in Lopburi Prang Sam Yot, the Khmer temple in Lopburi
Ban Vichayen, Narai Maharat Road. The remains of the official ambassadors residence, built during the reign of King Narai the Great. Only the outer walls of the three main buildings remain, in a small grassy area. Daily 08:30-16:00. 30 baht.
Phra Kahn Shrine, Narai Maharat Road. The site of a small shrine, the remains of a Khmer prang, a few stalls and lots of monkeys. The stalls sell offerings to be dedicated at the shrine, and food and drink. The monkeys eat the food, drink, offerings and anything else going. Good for a few photos. There are signs warning of purse-grabbing by the monkeys, but they appear docile if not provoked. No charge.
Phra Narai Ratchanivet or King Narai's Palace, entrance on Thanon Sorasak on east wall. Built in 17th century under King Narai command with the aid of French, Italian and Portuguese engineers, the palace was used for receiving foreign officials and royalty. Restored in 1856 by King Mongkut and converted to a museum in 1924. It consists of the remains of various buildings in an enclosed park, and the central palace which holds prehistoric exhibits, buddha images of Dvaravati, Lopburi and Khmer styles, and King Mongkut's bedroom in its entirety. Open Wed-Sun 8:30-16:00, closed Mon-Tue and national holidays. 30 baht.
Phra Prang Sam Yot - Khmer-style temple with monkeys
Wat Phra Phutthabat, 17km south-east of Lopburi. Take any Saraburi bus (#104) which leave the main bus station every 20 mins, take 30 mins to get to the side road 1km from the wat, and cost 21 baht.
Wat Phra Sri Rattanamahathat - one of the most important temples; no monkeys
Wat Sao Thong Thong, Rue De France. A wiharn belonging to a working wat, which also has a small amulet market in the grounds. Previously used as a Christian chapel and a Mosque temple, it has now been restored and features a large buddha image, with several smaller Lopuri-era images in wall niches. No charge.
Videos:

Lopburi monkey city.Thailande.
Look real monkey in lopburi street.A small city in center of Thailande...monkeys


Monkeys at Prang Sam Yot Temple, Lopburi, Thailand (3/3)
From Lopburi, Thailand, in February, 2007. Take at Prang Sam Yot, an ancient temple from the Khmer period that was converted from Hindu to Buddhist


Khanom Pack Mon; Dumpling Vendor in Lopburi
). Oh, I miss those dumplings so much. http://www.sabathedog.org/...food dumpling vendor Lopburi Thailand


King Narai Fair Parade, February 2007, Lopburi, Thailand
Lopburi. The event is not just a historical festival but a community celebration, taking place each year in February at the King's Palace....Narai Lopburi


Monkey Temple in Lopburi Thailand
The city of Lopburi Thailand has a long history, dating back into the Dvaravati period more than 1000 years ago, when it was known as Lavo. When


Lop Buri Bike Trip part one
The First of a three part series on a bike trip from Chaiyaphum to Lop Buri in Central Thailand. The participants are Yui's family and Friends. Along the


Lop Buri
Thailand holiday 2007. Visit Lop Buri for the day travelling on the local train...Lop Buri Lopburi train bangkok monkey town jane greg


Surachai Seebubpa Teachers Day Lopburi - Sept 2007 Part 3
Surachai Seebubpa Teachers Day Lopburi - Sept 2007 Part 3...Surachai Seebubpa Teachers Day Lopburi - Sept 2007 Part 3 Traditional Thai Dance


Monkeys at Prang Sam Yot Temple, Lopburi, Thailand (1/3)
From Lopburi, Thailand, in February, 2007. Take at Prang Sam Yot, an ancient temple from the Khmer period that was converted from Hindu to Buddhist


Monkeys at Prang Sam Yot Temple, Lopburi, Thailand (2/3)
From Lopburi, Thailand, in February, 2007. Take at Prang Sam Yot, an ancient temple from the Khmer period that was converted from Hindu to Buddhist


Lopburi
Lopburi...Lopburi


Lop Buri Bike Trip part two
Chaiyaphum to Lop Buri in Central Thailand. The participants are Yui's family and Friends. This part begins at an Air Force Base outside of Lop Buri and then


Me feeding a monkey in Lopburi
I gave food to a monkey in Lopburi, Thailand....Thailand Monkey


Hotel Lopburi
des singes a la fenetre...monkeys singes Lopburi


pregaria de monjos budistes, Lopburi
pregaria de monjos budistes, Lopburi mire i judh al temple...monjo buddha lopburi mire judh tailandia


Monkeys In Lopburi, Thailand
Monkeys In Lopburi, Thailand...Monkeys Monkey Lopburi Thailand


On the road around Lopburi
Lopburi...Car


Thailand - Train to Lop Buri pt1
merce verso Lop Buri --Sent via http://heyspread.com : Upload videos to multiple sites quickly...Thailand Train 'Lop Buri'


Gobe Quack lopburi
Funny game...Events


Nearest places of interest:
Popular places: