Videos: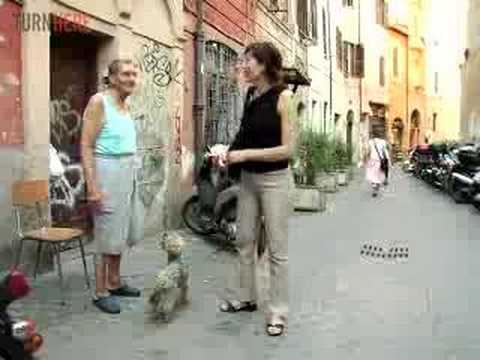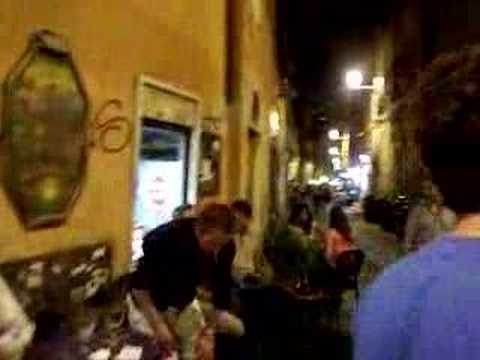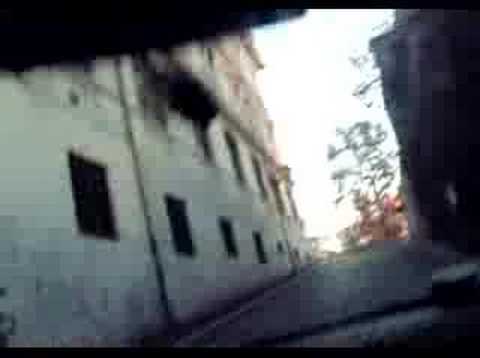 More videos
Trastevere
Interesting places in Trastevere:
hill Trastevere is rione XIII of Rome, on the west bank of the Tiber, south of Vatican City. Its name comes from the Latin ''trans Tiberim'', meaning literally "beyond the Tiber". The correct pronunciation is "tra-STEH-ve-ray", with the accent on the second syllable. Its logo is a golden head of a lion on a red background, the meaning of which is uncertain (...)
Church of Santa Maria in Trastevere See the golden mosaics in the ceiling.
Location is derived from the great work of
WikiMapia
Top photos chosen by u all:
Roma. Piazza Campo dei Fiori (Plaza Campo de las Flores).
Made by
josemazcona
Campo dei Fiori (Campo de flores), es una plaza de Roma que se encuentra en el rione Parione. Hasta el siglo XV la plaza no existía y en su lugar había un prado florido, del cual deriva su nombre. En el 1456 el Papa Calixto III hace pavimentar la zona como parte de un proyecto más amplio de remodelación de todo el rione de Parione. Esta remodelación preveía que muchos edificios importantes fueran construidos en la zona; en particular, el edificio de la familia Orsini estaba en el mismo Campo dei Fiori. Por este motivo la plaza se hace un lugar de paso obligatorio para las personalidades más relevantes tales como embajadores y cardenales. Esto aportó un cierto bienestar a la zona: la plaza se convierte en la sede de un floreciente mercado de caballos que se llevaban dos veces a la semana (lunes y sábados), y en torno a ella surgieron muchos locales, albergues y talleres de artesanos. La plaza se convierte en centro de actividades varias, ya sean comerciales o culturales. En Campo dei Fiori tenían lugar ejecuciones públicas. Aquí el 17 de febrero del año 1600 fue quemado vivo Giordano Bruno, en cuyo recuerdo se construyó un monumento erigido en la misma plaza en el año 1887, obra de Ettore Ferrari. Desde el año 1869 tiene lugar un mercado cuya atmósfera popular está bien recogida en la película Campo dei Fiori del año 1943 con Anna Magnani y Aldo Fabrizi. Todos los días Campo dei Fiori es uno de los puntos de encuentro nocturnos más populares de los jóvenes, sean italianos o extranjeros, donde se reunen a beber en torno a la plaza, gracias a la presencia de muchos locales y pubs no demasiado caros. La importancia de esta plaza ha ido en aumento desde que alberga una parte del mercado ciudadano transferido aquí y en la cercana plaza de los Nagoni desde el Capitolio.
#5 Roma, Chiesa di San Pietro In Montorio: Tempietto del Bramante
Made by
Eye Light
Scoprire San Pietro In Montorio
....San Pietro in Montorio fu costruita su una delle alture del Gianicolo chiamata Monte d'Oro per i colore della terra. Secondo una tarda tradizione, ormai decisamente rifiutata, in questo luogo sarebbe stato crocifisso l'apostolo. Nel 1480 i re di Spagna, proprietari della zona, diedero avvio alla costruzione della chiesa sui resti di un monastero risalente al IX secolo. Il famoso Tempietto del Bramante fu anch'esso ordinato dai re di Spagna in adempimento di un voto espresso alla nascita del loro primogenito. Il grande architetto adottò per questo edificio la pianta centrale facendo chiaro riferimento ai 'martiria' e ai templi pagani dedicati ai personaggi mitologici forti ed eroici. Rientrava nella citazione classica l'uso delle colonne doriche ritenute da Vitruvio, teorico dell'architettura romana, lo stile più adatto a celebrare la figura dell'eroe. Nel disegno originale, il gioco di linee curve del piccolo tempio doveva essere completato da un chiostro a pianta rotonda, mentre attualmente la costruzione è collocata in un cortile quadrato appartenente all'annesso convento francescano. Il tempietto è uno dei pochi edifici bramanteschi rimasto intatto e dimostra fino a che punto il grande architetto avesse assimilato le idee e i canoni dell'architettura classica senza però cedere all'imitazione. Da tutto l'insieme spira un senso di straordinaria perfetta armonia come da qualsiasi tempio classico.... Da:
www.romaviva.com
Santa Barbara dei Librai
Made by
fesign
The church of Santa Barbara dei Librai was built into one of the vaults under the cavea (the semi-circular seating area) of the Theater of Pompey some time before 1100 AD. The only real exterior of the church is the façade. The sides and back are completely enclosed by other structures built into or on the ruins of the cavea of the Theater of Pompey. The two-level façade, designed and built in 1680, is the work of the Roman architect and painter Giuseppe Passeri, a pupil of Carlo Maratta. In the lower section, the first order, we find the door, framed by two columns capped with composite capitals and an arched tympanum enclosing the head of a cherub. The architrave bears the Latin inscription S.Barbarae V.M. Sacr. In the second (upper) order there is a niche enclosing the travertine statue of Saint Barbara by Ambrogio Parisi. Flamboyant candelabra flank the terminal tympanum. Two windows with an elegant seashell motif almost form small lateral wings. Below the right hand window a Latin inscription indicates that on the 22nd February 1638 the Guild of Book Sellers bought the whole piazza in front of the church up to the public thoroughfare for scudi 400. What appear to be 18th century structures encroach on the left side of the second level of the façade. ~ MMDTKW
and misty memories of days gone by
Made by
°A
Al Green - How can you mend a broken heart
I can think of younger days when living for my life Was everything a man could want to do I could never see tomorrow, but I was never told about the sorrow And how can you mend a broken heart? How can you stop the rain from falling down? How can you stop the sun from shining? What makes the world go round? How can you mend this broken man? How can a loser ever win? Please help me mend my broken heart and let me live again I can still feel the breeze that rustles through the trees And misty memories of days gone by We could never see tomorrow, No one said a word about the sorrow And how can you mend a broken heart? How can you stop the rain from falling down? How can you stop the sun from shining? What makes the world go round? How can you mend this broken man? How can a loser ever win? Please help me mend my broken heart and let me live again _______________________________________________ shot by , processed by me.
Fontana dei Quattro Fiumi - IL GANGE - Piazza Navona
Made by
Luigi Mancini
IL GANGE On EXPLORE Dec 26, 2008 #474 The Fontana dei Quattro Fiumi or 'Fountain of the Four Rivers' is a fountain in the central Piazza Navona of Rome. Erected in 1651, is considered a masterpiece of public sculpture by Gianlorenzo Bernini. This fountain means to depict allegories for the four great rivers in the four continents recognized by the Renaissance geographers: the Nile in Africa, Ganges in Asia, Danube in Europe, and Río de la Plata in America. La scultura detta Fontana dei Quattro Fiumi si trova a Roma in piazza Navona ed è stata ideata e plasmata dallo scultore e pittore Gian Lorenzo Bernini nel 1651. Le statue che compongono la fontana hanno una dimensione maggiore di quella reale. I nudi rappresentano le allegorie dei quattro principali fiumi della Terra: Nilo in Africa, Gange in Asia, Danubio in Europa e Rio della Plata in America, uno per ciascuno dei continenti allora conosciuti.
In mezzo scorre il fiume...
Made by
Valentina_A
View On Black
Canon Eos 450D con obiettivo 18-55mm f/3.5-5.6. IS Scattata senza cavalletto. ISO 400, F/5, 1/2sec, 34mm ------------------------------------------------------------------------------------------------------------------- Sono riva di un fiume in piena Senza fine mi copri e scopri Come fossi un'altalena Dondolando sui miei fianchi Bianchi e stanchi, come te - che insegui me. Scivolando tra i miei passi Sono sassi dentro te – dentro me Se non sei tu a muoverli Come fossi niente Come fossi acqua dentro acqua. Senza peso, senza fiato, senza affanno. Mi travolge e mi sconvolgi. Poi mi asciughi e scappi via. Tu ritorni poi mi bagni. E ti riasciughi e torni mia. Senza peso e senza fiato..non son riva senza te...
ie.youtube.com/watch?v=qp9YBQkVJ14
#7 Sant' Ivo alla Sapienza
Made by
Eye Light
Osservare i riflessi di luce sulla cupola della Chiesa di Sant' Ivo alla Sapienza
....L'originale struttura è basata sulla fusione di due triangoli equilateri (simbolo della Trinità), che danno vita a una pianta esagonale a stella. Il tortuoso profilo si mantiene inalterato per tutta l'altezza della chiesa, continuando nelle sue intrigate linee anche nelle volte della cupola. La cupola, presenta modanature dorate su fondo bianco, che accentuano la slanciata suddivisione dei volumi in spicchi. La lanterna che si erge al termine della cupola ha una particolarissima forma a spirale, che sembra bucare il cielo di Roma. Anche se poco conosciuta dai turisti, è certamente uno dei più bei gioielli architettonici della città.... Da:
www.abcroma.com
not one other move!
Made by
kelsk
Explored. Highest position #312 on June 29, 2011 The Fontana dei Quattro Fiumi or Fountain of the Four Rivers is a fountain in Rome, Italy, located in the urban square of the Piazza Navona. It was designed in 1651 by Gianlorenzo Bernini for Pope Innocent X. The base of the fountain is a basin from the centre of which travertine rocks rise to support four river gods and above them, an ancient Egyptian obelisk surmounted with the Pamphili family emblem of a dove with an olive twig. Collectively, they represent four major rivers of the four continents through which papal authority had spread: the Nile representing Africa, the Danube representing Europe, the Ganges representing Asia, and the Plate representing the Americas. texture of Cathairstudios:
Le maquillage de la petite princesse
Made by
Luigi Mancini
CARNEVALE ROMANO - Piazza Navona - Roma 27/02/2011
Vedi tutte le mie foto - View all my photos
Ringrazio i genitori della piccola principessa per avermi concesso il permesso di pubblicare la foto. I thank the parents of the little princess for giving me permission to publish the photo. Ich danke den Eltern der kleinen Prinzessin, dass sie mir die Erlaubnis, das Foto zu veröffentlichen. Doy las gracias a los padres de la pequeña princesa por darme permiso para publicar la foto. Agradeço aos pais da pequena princesa por me dar a permissão para publicar a foto.
O Roma o morte (l'alba dal Gianicolo)
Made by
Geomangio
Where contest Winner and pubblied. Gianicolo. The places of I besiege. It was the 1849, this man, with to the others that to the Gianicolo have lost the life, tried to rebel itself to the papal power and to found one true Roman Republic. The world would be changed... Gianicolo. I luoghi dell'
assedio
. Era il 1849, quest'uomo, insieme agli altri che al Gianicolo hanno perso la vita, provò a ribellarsi al potere papale e a fondare una vera Repubblica Romana. Se solo ci fossero riusciti, oggi il mondo sarebbe diverso..
Sisto Bridge, Rome
Made by
**Anik Messier**
Ponte Sisto is a footbridge in Rome's historic centre, spanning the river Tiber. It connects Via del Pettinari in the Rione of Regola to Piazza Trilussa in Trastevere. The current bridge was built by Pope Sixtus IV between 1473 and 1479 as a replacement of a prior Roman bridge named Pons Aurelius. The bridge is architecturally characteristic because of its central circular eye. It connects the popular night-life areas near Campo de' Fiori and Trastevere and has become part of popular culture and recently featured in films, music videos, and adverts. * * * Taken on 25 December 2007
Made by
Magicamentelena☆
Cario diariaccio, sono innervosita come una iena con le emorroidi. Ho caldo. Devo imparare a memoria una caterva di molecole e sintesi. Che poi a che cazzo mi servirà? Tanto non mi ricordo una beneamataminchia. Tra l'altro ho tantissime fotografie. Non me ne piace manco una. Ne avrò cambiate una decina oggi. Manco questa mi piace, c'è quella cazzo di finestra che si vede dalla feritoia. La lascio solo perchè c'è Giordana, lei è bella. Ho caldo. Sono sudata. Sono appiccicaticcia. Mi si appiccicano le mani. Mi si appica il gatto. Devo andare a ripassare. Vaffanculo mondo.
[Roma 2011]
Made by
Luca Napoli [lucanapoli.altervista.org]
View On Black
Molto spesso in questo periodo mi capita di addentrarmi in angoli della città eterna poco battuti dal turismo di massa. Roma, purtroppo vista solo un oretta in notturna, offre spunti davvero suggestivi. Peccato non avere il tempo di sviluppare un bel progetto fotografico. Queste foto fermeranno nella mia memoria il ricordo di un breve periodo trascorso nella capitale per motivi di lavoro...tutto qui.
Made by
Magicamentelena☆
Caro diario, quant'è bello trovare un libro che ti piace dalla prima parola fino all'ultima. Di quelli che ti fanno venir voglia di leggerli tutti d'un fiato, ma che però, per non farli finire troppo presto, leggi un capitolo alla sera prima d'andare a dormire. Peccato che ne trovo 1 ogni 10 libri letti. E se mi va bene.
www.youtube.com/watch?feature=player_embedded&v=G1exE...
ROMA: TEMPIETTO DE SAN PIETRO IN MONTORIO
Made by
Miguel_CD
EL EDIFICIO: Construido por Donanto Bramante (1502) por encargo de los Reyes Católicos, junto a la iglesia de San Pietro in Montorio:
Tempietto_of_San_Pietro_in_Montorio
LA FOTO. Una de las complicadas de este viaje, por el contraste entre luces y sombras, independientemente de la hora, y por el limitado espacio del patio que contiene el edificio. Suerte de los 12 mm y del CS3.
Nuns in Rome - Il plotone delle 7 antimeridiane
Made by
Carlo Alessandro Nicolau
Scattata vicino Campo de' Fiori, a Roma Taken near Campo de' Fiori, Rome (Italy)
map
Piazza Navona in Rome
Made by
Tobi_2008
Piazza Navona is a city square in Rome, Italy. It is built on the site of the Stadium of Domitian, built in first century AD, and follows the form of the open space of the stadium. The ancient Romans came there to watch the agones (games), and hence it was known as 'Circus Agonalis' (competition arena). It is believed that over time the name changed to 'in agone' to 'navone' and eventually to 'navona'. From Wikipedia
exit stage left
Made by
Ąиđч
Explore #320. last night i went to the cinema for the first time since my daughter was born 2 years ago(!) the movie was terrible but what's interesting is that i'm so into photography right now that i even brought my camera to the movie theater :-) anyway i had only about 5 seconds to capture this shot so it's slightly out of focus. by the way, this was taken at ISO 1400. unbelievable quality!
Layers...
Made by
Trapac
FujiFinepix F450 (Point & Shoot Digicam). Another aerial shot from the roof of the Venerable English College down to the streets below - layers of colour, texture, history and human stories one on top of the other. This one appealed to the voyeur in me - you can have a good uninterrupted nose of those terraces from here....scrutinised implaccably by yet another church cupola on the horizon!
Roma. Calle del Trastévere tras la lluvia.
Made by
josemazcona
Trastevere es un barrio de Roma, ubicado en la ribera oeste del Tíber, al sur de la Ciudad del Vaticano. Su nombre viene del latín trans Tiberis, Tras [el] Tíber. Perderse por sus calles es todo un placer donde se aprecia el más puro sabor romano. El Trastevere sufrió varias inundaciones por las crecidas del Tíber. La más grave fue la de 1598 en la que murieron más de mil personas.
Videos:

Trastevere
Many Trasteverini claim that their neighborhood is the heart of Rome. See for yourself. TurnHere, Inc., produces Internet video for a variety of businesses across


The streets of Trastevere
Taken June 20th, 2007 on the streets of Trastevere Rome...trastevere rome


Trastevere 1
Trastevere...Trastevere Lungara Roma Tevere Trilussa Romani Macchina Gita Viaggio Capitale Italia Città più bella del mondo fiume


Piazza S. Maria in Trastevere
An Evening of Dance and Cheering Piazza S. Maria Trastevere...italy rome trastevere piazza santamaria


Rome - Restaurant in Trastevere
flock to its many pubs and restaurants. However, much of the original character of Trastevere remains....Roma Rome Trastevere Singer Cantanti Ristorante Restaurant


Our neighbourhood in Rome - Trastevere
Our locale in Rome and the restaurant below our place....Rome Trastevere music


Santa Maria in Trastevere
Plaza de la Iglesia de Santa Maria in Trastevere...Roma Trastevere Santa Maria Italia


Rapero de Trastevere
Miguelin Trastevere...Children Italy


Santa Maria Trastevere
Iglesia Santa Maria Trastevere...Iglesia Santa Maria Trastevere Roma Vicky


trastevere
roberto...rome


Los Chatos in Trastevere
and they really perform well together. This is a small bit from their final sequence, the fire dance....fire chile chatos trastevere rome


Dinner in the Trastevere section of Rome
Dinner at Trattoria de "Gli Amici" after we took the Rick Steves' Trastevere walk....Rome Italy


TRASTEVERE (luglio 2001)
passeggiando per trastevere una mattina di luglio...viale trastevere santa maria san francesco ripa via del moro piazza trilussa


Trastevere part II
Vivaldi in Rome...classical rome trastevere


Nightlife in Trastevere, Rome
Nightlife in Trastevere...italy nightlife in trasteverde rome street party


Moving in Trastevere 1
How people move furniture in my neighborhood in Rome....Rome Trastevere moving


Trastevere, Rome
italy nightlife in trasteverde...italy nightlife in trasteverde rome street party


Paseando por Roma trastevere 2
Paseando por Roma trastevere 2...Roma trastevere gaby Martin


trastevere
video de animação, gravado no trastevere, em roma....trastevere


Nearest places of interest:
Popular places: