Videos: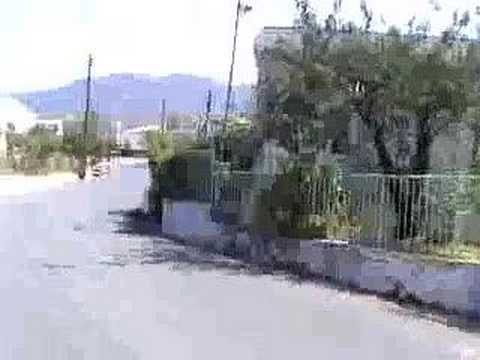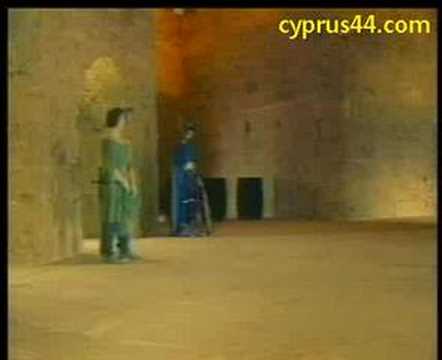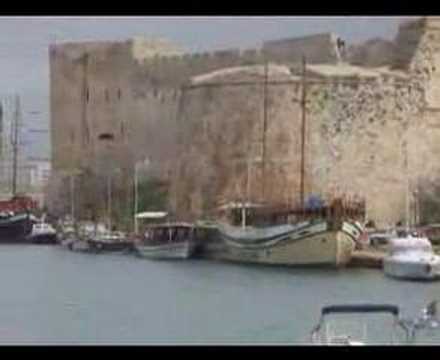 More videos
Kyrenia
Kyrenia (Greek: Keru%neia Keryneia ; Turkish: Girne) is a town in the north part of Cyprus. The town is known for its historic harbour.
Kyrenia Castle. Next to the harbor. An ancient castle of uncertain origin, but probably built by the Byzantines in the 7th century. Richard the Lionheart conquered it (and the rest of Cyprus) in 1191 on his way to , only to lose it to the Lusignans, the Venetian, the Ottomans and eventually the British, who used it as a prison.
Shipwreck Museum. Within Kyrenia Castle. This small museum houses the preserved wreck of a wooden merchant ship dated 306 BC, found in 1967 off the coast of Kyrenia. The cargo of 400 (clay jugs) filled with olives and almonds was still (relatively speaking) intact.
Videos:

Agios Amvrosios - Ayios Amvrosios, Kyrenia, Cyprus
A video of Agios Amvrosios, Kyrenia, Cyprus, taken in 2006....Agios Amvrosios Ayios Kyrenia Cyprus 1974 esentepe


Kyrenia Castle North Cyprus
com - Kyrenia Castle stands at the entrance to the harbour at Kyrenia, guarding this important and strategic North Cyprus port since the 1500s....kyrenia castle


Kyrenia
quick vid around Kyrenia TRNC North Cyprus...Kyrenia Girne North Cyprus


Girne Kyrenia
Girneden Fotograflar ( Photographs from Kyrenia)...girne kyrenia cyprus kıbrıs kypros trnc kktc


girne kuşbakışı kyrenia
girne kalesinden girne manzaraları kyrenia's views from Kyrenia's castle...girne kyrenia cyprus kıbrıs KYPROS trnc kktc


North Cyprus
Girne...Kibris North Cyprus Turkish Turk Kyrenia Nicosia Famagusta Girne Lefkosa Magusa Music Turkiye KKTC Travel


North Cyprus
kibris...North Cyprus kuzey kibris kktc Famagusta Kyrenia magusa girne lefkosa turkish beauty heaven turk asia paradise island


North Cyprus
magusa karpaz & girne...North Cyprus kuzey kibris kktc Famagusta Kyrenia magusa girne lefkosa turkish beauty heaven turk asia paradise island


Driving in Cyprus
is in association with The JDI Network....driving in north cyprus girne kyrenia nicosia lefkosa geon106 holiday car road country europe travel 2006 turkish turk


Cyprus-piece of paradise (It never rains in southern Cyprus)
of Kyrenia 5:10 - motorway from Nicosia to Kyrenia (Fivefingers Mountains, Penthadaktylo Mountains) 5:20 - Bellapais Abbey, 5 km south from Kyrenia


North Cyprus
North cyprus...Kibris North Cyprus kuzey kibris Turkish Turk Kyrenia Nicosia Famagusta Girne Lefkosa Magusa Music Turkiye KKTC


North Cyprus
hope you enjoy this piece that i put together.......North Cyprus Famagusta Kyrenia magusa girne lefkosa turkish beauty heaven turk asia


North Cyprus
A video of Northern Cyprus...Kibris North Cyprus Turkish Turk Kyrenia Nicosia Famagusta Girne Lefkosa Magusa Music Turkiye KKTC Travel


Cyprus
Cyprus bella-pais Abbey Kyrenia...Cyprus bella-pais Abbey Kyrenia


Cyprus Trip
Kyrenia Harbor with Nidai and Derya....having drinks!...kyrenia girne


North Cyprus
Magusa......North Cyprus Famagusta Kyrenia magusa girne lefkosa turkish beauty heaven turk asia


North Cyprus
a short clip of north cyprus...Kibris North Cyprus kuzey kibris Turkish Turk Kyrenia Nicosia Famagusta Girne Lefkosa Magusa Music Turkiye KKTC hadise


North Cyprus
This is why i love north cyprus.......North Cyprus Famagusta Kyrenia magusa girne lefkosa turkish beauty heaven turk


North Cyprus
A short clip of northern cyprus...Kibris North Cyprus kuzey kibris Turkish Turk Kyrenia Nicosia Famagusta Girne Lefkosa Magusa Music Turkiye KKTC Travel


Nearest places of interest:
Popular places: