Videos: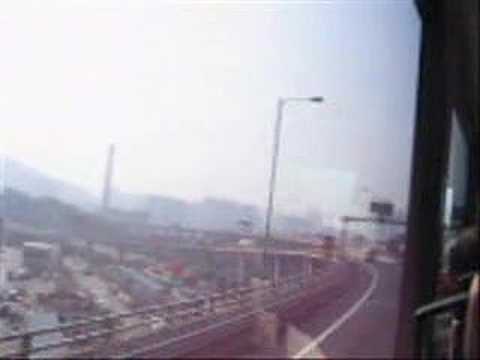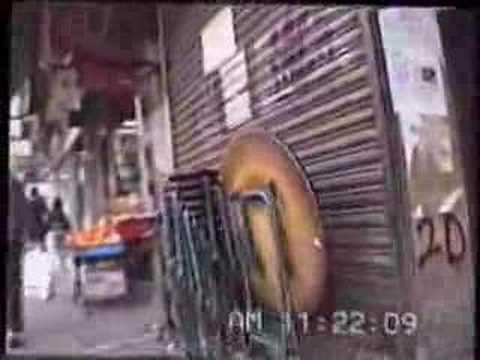 More videos
Kowloon
Interesting places in Kowloon:
Kowloon is located north of Hong Kong Island and south of the mainland part of the New Territories.
Kowloon Walled City Park Built on the former site of the .
Cruise ships berthed at Ocean Terminal
The Kowloon Waterfront offers splendid views of the Hong Kong shoreline and skyline. At night the best spots to take photographs from are occupied by enterprising locals who will take your picture for money.
A Symphony Of Lights. Every night at 8pm there is a light show involving Hong Kong Island's key buildings. On Monday evenings, spectators can listen to the show's music and English narration live at the Avenue of Stars, on radio on FM103.4 MHz or by calling 35 665 665.
From the waterfront you can take the (it's a truely amazing experience) to , getting an excellent view of the skyline in the process.
Built in the 1950s, Shek Kip Mei Estate is the only place where you can see the living conditions in Hong Kong during the 50s - 60s. There are still a few blocks of buildings built in 1950s and residents are still living in them! Walk from Shek Kip Mei MTR Station.
Hong Kong Cultural Centre
Location is derived from the great work of
WikiMapia
Top photos chosen by u all:
homes and doors
Made by
* andrew
shun lee public estate, hongkong
- nowaday, it's not easy to get into any public estate's houses(buildings) because main gates have been installed for security reason. in fact, most of internal views of each building are quite interesting. it truly reflects hongkong's culture, history and living. however, there's not open for public access. This shot is dedicated to former Governor Sir
Murray Maclehose
who was mapped out and rolled out the policy of public estate in hong kong. He really did a lot of great contribution to Hong Kong while he was the Governor of Hong Kong. contax t3 @ f/2.8, fujifilm fujicolor superia reala 100
Hong Kong Gets Ready to Party!
Made by
Steve Webel
I was excited to have another clear day (there is an approaching typhoon, so I guess the smog / pollution has been blown away!), however I was disappointed there were not any clouds to add contrast in the sky. I think the colors in the sky came out pretty nice! The detail in the buildings looks pretty cool in the . ---
Camera: Minolta DYNAX 5D Exposure: 10 sec (10) Aperture: f/9 Focal Length: 35 mm ISO Speed: 100 Exposure Bias: 3/10 EV
---
I would love to have feedback on this photo. (Please add any approapriate tags to this photo!)
IFC
Made by
cblee
Today it was the most beautiful day (weather-wise) I have ever seen in Hong Kong. There were no clouds in the sky and the wind blew away the polluted air. I took the advantage of the weather and went out to take yet another shot at the Hong Kong city. The Hong Kong skyline is truly magnificent.
These couple photos are very sharp, do try to take a peek at the originals.
Beautiful Hong Kong
Hong Kong Clock Tower
Made by
Steve Webel
I had a chance to shoot with my new ultra-wide angle lens while in Hong Kong recently. I liked the way this one turned out. What do you think? *Blogged at
http://stevewebel.com/photographer/2007/08/03/hong-kong-clock-to...
___
Camera: Nikon D80 Exposure: 5 sec (5) Aperture: f/4 Focal Length: 10 mm ISO Speed: 100 Exposure Bias: 0/6 EV
Intense colours of Hong Kong
Made by
FredrikN
Sunset over Hong Kong Island and Victoria Harbour. Colours and tones exaggerated using DPHDR PP. Best viewed
large
.
Videos:

Bus Route 968 - Kowloon (Route 3) section
2006.11.01...968 bus 巴士hongkong hk 九巴kmb west kowloon expressway


Music slide show-HK nightview-looking over from Kowloon
THESE PHOTOS WERER SHOT BY MR. EDMOND CHENG. It rained pretty heavy that night, the sky was so foggy. please enjoy the music as well.


Kowloon Walled City, Hong Kong
1990-03-10...Kowloon Walled City 九龍城寨九龍寨城九龍城塞九龍城砦


Kowloon To Hong Kong
Kowloon To Hong Kong...hongkong Ferry


Walking along The avenue of stars @ kowloon hongkong
This avenue of stars was located at kowloon side of hongkong, which is also the best place to view hongkong island and the beautiful harbour. 香港九龙明星


Bus ride in Hong Kong, Kowloon side
Featuring KMB route 36B from Jordan to Lei Muk Shue...KMB KOWLOON MOTOR BUS DENNIS DRAGON HONG KONG


Kowloon Pier
Night shots of Hong Kong and tourists from Kowloon Pier set to Todd Rundgren's Onomatopoeia....Kowloon Pier Todd Rundgren


sushi one, 23 ashley road, tsim sha tsui, kowloon, hong kong
sushi one, 23 ashley road, tsim sha tsui, kowloon, hong kong...sushi one 23 ashley road tsim sha tsui kowloon hong kong


KCR@Kowloon Station
KCR Train at Kowloon Station...KCR Hongkong Kowloon Station


Mong Ko, Kowloon -HK on a regular Night
Mong Ko, Kowloon -HK on a regular night...Mong Ko Kowloon HK


Nav-Cast 9- "Hong Kong (Kowloon District)" pt.
point in Hong Kong, & meeting my new Canadian friend Fareen....Navarro Trackstars china Nav-Cast hong kong kowloon night market guangdong guangzhou


Route 81 Bus - Kowloon Reservoir to Sha Tin Central
filmed 13.10.2007...kmb 81 bus sha tin central tai po road wai mei lam 巴士九巴hk


DF11@Kowloon Station
DF11@Kowloon Station...DF11 china train rail hongkong


APM in Kwun Tong, Kowloon, Hong Kong
shopping mall in Kwun Tong, Kowloon. I like there because of the comfortable environment....APM in Kwun Tong Kowloon Hong Kong Travelling Shopping


Benjamin Zephaniah music- Naked . Video Kowloon Hong Kong.
Video shot in Hong Kong in November 2005 - Kowloon Chungking Mansions. I was staying in the Hyatt Regency (now gone)and listening to the Benjamin Zephaniah


Last chance to land in Kowloon
1996 Kowloon landing from Bangkok. Mission Impossible Theme...........BSO...Kowloon Kai Tak airport Hong Kong travel


Kung fu demonstration, Kowloon Park, November 11th 2007
Lion Dance #2...Kung fu Lion Dance


Huge arcade in Kowloon Bay Mall in Hong Kong
Awesome arcade with games I haven't seen in the US...utcuate


2007.10.28: HZH in HK - Part 2: Kowloon
to HK. On this day we spent the first part of the day in Kowloon, first eating dim sum in TST, then going through the Avenue of


Nearest places of interest:
Popular places: