Find hotels near Khajuraho
Videos: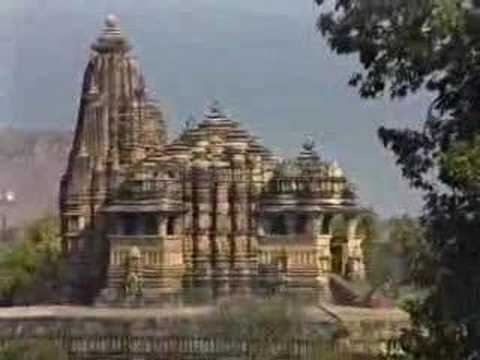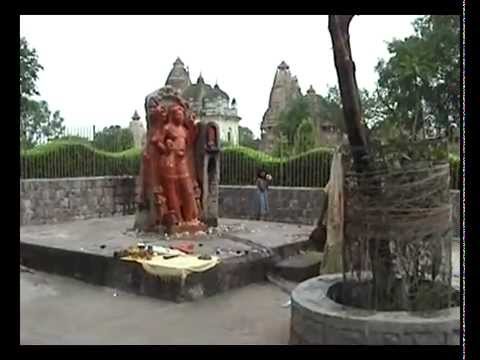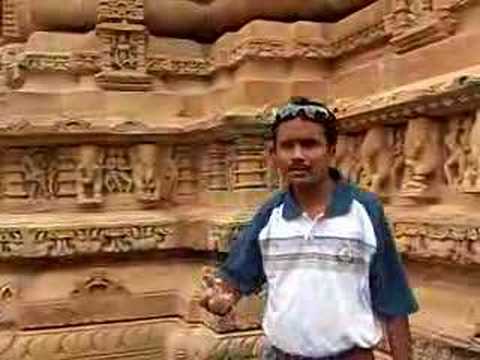 More videos
Khajuraho
Interesting places in Khajuraho:
Khajuraho is a village in the Indian state of Madhya Pradesh, located in Chhatarpur District, about 385 miles (620 kilometres) southeast of Delhi, the capital city of India.
In every temple, there is the depiction of royalty, armies, wrestling, kinship, war, courtship, marriage, lovemaking, music and dancing, spiritual teachings, union, meditation, bliss, gods, goddesses, plants, animals and an abundance of all of human forms.
Western Group of Temples
There is a entry fee of Rs. 10/- (for Indians) and USD $ 5 (for foreigners) to enter the Western Group of temples. All the temples are open from sunrise to sunset. These are the richest and largest of all temple groups
Lakhmana Temple - The oldest and finest of the western group of temples, named after the ruler that built the temple. The A horizontal beam over the entrance of this beautiful Vaishnavite temple shows the trinity of Brahma, Vishnu and Shiva with Lakshmi, Vishnus consort.
Kandariya Mahadeo Temple - This temple is decorated with a profusion of sculptures that are among the greatest masterpieces of Indian art.
Devi Jagdamba Temple - Dedicated to the Goddess, devi, this is smaller and much more delicately proportioned temple and is home to some of the finest sculptures of Khajuraho.The garbha griha has a huge image of the Devi of the Universe (Jagdambi), though it appears to have started as a Vishnu temple. It has the usual three bands of sculptures, but the third and most uppermost of these houses some of the .
Chaunsat Yogini - The only granite temple in the Khajuraho group
Chitragupta Temple - is dedicated to the Sun God (Surya), it faces eastward to the rising sun
Matanageswara Temple - A temple dedicated to Shiva, a huge 8ft Lingam adorns the temple.
Eastern Group of Temples
Parsvanath Temple - Largest among the group, with exquisite carvings in detail. The sculptures on the northern outer wall are the highlights of this temple. The image was installed in 1860.
Ghantai Temple - This Jain temple has a frieze which depicts the 16 dreams of Mahavira's mother, and a jain goddess on a winged Garuda.
Adinath Temple - Dedicated to Jain saint, adinath, ple is lavishly embellished with sculpted figures, including yakshis.
Hanuman Temple
Brahma Temple - considered to be one of the oldest temples of Khajuraho made entirely in granite and sandstone, is dedicated to Vishnu.
Vamana Temple - is the dwarf form of Lord Vishnu, located in a secluded place and is known for its simple architecture.
Javari Temple
Southern Group of Temples
Dulhadev Temple - The last temple of Khajuraho, lies to the south of Ghantai temple. The temple enshrines a Shivalingam. The apsara and ornamented figures are the temples most striking features.
Beejamandal Temple - It is a ruined temple, and is near the Chattarbhuj Temple
Chattarbhuj Temple Or The Jatkari Temple - Built in 1100 A.D., is well-known for its architecture, and is also the only temple to be devoid of any erotic sculture. 3 Kms away from the Eastern Group. Facing West, have to take 10 steps to reach the sanctum. The massive 9 feet intricately carved Vishnu idolin Chaturbhuja (four-armed).
Light and Sound Show at Western group of temples - After visiting the temple complex is over, the sound and light show, narrated by the Bollywood icon Amitabh Bachhan, is held every evening. Entry ticket Rs. 50/- for Indians and Rs. 200/- for foreigners.
Location is derived from the great work of
WikiMapia
Top photos chosen by u all:
Jawari temple - Khajuraho
Made by
Arjun Valsaraj
The year was 1838, and British army captain T.S. Burt of the Bengal engineers was travelling through Bundelkhand. He happened to overhear his palanquin bearers talk about temples deep in the jungle. Eager to know more he asked the bearers what were they talking about. The bearers guided an incredulous Burt to the temples of Khajuraho. Burt had stumbled upon one of the greatest archaeological finds in history. But Burt was appalled by the explicit of erotic sculptures that were found on the walls of the temple. He wrote,...some of the sculptures here were extremely indecent and offensive.....the religion of the ancient Hindoos can not have been very chaste....The palki(palanquin) bearers, however, appeared to take great delight at those, to them, very agreeable novelties, which they took care to point out to all present. There were a few Indians who thought the same about the temples as Burt did. Mahatma Gandhi found the temples so decadent, he called for their demolition. Fortunately for us, this did not happen. Though Burt was the first European to visit the temples of Khajuraho, they were never really forgotten by those who lived there. The temples were built by the Chandela dynasty who claimed their descent from the Moon God. But in the 12th century they abandoned their temples and retreated to the more secure forts of Kalinjar and Mahoba, 100 km to the east. The famous Moroccan traveler Ibn Batuta visited the temples in 14th century. He met a group of tantrics practicing their strange and dark rituals in some of the temples. But within a few decades, these temples were abandoned to the jungle. The villagers continued to worship at the Matangeshwar temple while tigers softly prowled among the others. The Jawari temple belongs to the eastern group of temples in Khajuraho. These temples stand in solitary splendour on their high pedestals. This was one of the easiest pictures that I have taken. With the sun about to set, the light was perfect. Throughout the day I had seen temples change colour from brown in the morning to white in the afternoon and now they were pink. While I was composing the shot, the couple that we see wandered into the frame. They seemed just as awestruck by the temple as Burt would have been and I couldn't have asked for a better shot.
Bramha temple - Khajuraho
Made by
Arjun Valsaraj
The Bramha temple is a misnomer. The four sided lingam(representing Shiva - the God of destruction) was mistaken to be 4 headed Bramha. The temple is located in the eastern group of temples, which I visited a few minutes before sunset. As the light faded, I was surrounded with stunning silhouettes, the Bramha temple being the best. I was on a bed of a dry lake and I need to get to the same level of the temple for a clear shot. As the sun neared the horizon, it began to dip faster. Before I knew it, I was running across the lake bed to get my shot turning into a race between the sun and I. While running I set my camera to high shutter speed. A few people looked at me thinking I was quite mad. A couple of tourists passing by in an auto stopped and one popped his out and yelled, Wherever you're going, we'll give you a lift. Ignoring them, I continued to shoot, it was run-stop-shoot, run-stop-shoot. Finally as the sun touched the horizon, i got this shot just in time and completely out of breath.
a vivid wonderland
Made by
eXeperience photography
This is one of those crazy vivid HDRs that make a place look surreal and in a way weird too. I tonemapped this image from a single raw file taken at a canyon formed at the Ken river in Khajuraho. The photo has no purpose, no intent to be the way it is, just that it is a place where i would like to visit in my dreams and that is how i have tailored the original photo.
anubhav tyagi - eXeperience photography
mail : anubhavtyagiphotography@live.in
Exif data auto added by theGOOD Uploadr
File Size : 7.4 mb Camera Model : Canon EOS 550D Software : Adobe Photoshop CS4 Windows Exposure : 0.010 seconds Aperture : f/7.1 ISO Speed : 1600 Focal Length : 0.0802734375 mm
Parsvanatha Temple
Made by
MadGrin
Khajuraho Group of Monuments The Khajuraho Group of Monuments in Khajuraho (Hindi: खजुराहो), a town in the Indian state of Madhya Pradesh, located in Chhatarpur District, about 620 kilometres (385 mi) southeast of New Delhi, are one of the most popular tourist destinations in India. Khajuraho has the largest group of medieval Hindu and Jain temples, famous for their erotic sculpture. The Khajuraho group of monuments has been listed as a UNESCO World Heritage Site, and is considered to be one of the seven wonders of India. The name Khajuraho, ancient Kharjuravāhaka, is derived from the Sanskrit words kharjura = date palm and vāhaka = one who carries.
en.wikipedia.org/wiki/Khajuraho_Group_of_Monuments
Marigolds and Temples
Made by
KidsLoveAnimals
Another image from the Temples of Khajuraho in India. The people who are squatting in the middle-ground of this photograph are mowing the lawn by hand. Here are some of my other photos from Khajuraho:
www.flickr.com/photos/kidsloveanimals/5162530313/lightbox/
Click on the photo above to view a larger image with a black border.
Stuck on the Outside
Made by
evilibby
160.365 // Y3 // 05.08.2010 One action-packed day! Caroline and I went out for the day on our own - our driver took us out without a guide (whoo!) which meant that we got to do whatever we liked (yay!). So he took us to a gorgeous village where we got to see lots of lovely people going about their every day lives looking smiley-smiley, as well as seeing a couple of temples and bits in Khajuraho itself.
Cry
Made by
oboes
Perdon. No se si la hice llorar con mi camara o si no me importaba su llanto y aprete el gatillo (el de la camara esta claro) Le deje el amarillo, le saque el resto que representa un poco su grito. India, Orcha.
www.indiadocumentary.com
L O K N A T H. Kajuraho
Made by
Claude Renault (Away again)
Loknath Tiwari, sitting in front of his Home in Kajuraho. A 80 years old priest of a Vishnu temple in the old village, his family came to Madhya Pradesh from West Bengal. A wonderful man.
www.claude-renault.fr
Erotic sculpture
Made by
geneder
While most of the figures on these temples depict gods and goddesses of the Hindu Pantheon and people in life, it's the
erotic sculpture
that is most often highlighted.
T O Y S. Kajuraho
Made by
Claude Renault (Away again)
A kid polishing baby toys in front of his house in the old village of Kajuraho.
www.facebook.com/pages/Claude-Renaults-Photography/284434...
Anciana devota
Made by
pepebejar
Esta anciana encorvada fue visitando y rezando en cada uno de los templos del complejo este, con evidentes dificultades. Khajuraho. My book
www.blurb.com/books/2051075
Vishnu ?
Made by
Jayashankar
Lakshamana temple is among the earliest of the Temples built by the Chandela Rajputs.. The Temple itself is set on a high plat form.. You can see the grace and fluidity of form of the sculptures on the walls of the temple.
Holy
Made by
oboes
La fiesta de los colores es muuuuyyy colorida. Un grupo de jovenes, en este caso, se divierte sanamente tirandose pintura durante todo el dia.
www.indiadocumentary.com
Volando
Made by
oboes
Varios niños disfrutaban de la ceremonia de Holy en Kajuraho, India. Es una lastima que se haya quemado tanto la foto, pero bue, la pose ta.
www.indiadocumentary.com
Western Group, Khajuraho
Made by
Roger Beacon
Khajuraho assembles many magnificent temples with detailed stone carvings. If you have Google Earth, you can
fly to this location
(kmz)
Risas de color
Made by
oboes
Los niños se divierten en la fiesta anual de Holy. Todo el mundo baila y se tira colores durante todo un día.
www.indiadocumentary.com
Nine Times the Fun!
Made by
evilibby
161.365 // Y3 // 06.08.2010 Clonery! We visited some temples in Khajuraho before flying to Varanasi... I think I had a little too much fun with this particular temple!
S U M A N T R A. Kajuraho
Made by
Claude Renault (Away again)
Sumantra sitting in front of her home in the old village of Kajuraho.
www.claude-renault.fr
HOME, a slideshow:
Eastern Group, Khajuraho
Made by
Roger Beacon
The Eastern Group compromises mainly Jain Temples If you have Google Earth, you can
fly to this location
(kmz)
Dancing Ganesha
Made by
Jayashankar
Exquisitely Carved Dancing Ganesha in One of the balconied windows adorning the southern flank of the temple. You can notice the dancing friezes on the side..
Videos:

Khajuraho Temples, Only X-Rated World Heritage Site, India
, and then the website link under my profile, or ask a search engine for: Intrepid Berkeley Explorer...India Khajuraho Hindu Hindu-temples


A Trip To Khajuraho, India
A wander around the temple complex at Khajuraho, India. August 2007...Khajuraho India Hindu Spirtual Temple


Tour Guide at the Khajuraho temples India 2007
Tour Guide at the Khajuraho temples India 2007...Tour Guide at the Khajuraho temples India 2007


Lakshmana Temple at Khajuraho III
Baba Ji explains images of Shiva, Vishnu and voluptuous women engagaed in everyday activities...Khajuraho Temples India Lakshmana


Tanmay kolkata bangla made japan khajuraho
Khajuraho temple made by tanmay biswas.Japan Tokyo. kolkata. india.bongaon.home made. art of love with songs. english and bangla.


Opening Prayer at Khajuraho Dance Show
Dancer presents prayer...Khajuraho Dance Prayer


Khajuraho Village People at Home
The A&K Gang of 12 visits a Khajuraho family at their home....Khajuraho A&K


Lakshmana Temple at Khajuraho II
Baba Ji explains the elephant frieze and the statute of Ganesh....Khajuraho Temples India Lakshmana


Khajuraho Temples - Eastern Group Reconstruction
We see old/new temple reconstruction techniques while Diana corrects your faithful narrator's pronunciation...Khajuraho Temples India easterngroup


Khajuraho dance
Khajuraho dance. http://www.tripfoto.com/v/Trip-India/Khajuraho/... Khajuraho dance India


khajuraho
khajuraho...khajuraho india temples


Midway during the ride to Khajuraho
Blue line bus & tasty food :) Samosas rule!...midway bus food India Indie travelling travel ride


Khajuraho singing for the rain
months without stopping as the rainy season was missed. Day and night, night and day. And still no rain...Khajuraho India rain singing


Lakshmana Temple at Khajuraho
Baba Ji introduces the A&K Gang of 12 to the Lakshmana Temple...Khajuraho Temples India Lakshmana


Khajuraho Street Scene
Your narrator butchers the name of this fine town....Khajuraho India


Nearest places of interest:
Popular places: