Videos: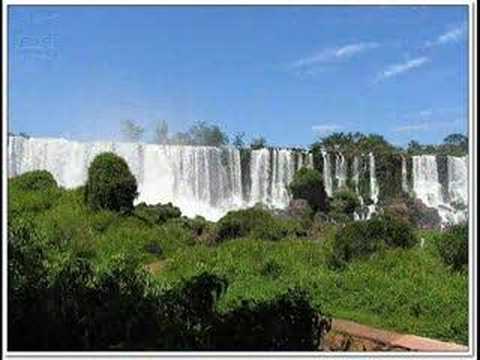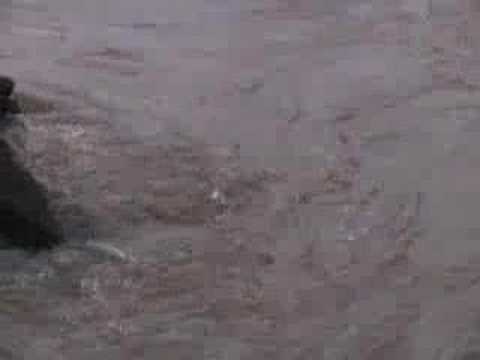 More videos
Iguazu Falls
Interesting places in Iguazu Falls:
: ''Cataratas do Iguaçu'' IPA ; Spanish: ''Cataratas del Iguazú'' IPA ) are waterfalls of the Iguazu River located on the border of the Brazilian state of Paraná (in the Southern Region) and the Argentine province of Misiones, around the coordinates . . Some of the individual falls are up to 82 metres (269 feet) in height, though the majority are about 64 metres (210 feet) (...)
The Iguaçu Falls are an awesome sight as tons of water throw themselves over cliffs and the mist rises amongst the jungle. They are taller than Niagara Falls, and twice as wide, for which Eleanor Roosevelt is said to have exclaimed on her first sight of the Falls: "Poor !"
It is well worth spending a day on each side of the falls.
On the Argentine side (30 AR$ pp, second day for half price if you get your ticket stamped before leaving on the first day, subsequent days are free if you tell them you are staying at the Sheraton) there are a whole series of walkways and trails by the main visitors centre, allowing you to stand right on the edge of the precipice, below some of the waterfalls themselves, see a good overview and take a short boat trip to below the falls. Wear waterproofs and protect your camera!
There is a free train running up to a 1km-long walkway across the river to stand just back from the main horseshoe of falls - the Devil's Throat , where the roar and spray are tremendous.
On the Brazilian side (20 R$ pp, cheaper for Brazilian residents) you get an excellent overview of Devil's Throat and the rest of the falls, from both above and below.
Location is derived from the great work of
WikiMapia
Top photos chosen by u all:
"Iguassu Falls"-VIEW ON LARGE!!!!!!!
Made by
jazzpics
Taller than Niagara Falls, twice as wide with 275 cascades spread in a horsehoe shape over nearly two miles of the Iguazu River, Iguazú Falls are the result of a volcanic eruption which left yet another large crack in the earth. During the rainy season of November - March, the rate of flow of water going over the falls may reach 450,000 cubic feet (12,750 cubic m) per second. These matter of fact details do nothing to describe the grandeur of the falls, the tremendous amount of water (an average of 553 cubic feet per second) thundering down 269 feet, the tropical location and the sheer beauty that led Eleanor Roosevelt to say Poor Niagara. Four times the width of Niagara Falls, Iguazu Falls are divided by various islands into separate waterfalls. One of the best known is Devil's Throat, or Gargantua del Diablo with its perpetual spray high over the falls. Other notable falls are the San Martin, Bossetti, and Bernabe Mendez. Mendez. Iguazú Falls, called Foz do Iguaçu in Portuguese, and Cataratas del Iguazú in Spanish, lie on the Argentina - Brazil border and are a UNESCO World Natural Heritage Site. Getting there is an easy matter. Check flights from your area to locations in either Brazil or Argentina for connections to the falls. You can also browse for hotels and car rentals. Browse through the Iguazu Falls Photo Gallery for an idea of the might and grandeur of the falls. The falls are part of a singular practically virgin jungle ecosystem protected by Argentine and Brazilian national parks on either side of the cascades. Two thirds of the falls are on the Argentinian side of the river where you can also tour Iguazú National Park where there are jungle trails and bird hikes. Plan a full day in the park to fully enjoy the wildlife flora and fauna. It is possible to see the falls and surrounding area in a lightning trip but it is better to plan at least two days. The view from the Brazilian side is the most panoramic and there are helicopter rides out over the falls from Foz do Iguaçu. You may also take boat rides out to the falls. The light is best in the morning for photographs. Best seen from the Brazilian side is the spectacular Devil's Throat, garganta del diablo, where fourteen falls drop 350 feet with such force that there is always a 100 foot cloud of spray overhead. Watch for the rainbow! For a close up view, walk through the subtropical forest of National Iguaçu Park to the base of Salto Floriano and take the elevator to the top of the falls. or walk out over the falls at Salto Union. From the Argentine side you can take a series of catwalks over the water rushing into Devil's Gorge. Protective rain suits are provided. There are some areas where it is possible to swim in the spray of the cascades. Ask locally for instructions but be aware that you might have a resulting problem with cuticle parasites. The best times to see Iguazu Falls are in the spring and fall. Summer is intensely tropically hot and humid, and in winter the water level is considerably lower. There are hotels on both sides of the river and many tour agencies provide sightseeing opportunities around the area. Browse through this list of hotels on the Brazilian side of the falls, or these on the Argentine side. Downstream from the falls where the Parana and Iguazu rivers meet, so do the borders of Argentina, Brazil and Paraguay. Each country has created a landmark in their national colors on a spot in each of their countries where you can see all three. The name of the falls comes from the Guaraní word for great water. The first Spanish explorer to see the falls (did you see the film The Mission?) was Álvar Núñez Cabeza de Vaca in 1541 but the vast power of the falls was not fully utilized until the construction of the huge Itaipu hydroelectric power plant built jointly by Paraguay and Brazil. Completed in 1991 the dam is open to tours and provides 12,600,000 KW of power satisfying almost 40% of Brazil and Argentine power needs. The dam one of the largest in the world is touted by both countries as a masterpiece of technology. If you liked,go on
www.new7wonders.com/community/en/new7wonders/new7wonders_...
and help the Iguazu Falls be one of the seven new wonders of the world.
Sunset over Iguazu
Made by
SF Brit
The great thing about the Brazilian side of Iguazu is that there are no limits on taking pictures at any time of day....(unlike the Argentinian side). So I went out at sunset to watch the colours appear. A truly stunning sight and a waterfall like no other I have seen. Simply magic!! -------------------------------------------------------------------------------------------------- Many people have been debating on Reddit.com how this picture was taken and apologize for not posting this information before. Life gets pretty busy. But here you are: - Canon 30D - Fisheye 15mm Lens - Slik Tripod and Cable release - I took three exposures at f/13 (1/4 sec, 1.3 sec, 4 sec) - I used Photomatix Pro to combine the three pics into an HDR pic. (I use some of the Trey Ratcliff tips....http://www.stuckincustoms.com/. I like his work a lot!) - Saved as a JPG and brought back into Lightroom - Auto tone and a little sharpening. - Thats it! Only 4 people were there. My wife, myself and two other Brazilians. And my wife and I think this final result is a pretty accurate reflection of the scene....ohh except for the whispy falls...it don't look like that through your eye ;). I could have probably yielded similar results with a graduated density filter, but I don't have one for my fish eye...doh!
Iguazu Falls - Devil's Throat
Made by
Chris Mullins
This is probably my favorite shot from my Iguazu trip earlier this year. This is shot from the very end of the walkway that is visible in the other shots. When looking at this, keep in mind that the falls are in their very low water state in this shot. At the high season, this shot wouldn't be possible without an underwater housing to protect the camera. Also at high season, the entire wall on the right side of the shot is one huge (!!) waterfall. This is NOT an HDR shot, but has instead some by-hand exposure blending done in the water and deep canyon areas to make the overall exposures correct. The actual shot here is 10k pixels wide (the uploaded version here is 1920 wide), and I had it professionally printed and framed. It now sits over my desk at work along with a few of my favorite other waterfall shots from over the years. This is a place I knew I wanted to visit since I first saw pictures of it. I am very glad I've been here and would highly recommend this place to others. If I did the entire trip again, I would do a few things differently, but overall I am very happy to have had the opportunity to visit this part of the world! This location is a
UNESCO World Heritage Site
Iguazu falls / cataratas de Iguazú
Made by
Tony Gálvez
This is the Devil's Throat at the Iguazu falls. It's is the most massive and impressive of all the falls. The brownish colour of the water is due to heavy rainfall fallen over the area on the day previous to my visit - it turns the water muddier. On the first comment I've put a shot I took on exactly the same spot on a different visit, the colour of the water was completely different. ------------------------------------------ Esta es la Garganta del Diablo en las cataratas de Iguazú. Es la más espectacular de todos los saltos de agua en la región. El color marrón del agua se debe a las fuertes lluvias caídas en la región un día antes, que hacen que el río lleve más barro. En el primer comentario he puesto una foto de exactamente el mismo lugar hecho en otra visita a las cataratas, cuando el color era bien diferente.
The power of H2O
Made by
kees straver
I took this shot from the Argentine side of the Foz Iguacu waterfalls. The Argentine side has the most action and excitement and you'll need an entire day to explore all the sites. It had rained a lot the few weeks before I arrived and I was lucky that the sun was shining. According to the locals there was 10 times the amount of water rolling down the waterfalls as normal, this was great but it also meant that there was a lot of spray as well. Ps. I've had a really busy day yesterday, one of my crystal balls was on the Flickr blog. This meant that I had about 10.000 views, 100 comments and 300 faves in one day so I'm sorry if I didn't get back to you but I'll try to make it up.
Iguazu Falls - From Brazil to Argentina
Made by
SF Brit
The great thing about staying at the Hotel das Cataratas on the Brazilian side of Iguazu Falls vs the Sheraton on the Argentinian side is that you can take pictures ANY time you like! So needless to say I exploited this to the max and be it sunrise or sunset I was out with my camera and beer in pocket to try to snap as good as picture as possible. This is the 2nd picture I have put up so far.....hopefully there is a 3rd respectable one in the collection ;) This shot was taken from the main outlook from the hotel at sunset. It is a straightforward HDR shot, aided by a beautiful sunset! Needless to say, it was one of those travel experiences I wont forget quickly.
Perfeição Divina
Made by
Alessandro Sousa
Quando vi as Cataratas do Iguaçu senti uma das maiores emoções da minha vida. Elas nos proporcionam um êxtase inexplicável, o coração acelera, as pernas tremem, os olhos enchem de lágrimas diante daquele poder magnífico. Ali vemos a face de Deus. É maravilhoso!! Nenhum ser humano, por maior inteligência que possua, poderá descrevê-la com exatidão. Posso dizer eu vi Deus, e o agradeci por poder senti-lo tão próximo. Conheci a perfeição Divina. Obrigado meu Pai, por senti-lo junto a mim. Obrigado Senhor, pela bela visão que propiciastes a Foz do Iguaçu, ao Paraná, ao Brasil e ao mundo. Maio 2008
Iguassu Falls 2
Made by
skyduster4
Cataratas do Iguaçu / Iguassu Falls
Iguaçu National Park / Parque Nacional do Iguaçu
Paraná, Brasil / Brazil March 2011 Famous Iguassu waterfalls on the Brazil-Argentina border. View from Brazil. The quality of this picture would have probably been better in RAW format. I always have my settings on Jpeg + RAW, but when I took my camera to Best Buy to get it cleaned before this trip, they reset the settings, and I didn't realize it until it was too late. I did not use an ND filter for this effect. I guess that the water goes so fast, I didn't need one? It was also a cloudy day.
garganta del diablo
Made by
Mathieu Struck
Iguaçu Falls, just above the
Devil's Throat
(85 meters deep). Taken in the argentinian side of the falls. The other side of the gorge is brazilian. Puerto Iguazu, Argentina, Mar-2011, 5pm. Press
L
for large version on gray background. Canon 5D MK2, EF17-40mm f/4L @ 17mm ISO 50, f22, 1.6sec. Singh-Ray Daryl Benson ND-3 reverse grad with Galen Rowell ND3-SS grad.
Iguacu Falls in morning sun
Made by
Walt K
as seen from the Brazil side looking toward Argentina. If you catch the best time of day with the sun shining on the mist rising from the falls, the rainbows can be quite impressive. An interesting physical effect clearly evident in this shot is how sunlight is preferentially scattered backwards by mist on the inside of the rainbow (appearing as being more hazy/washed out) as compared with the outside of the bow (upper right). This is a shot I have rescued from my archives.
Iguazu Falls - Above the Walkway Pano
Made by
Chris Mullins
Another Pano from the Brazil side of Iguazu Falls. The walkway seen here is the same walkway that's a seen a bit more front and center in shot. This is an HDR pano that represents all the things that one shouldn't do in a pano. The chief issue here is that one should be 100% sure to set MANUAL FOCUS for your pano shots. This applies to both HDR shots and Panoshots. In this shot I forgot to do that, and the image is so horribly soft that it's very disappointing.
Iguazu Falls, Argentina & Brazil
Made by
Thad Roan - Bridgepix
Footbridge at the spectacular Iguazu Falls, a waterfall system of almost 300 different falls, is part of the Iguazu River forming the border between Brazil and Argentina. The Falls are within National Parks of both countries. Nearby, in Argentina is the city of Puerto Iguazu, and in Brazil, Foz do Iguacu. For more information on our visit, please check out our Bridge Blog -
Bridging Argentina
.
Devil's Throat
Made by
Andras Jancsik
There are no words to describe such a wonder like the Iguacu Falls. The breathtaking experience culminates at the Devil's Throat, in the heart of the waterfall. I reached this place during a heavy rainstorm, so there was water everywhere - under, around and above me. I hardly managed to keep dry my camera for the time of some long-exposure shots. But maybe it was worth to make an effort. #119 on Explore
always (never) the same
Made by
Mathieu Struck
Iguaçu Falls (brazilian side). Foz do Iguaçu, Brasil, Dec-2010. Press
L
for large version on gray background.
...beyond the natural appearance of the waterfall, its symbolic meaning may be discovered as an emblem of continuous motion, and emblem of the world in which the elements change ceaselessly while its shape remains the same
(Liliane Brion-Guerry)
Iguazu Falls
Made by
paulgalbraith
© All comments are very welcome, however please no graphics, invites or links.
If you like this image, please add it to your ★ favourites.
Should you wish to use this image elsewhere, please contact me first for permission.
Iguazu falls / cataratas de Iguazú
Made by
Tony Gálvez
Practical information on Iguazu Falls from my blog:
Destination: Iguazu Falls
---------- Información práctica sobre las cataratas de Iguazú en mi blog:
Destinos: Iguazú
Iguacu Falls, Brasil
Made by
plemlijn (www.lemlijnfotografie.nl)
Shot from a helicopter. The falls on this side are in Brasil, the falls on the opposite side in Argentina. If you take a good look (please watch the large or original size...) you can see a walking path going all the way to the biggest fall, the Devils Throat (Garganto del Diablo) and you can even see people standing next to this fall...
Cataratas do Iguaçu - série com 5 fotos // Iguassu Falls - series with 5 photos
Made by
parchen
- Uma das sete maravilhas naturais do planeta terra - um espetáculo grandioso. - One of the seven natural wonders of planet earth - a grand spectacle. - Una de las siete maravillas naturales del planeta tierra - un gran espectáculo. - Una delle sette meraviglie naturali del pianeta terra - un grande spettacolo.
Cataratas de Iguazú 4
Made by
Eloy Rodríguez
View On Black
Cataratas de Iguazú - Foz do Iguazú - Paraná - Brasil - Misiones - Argentina Tomada en el Paseo Inferior por la parte de Brasil ****************************************************************************************
Garganta del Diablo (Iguazú)
Made by
Pedro J Pacheco
La Garganta del Diablo,cascada en la parte más alta de las Cataratas de Iguazú, en su parte Argentina. Panorama de cinco fotos y cuidaíco que salpica! Parte del artículo
fotablon.blogspot.com/2011/08/cataratas-de-iguazu_736.html
Videos:

IGUAZU FALLS
Olodum. Also spelled IGUASSÚ, OR IGUAZÚ, Spanish CATARATAS DEL IGUAZÚ, Portuguese CATARATAS DO IGUAÇU, cataract on the Iguaçu River, 14 miles (23 km


Dave Ford Does Iguazu Falls
We take the hike to Iguazu Falls on the Argentine side. It is a little wet but we manage to get some good footage of one of the most


Iguazu Falls
Iguacu Falls. Comparing it with Niagara is like comparing an Indy car with a VW Beetle. There is absolutely nothing in the world more spectacular than Iguacu Falls


Iguazu Falls
of Iguazu falls from three perspectives: Argentina, Brazil, and from in a boat that went under a waterfall....argentina brazil iguazu iguaçu iguassu falls


Iguazu Falls Test
Cataratas del Iguazu, Argentina....Iguazu Falls Argentina Best Waterfall Garganta del diablo misiones wonderfull


Iguazu Falls
SO MUCH WATER...Waterfall Brazil Argentina


Iguazu Falls
Going under Waterfall at Iguazu Falls...Iguazu Falls


Iguazu Falls - Calm before the storm (Jan 07)
the holidays and visit the Iguazu Falls. The weather got rough so I had some fun. YEA...Fun Argentina Iguazu Falls Brazil Rainy Day Extreme Adventure


iguazu falls
Iguazu Falls from the Brasilian and Argentine borders...iguazu falls borders


Iguazu Falls Brazil side
Iguazu falls seen from Brazil, Coati tries to steal something, sunset view.Ennio Marricone music from the film Mission...Iguazu falls Brazil


Iguazu Falls
Iguazu Falls...Iguazu Falls Brazil Argentina


Iguazu Falls
video of falls in january 2007 Martino brazil side brazilian...Falls cataratas brazil argentina iguazu brasil


The Iguazu Falls
Cataratas del Iguazu en Argentina. Vista aerea....argentina iguazu falls cookingdiva panama


Iguazu Falls
Winter 2007....waterfall falls iguazu iguaçu winter 2007 lokadix beautiful world onetruemedia


Under Iguazu Falls - 'the little one'
under the Argentinian side of Iguazu Falls - making full use of my new underwater camera I bought in Paraguay...iguazu iguacu falls boat argentina brazil


Iguazu Falls - Brasil July 2006
roundtrip National park Iguazu in Brasil...Iguazu Falls


Iguazu Falls
A rock rolling boat ride into oblivion. Iguazu Falls Argentina...iguazu iguasu vacation boatride argentina


Iguazu Falls Adventure
Boat trip to the Iguazu Falls (Argentina)...Argentina


Iguazu falls in the morning
and look at the falls in the distance or swim, or be bitten by a fire ant the way I was!...Iguazu falls argentina brazil


Nearest places of interest:
Popular places: