Videos: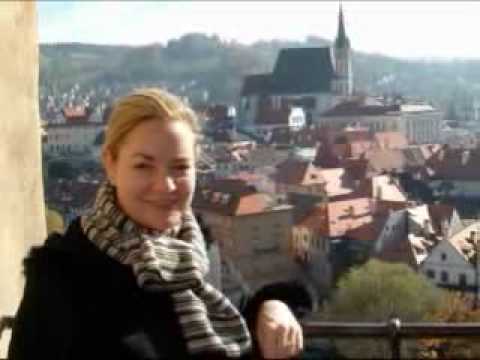 More videos
Czech Republic
The Czech Republic (officially Czech: Ceskß republika helpĚinfo), short form in Czech: Cesko IPA: } is a landlocked country in Central Europe and a member state of the European Union. The country has borders with Poland to the north, Germany to the northwest and west, Austria to the south, and Slovakia to the east. The capital and largest city is the historic Prague (Czech: Praha), a major tourist attraction. Other major cities include Brno, Ostrava, ZlÝn, Plzen, Pardubice, Hradec KrßlovÚ, CeskÚ Budejovice, Liberec, Olomouc, and ┌stÝ nad Labem.
See the Moravian wine region by horseback in
See city
See ─îesk├Ż Krumlov - beautiful city with castle. Member of UNESCO.
, the yearly freetekno party somewhere in Czech Republic.
Panelaks
Entering Prague on the train, particularly from the southeast, one sees the infamous panelaks, or giant concrete housing blocks. Czech and Slovak housing blocks have a very surreal quality to them - driving past the suburbs late at night is visually reminiscent of the movie Blade Runner. Petrzalka in the Slovak capital of is the biggest panelak complex. Czech writer Iva PekarkovaÔÇÖs novel does an amazing job of expressing the particular sort of inhumanity panelaks are known for breeding. If someone lives in a building that is an exact copy of all the others for miles around, so alike that even residents get lost, what does that bode for the community living there? In a particularly ironic twist, the real-life panelaks are crumbling as quickly as the communist regime that built them: literally falling apart at the seams.
Alternatively though the Panelaks in contrast to what one finds in Western European or American housing projects, are relatively safe and friendly places albeit it bland. The dark exterior shell hides a generally quite nice internal environment that is usually well maintained by the inhabitants living inside. The majority of people who live there are a cross section of the lower to middle classes of Czech society (including a large number of students and retired elderly people). Haje in Prague at the end of the red (C) metro line is well worth the half hour metro trip to experience a real live communist 'settlement.'
On the bright side, recently more flats in these panelaks have been being bought, changing these developments from Communist compartments into owned and cared-for properties. Unlike in Western Europe, panelaks in the Czech Republic are being lived-in and owned increasingly by the middle class, which tries to paint them lively colors and individualize their appearance inside and out. Some residents in such buildings don't find them isolating at all, and on the contrary feel that they foster a communal atmosphere.
Videos:

Czech Republic Photo Montage
Some pictures from our recent trip to the Czech Republic, set to Zero 7's 'Give it Away'...Czech Republic Photos


Prague, Czech Republic 2006
I visited Prague in the Czech Republic in 2006 while backpacking across Europe....Prague Czech Republic


Prague, Czech Republic
Trip to Prague, Czech Republic...Prague Czech Republic Johnny Jet Praha Hotels Sightseeing


Welcome to Czech republic
Czech national treasures. Music: czech anthem - "Where is my home"...czech anthem land republic where is my home kde domov muj ceska republika


Czech Republic
Active holiday in Czech Republic...czech republic sport active holiday czechs


Destination Unknown Prague, Czech Republic
of Europe most historical city I'm your host Michael Murphy and this is Destination Unknown Prague, Czech republic...Europe Prague Czech Republic Travel


Czech Republic Anthem
and the czech republic has strong diplomatic ties because of the historical background between both countries. The national anthem of the Czech Republic... Czech national anthem


Prague, Czech Republic - Praga, Republica Checa
of the Czech Republic. Situated on the Vltava river in central Bohemia, it is home to approximately 1.2 million people....Prague Czech Republic Praga Repubica


Moser Glass Factory (Karlovy Vary, Czech Republic)
The Czech Republic is well-known for its glass; and its glass artists. One of the most famous companies is Moser located in the beautiful spa town


About Czech republic
-known things/people/places etc. from Czech republic,heart of the Europe music: Czech national anthem - Kde domov můj (Where is my


Europe #10 - Prague/Czech Republic (Jul05)
of travels from Europe included Austria, Slovenia, Hungary & Czech Republic....europe prague czech republic praha backpacking backpackers video blog hot gay cain cain9ine travel


Sedlec Ossuary - Kutna Hora, Czech Republic
Church of All Saints in Sedlec, a suburb of Kutná Hora in the Czech Republic. The ossuary contains approximately 40000 human skeletons which have been artistically arranged to


Prague, Czech Republic 2004-06 video slide show with music
), U2 (Elevation), Marine Corps Band, Bob Sinclair (World Hold On)...Prague Czech Republic Marines DSS Spindleruv Mlyn blynn


Czech Republic Česká republika
The anthem of the Czech Republic, complete with flag, coat of arms, map, and major attractions....Czech Republic Kde domov můj Anthem


Czech Republic | Prague Spring 2006
-Ceska Biblicka Spolesnost -Easter Week -Celebration in Prague -Bible Kazdy Mesic...Czech Republic Prague Easter Celebration Luis B. Vega


liftoff Czech Republic Promo part 1
video for a summer mission trip to the Czech Republic focusing on helping with freakfest among other things...czech republic freakfest jesus freax music missions trip summer festival


illustration of Litvinov, town in Czech Republic
chemistry factory in Czech Republic - it lies 5 kilometers next to Litvinov....litvinov illustration live house town city transport tram bus hockey czech republic majorettes chemistry


Poland and Czech Republic
under 5 minutes! To all my friends who let me stay with them, THANK YOU!!!...Poland Warsaw Cieszyn Krakow Czech Republic


The Joureny to the heart of Europe - Czech Republic (part 2)
this vidio made by Dawod Al Kafagi in Czech Republic - Brno.this vidio talk about Dawod life in Czech Republic-Brno with his friend.so have


Nearest places of interest:
Popular places: