Videos: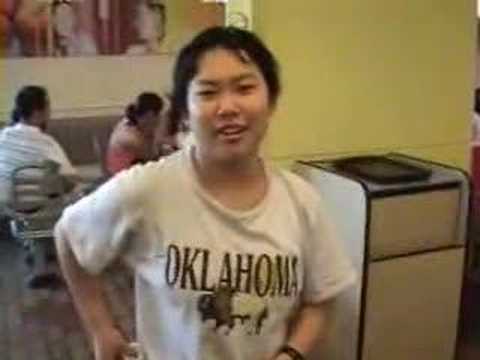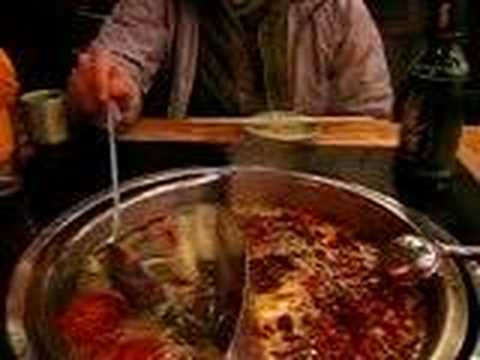 More videos
Chengdu
Interesting places in Chengdu:
Chengdu was also the birthplace of the first widely used paper money in the world (Northern Song Dynasty, around A.D. 960). Chunxi Road Chunxi Road
Panda Research Base is the biggest facility of this kind in the world. Due to habitat destruction and other reasons, the is maybe the most famous endangered animal. The Research Base is home to some 60 giant Pandas, but also has some and a colony of black-necked cranes. The Research Center affords views of the pandas from much closer than is possible at many Western zoos. Be sure to bring your camera. The Research Base also has a small museum and a cinema screening related documentaries. A restaurant and souvenir-stalls top off the tourist installations. Admission fee is ¥30. The best time to visit is in the morning, when pandas are most active. It is possible to take your picture while holding a Red Panda for a fee of ¥50; occasionally during the morning you can take a pictures alongside a giant panda for a fee of ¥400 per person. Knowledgable English-speaking tour guides can be hired at the office by the Base entrance. The cost for a guide for a small group is ¥100. There are several ways to get there:

By Taxi (recommended) the cost is about ¥35 from downtown Chengdu.
By Bus (if you are on an ultra-low budget) Catch a northbound bus Nr.1 (¥1) and stay with it until the local bus-terminal. Leave the local bus-terminal through the exit leading to the long distance-terminal (LDT), but do not enter the latter. Instead, wait for the suburbian public bus Nr.1 to come by and stop at the left corner of the LDT. For another ¥1 it will take you to the Panda research center within 20 min. Get off when you see a big white Panda-Statue in the middle of the street.
Tian Fu Square This square, overlooked by an enormous Chairman Mao statue in the center of the city, has been spruced up. Every evening at dusk, as well as at noontime, an elaborate water show, synchronized to music, bursts out from the square's fountains. Below the square will be shopping and the future hub of Chengdu's subway system.
Sichuan Science and Technology Museum (四川科技馆 ) Located directly behind the Chiarman Mao statue in the city center's Tian Fu Square, this huge 4 storey museum is filled with interactive exhibits about science, aerodynamics, space, mathematics, robotics and physics. Children will love the interactive displays and indoor playground on the 4th floor. Adults will appreciate the descriptions in both English and Chinese. Everyone will love the crowd-pleasers like the robotic orchestra and walk-through maps of Sichuan's waterways. Admission is ¥35 per adult, free for children. To get there, take a taxi or bus to Tian Fu Square and walk to the large building directly behind the Chairman Mao statue. Note: During weekdays this museum can be overrun by local school groups.
Chengdu Zoo The Zoo, located in the north of the city near the Panda Research Base, offers all the typical animals that one might expect in a zoo (elephant, tigers, giraffes, monkeys, as well as panda bears). While the zoo itself is large and spread out, some of the cages are woefully small and the facility seems understaffed. Might be good for a family to visit. Admission is ¥12 per adult. The zoo has vendors selling Chinese snacks as well as some carnival type rides.
Sichuan University Museum (四川大学博物馆 sichuan daxue bowuguan) has an excellent display of local artifacts and is worth while way of spending an hour or two. The museum is one of the better in China and there are four floors of well lite, air conditioned displays with decent English translations. Starting in the basement, enter the first room where dozens of stone carvings dating from the Han dynasty to the Tang are on display. The room next door has a moderately interesting display on the museum's history and numerous examples of ancient bronzes and stone age artifacts. The first floor is mostly artifacts from the Ming and Qing dynasty, including furniture, silk clothing, and an interesting display of leather puppets. The second floor has the perhaps the most engaging display: artifacts and daily use items from ethnic minority groups in China's southwest, including Tibetans, Miao, Yi, Qiang, Jianpo and Naxi. The third floor has a decent display of calligraphy scrolls, paintings, and ceramics. The museum is located on Wangjiang Road (望江路), about a 15 minute ride from Xinnanmen bus station or a 40 minute walk. Admission is ¥10 and the museum is open from 9:00-5:00 seven days a week. It's telephone number is (028)85412313.
Sichuan Opera Most guesthouses and travel agencies offer to arrange visits to these traditional shows. It's more like a burlesque cabaret than an actual opera, sometimes including magicians, musicians and dancers besides the traditional pieces. Of course the most famous is never omitted: face-changing and firespitting performed by dancers clad in colourful traditional costumes. You will follow the story sitting at your table, sipping on your constantly refilled tea cup and nibbling some salted snacks.

(Information as of 28 June 2005)
Jin Li This neighborhood is part of the old city of Chengdu, it features hotels and small stores in and old-fashioned style. Antiques are sold in a variety of different stores. It is very popular among both tourists and locals, especially at night, with many bars and nightclubs.
Jin Sha Excavation Site is a recently discovered site featuring various tools and art pieces from around 3000 years ago. The amount of unearthed items is just massive. They include pottery, blades, jade items, building foundations and various golden art pieces.
Wenshu Temple, (文殊院) 15 Wenshu Yuan Jie, (成都文殊院街 15 号 - off Renmin Zhong Lu). This Tang Dynasty temple is the most impressive, and perhaps also the most used, temple in Chengdu. It is dedicated to the Buddhist representation of Wisdom, Wenshu Pusa , and contains more than 450 Buddha statues and other precious relics. In addition to the halls and gardens, the temple also has a charming tea house that offers an insightful window of Chengdu life as it is frequented by locals who engage in games of chess, reading, knitting and just chatting with family and friends. The temple also has a delightful vegetarian restaurant with seats offering views over the gardens.
Location is derived from the great work of
WikiMapia
Top photos chosen by u all:
A portrait of the Artist as a young man
Made by
Fusty Box
I met Rong in a gallery that sold chinese art and artifacts during my last days in Chengdu in April 1988. He was minding shop whilst his girlfriend Ye, who was working there, ran an errand. His command of English was even worse than mine of Mandarin. I showed him my illustrated travel journal to indicate what I did for a living, his face lit up, he was an artist too. When Ye returned she was able to translate. I spent many happy hours with them. I visited their home, a spartan brick and concrete room in the south of the city, and Rong's work unit where he would sit at his desk each day waiting for whatever work was required: it could be anything, an illustration for a newspaper, a hand-painted billboard celebrating the successes of the communist party ... After my return to England we exchanged letters regularly. Rong would send me photos of his paintings, originals occasionally, and Ye would tell me their news. I reciprocated ... until Tiananmen. I didn't hear again after Tiananmen. I visited Chengdu twice in the autumn of 1990 but I had mislaid their address. I roamed the back streets in the hope of finding them but to no avail, in the end I gave up, it was dark. I stopped for a beer at an riverside bar and very soon i was joined by a couple of local lads intent on drinking me under the table, not an uncommon occurrence, I think they saw me as a challenge. A couple on the next table stood up, she had had her back to me, she turned, it was Ye ... with her american husband. Where is Rong I asked. WHO is Rong he asked. She had married in secret and moved to America. Rong turned up at the door of my hotel room the next afternoon, it was sunny. We spent the day together and returned to his home where he showed me his latest work. This painting of Ye, in the style of Egon Schiele, was based on a small photograph. It was made after her departure. Rong wasn't entirely happy with it. I loved it. In 1991 he sent it to me, it hangs beside me in my office. After that he didn't reply to my letters ... maybe he moved.
A cheerful welcome
Made by
Fusty Box
A short walk from the Jinjiang Hotel up Renmin Nan Lu, near the intersection, was a small open-fronted restaurant. it was called 'Freindship Restaurant' (sic) presumably due to it's proximity to the Friendship Store. It was a spartan affair but the food was really very good, spicy Sichuan fare. I visited often and developed a good relationship with family that ran it, a mother, two sons, and a daughter, though raising a smile from the mother was nigh-on impossible. The sons, impressed by my muscular arms, insisted one evening that I should arm-wrestle their diminutive but muscular chef, at the table, mid-meal ... whilst other diners looked on incredulously. Why I agreed to this peculiar rite of passage I cannot imagine but I did it ... and I won. Somewhere out there is the photographic evidence shot by my dining companion, a french photographer whose name, sadly, I have long since forgotten.
Meet Bing Bing and her little girl
Made by
electra-cute
SEE THE BOOK AND SLIDESHOW HERE
LEARN MORE ABOUT MY BABY PANDA ADOPTION..PROJECT PANDA..
Meet Bing Bing and her little singleton baby girl!!! She had this baby at 21 years of age. One of the oldest captive bred pandas to give birth. I am adopting this baby and need to start a list of names. photo by Lichunlin..thank you my panda friend for all your help!! I'm so excited about figuring out the perfect name for this baby!!! All suggestions are MOST welcome!!! She is 2 months old right now and will be close to 8 months old when I see her in person
Relaxing in River Viewing Park in Chengdu [EXPLORED THANKS!]
Made by
ctownjb
According to all the tourist material, Chengdu has the reputation for being a really relaxed city. Well, it actually did feel this way to me. It reminded me a lot of my hometown San Diego, which has a similar reputation. This guy was relaxing in a pagoda in the River Viewing park in Chengdu. Notice his socks and tea container! I noticed that I have a lot of pictures from Chengdu and Jiuzhaigou, so I'm going to try to power through them and get back to my normal routine. So, that might mean 3 or 4 per day. I really appreciate all of you who visit my stream and comment/fav my photos. Thank you all and I hope you like my amateur attempt to give a window into Chinese culture both in NYC and China.
Water Graffiti
Made by
Sanctu
We were strolling in a public park in Chengdu, Sichuan province, China when we came across a medium-sized crowd. Turned out that this was a random grassroots community-bonding art-therapy session! Local residents who passed by were randomly taking turns to practise and exhibit their calligraphy skills, on the rough ground tiles. The punchline? All they needed was a bucket of water, and a brush (about the size of a broom). Incidentally, the rolling text doesn't fully make sense, since it contained anything from classical poetry fragments to names of companies in China!
WWF T-Shirts in Juniors Dept at JCPenneys
Made by
electra-cute
Wow..today I was standing in line to make my purchase at Penneys and as I waited was scanning around. My eyes locked onto a big WWF logo and a wall full of incredible Panda and green themed t-shirts in the Junior's dept. I left the line and ended up buying 14 different styles all on sale 40% off. I am a size 5-7 and the Juniors XL fits me with room to spare. This one is my personal fave with the Graffiti stencil look!!!! I'll wear this to Chengdu at the Panda base for my day of wallowing in pandas!
Hello China! Back on the road for some serious traveling
Made by
M.Bob
I doubt I will have a descent internet connexion most of the next month, sorry in advance for not checking all your great photo streams. The rough plan is to travel along the north Tibet-Sichuan highway between Chendgu and Dege, then to Xinning, go back on the silk road to join Urumqi where I plan to take a plane to Iran. Finally I should travel in Iran and then though the Caucasus up to Istanbul! I will probably not be very active on flickr during the 2 next months :) Shot in Chengdu, Sichuan
Face-changing
Made by
ctownjb
One of the coolest parts of a Sichuan Opera is Bian Lian 变脸; literally Face-Changing. It is an ancient Chinese dramatic art that is part of the more general Sichuan opera. Performers wear brightly colored costumes and move to quick, dramatic music. They also wear vividly colored masks, which they change within a fraction of a second. Below you can see a video my wife took from the performance. Needless to say it was cooler in real life! Also, I stole the above description from wikipedia XD
Watch that flame
Made by
ctownjb
One thing I really wanted to do in Chengdu was see a Sichuan Opera. This section was a comedy about a husband and wife. Apparently in Chengdu husbands have the reputation of doing everything their wives ask them to do. Here, the wife asks the husband to do all sorts of ridiculous things to punish him, and he complies with everything. It all involved an oil lamp on his head. I couldn't really understand what they were saying since everything was in Sichuan dialect, but it was still pretty funny.
Hut 2, 3, 4!
Made by
ctownjb
I don't really know what's going on here to be honest. If anyone from China has an idea, let me know. But there were a bunch of ladies practicing marching and singing (I assume patriotic songs, based on the flags). Either this was the first time they'd practiced, or they were really bad, because they were not lined up at all, and about 10 seconds after this they all ended up running into each other when they tried to turn. The funniest part is in the note, check it out!!!
My panda adoption in Chengdu China, 2/08
Made by
electra-cute
We got a lot of great photos of Jewel but I couldn't help but caption a few of the funny ones. Here she is wanting to flip backwards and I'm doing all I can to hold her. They are really strong!
SEE THE BOOK AND SLIDESHOW HERE
LEARN MORE ABOUT MY BABY PANDA ADOPTION..PROJECT PANDA..
Diana holding my baby "Jewel" that I just adopted in China
Made by
electra-cute
We got a lot of great photos of Jewel but I couldn't help but caption a few of the funny ones. Here she is wanting to flip backwards out of Diana's arms. The look on Dianas face is pricelesS
SEE THE BOOK AND SLIDESHOW HERE
LEARN MORE ABOUT MY BABY PANDA ADOPTION..PROJECT PANDA..
Giant Panda cubs
Made by
Sheep"R"Us
Getting to see Giant Pandas in the wild is pretty much impossible, unless you want to live in the forest for months, so the Giant Panda Breeding Research Base was a second-best option. They have successfully bred many Giant Pandas here and they all seem very happy, plus they are incredibly cute. Fingers crossed that the captive breeding and release programme goes well as there are only about 1,000 left in the wild.
Buildings in the trees
Made by
ctownjb
Inside the Du Fu Thatched Cottage park and museum in Chengdu, Sichuan. This was a cool area that had 100 Du Fu poems engraved on wooden planks, and also a cool garden of bonzai plants. For those who might not know, Du Fu is an amazing poet who lived during the Tang Dynasty. You can find more information about him here:
en.wikipedia.org/wiki/Du_Fu
Panda exercising at the Chengdu panda base 2008
Made by
electra-cute
The young males are encouraged to use their hind legs to prepare for eventual mating. Without controlled exercise they become weak and cannot support their weight
SEE THE BOOK AND SLIDESHOW HERE
LEARN MORE ABOUT MY BABY PANDA ADOPTION..PROJECT PANDA..
MY PANDA ADOPTION JOURNEY..CHENGDU PANDA BASE 2/08
Made by
electra-cute
These are the incubator babies we saw in 2006. How fun to see them so happy , fluffy and full of boo!!! There was one more in the moat eating by himself too.
SEE THE BOOK AND SLIDESHOW HERE
LEARN MORE ABOUT MY BABY PANDA ADOPTION..PROJECT PANDA..
China-594
Made by
Tristan27
A Giant Panda taking a nap in a tree at the Panda Centre in Cheng Du. That can't honestly be comfortable! The Pandas really were ridiculous creatures. They basically either chomped their way through bamboo or slept! The problem is that evolutionally speaking Pandas are carnivores. However they eat bamboo and it gives them pretty much no energy so they have to eat it constantly!
Zhuge Liang
Made by
lugi_ch
Zhuge Liang (诸葛亮, 181-234) was a chancellor of Shu Han during the Three Kingdoms period. He is often recognized as the greatest and most accomplished strategist of his era. Often depicted wearing a robe and holding a hand fan made of crane feathers, Zhuge Liang was not only an important military strategist and statesman; he was also an accomplished scholar and inventor.
China-629
Made by
Tristan27
Freeze! Looks like this Panda is being frisked! A Giant Panda at the Panda Centre in Cheng Du. The Pandas really were ridiculous creatures. They basically either chomped their way through bamboo or slept! The problem is that evolutionally speaking Pandas are carnivores. However they eat bamboo and it gives them pretty much no energy so they have to eat it constantly!
Panda Base, Chengdu China 2/08 ..panda adoption
Made by
electra-cute
SEE THE BOOK AND SLIDESHOW HERE
LEARN MORE ABOUT MY BABY PANDA ADOPTION..PROJECT PANDA..
Jewel or Bao Shi as she is called in Chinese was full of herself while I held her. I am the first person to handle her besides the keeper.
Videos:

Chengdu Outtakes
Bibby, Xie, and Jason remember the time of their lives. Thanks for the memories...Chengdu memories exchange program


Chengdu - China
chengdu - sichuan...chengdu changdu sichuan china chiny


Chengdu hot pot
A spicy delicacy gone wrong in Chengdu, China...travel china Chengdu


baby panda, chengdu
one month old baby panda in incubator...chengdu china panda


Chengdu 电子科大Aussie Teaching Chengdu
Chengdu 电子科大Aussie Teaching Chengdu University of Science and Technology....chengdu sichuan teach_in_china learn_chinese teaching_english chinese_university panda mandarin chinese leshan


Chengdu Downtown Biking
A bike ride in dowtown Chengdu set to awesome music: 吉祥三宝by 布仁巴雅尔(bu ren ba ya er). The lyrics are


Teaching in Chengdu
An Aussies perspective of Chengdu, the first two weeks! 10/10...chengdu china sichuan chinese tour teaching


Dave's Oasis-Chengdu Nightlife
to know about travelling to Chengdu and China. Here at Dave's oasis we organise trips for travelling people to enrich their knowledge on Chengdu and the surrounding areas.


Chengdu tea house
Sichuam province tea house in a Buddhist temple....china travel Chengdu


Chengdu
This is a video taken in the winter of 2004...Chengdu Chengtu Sichuan China southwest shude-high-school


Back in Chengdu Episode 1
by myself http://huaqing.chengtu.com http://www.028time.com...back in chengdu ma huaqing documentary


Chengdu Introduction
://www.chine-informations.com - Introductin to Chengdu, China. Présentation de Chengdu, Chine....Chengdu Chine China


China Holiday - Part 4 - Chengdu
Went to china earlier this year. Here are my vids!...china chengdu le shan pandas buddha Video presentation


Imperial Bus Chengdu
A journey in the bus 55 in Chengdu, China. http://bettyetthomas.blogspot.com/...bus chengdu china


zhonghai internatioal community (chengdu)
community in the western suburb of Chengdu. The nearby 'high tech development zone' is home of Intel Chengdu, Motorola Chengdu and a lot of pharmaceutical companies


Club TNT in Chengdu
wonder what Club TNT in Chengdu, China is all about www.vachina.blogspot.com...club tnt acdc ac/dc chengdu china


Chengdu
Chengdu, Sul da China...China Chengdu Asia


dujiangyan, chengdu
chengdu, built in 2000 years ago, may be the oldest hydraulic project in the world. Video was shot in 1985....China Travel Tourism Chengdu


Nearest places of interest:
Popular places: