Videos: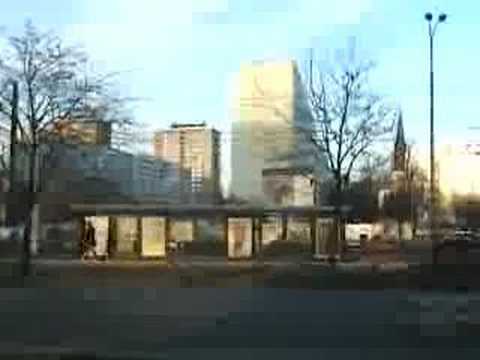 More videos
Friedrichshain
Interesting places in Friedrichshain:
Friedrichshain is a part of Berlin's borough of Friedrichshain-Kreuzberg. From its creation in 1920 until an administrative reform in 2001 it was a freestanding city borough. Formerly part of East Berlin, it is a central borough, adjacent to Mitte, Prenzlauer Berg, Kreuzberg and Lichtenberg. The district is named after the Volkspark Friedrichshain, a vast green park located at the north border to Prenzlauer Berg. During the Nazi era, it was known as Horst-Wessel-Stadt.
Location is derived from the great work of
WikiMapia
Top photos chosen by u all:
Berlin
Made by
Smiksmak
Oberbaumbrücke
built 1896 After Berlin absorbed several other municipalities in 1920, the Oberbaum Bridge became the crossing between the new boroughs of Friedrichshain and Kreuzberg. In April 1945 the Wehrmacht blew up the middle section of the bridge in an attempt to stop the Red Army from crossing it. After the war ended, Berlin was divided into four sectors. The Oberbaum Bridge crossed between the American and Soviet sectors. Until the mid-1950s, pedestrians, motor vehicles, and the city tramway were able to cross the bridge without difficulty. When the Berlin Wall was built in 1961 the bridge became part of East Berlin's border with West Berlin; as all the waters of the River Spree were in Friedrichshain, the East German fortifications extended to the shoreline on the Kreuzberg side. The West Berlin U-Bahn line was forced to terminate at Schlesisches Tor. Beginning on 21 December 1963, the Oberbaum Bridge was used as a pedestrian border crossing for West Berlin residents only. After the opening of the Wall in 1989, and German reunification the following year, the bridge was restored to its former appearance, albeit with a new steel middle section designed by the Spanish architect Santiago Calatrava. It opened to pedestrians and traffic on 9 November 1994, the fifth anniversary of the opening of the Berlin Wall. The U-Bahn line to Warschauer Straße station was reopened a year later.
Fotorobotnik
Made by
dmoch
Photo booth at Warschauer Straße, Berlin Friedrichshain. I love this booth. When i passed by it everyday on my way from work, i would often think about how i want to approach it photography-wise, and i assumed there were going to be lots of opportunities to shoot it... but now it is soon to be removed. So, i thought i'd take a picture as long as it's still there. is another shot of the same booth at daylight. Edit: Now that this picture has been online a day, i realize that the booth looks tiny! I would estimate that it's a miniature booth that's only 15 cm high! Do you feel that way too, or am i the only one? I know how i caused it: The illuminated passage in the background was out of focus, but not enough for my taste, as it drew attention away from the booth and brought too much unsteadyness into the picture. So i blurred the background a little in Photoshop - but not very much i want to point out. Now i'm amazed how much of a difference this change of the depth of field makes to my perception of size. Update: When i made this shot, there was a sign saying the booth was soon to be removed, but now, one and a half years later, it's still there. It has an distracting construction site in the background though, so it's not as photogenic atm.
Modern Architecture
Made by
Berliner1017 ( thanks to all 222.222 Visitors )
The nhow Berlin is a 4+ music lifestyle hotel. It offers 304 rooms and a convention center with 7 meeting rooms. It is part of the lifestyle brand nhow hotels developed by the Spanish hotel chain NH Hoteles ********************************************************************************************************** Architecture and interior design The NDC Nippon Development Corporation acted as the project developer. The hotel is situated Stralauer Allee 3 in the area Berlin East Harbour , a former industrial harbor. The architectural design by Sergei Tchoban is intended to resemble the appearance of trading posts and cranes of the 19th century combined with modern design. Karim Rashid was responsible for the interior design. His designs are known for organic forms and loud colors which clearly reflects in the hotel. ********************************************************************************************************** Exposure blending from 3 shots f/5,6 ; 1/200s - 1/800s - 1/3200s ; iso 100 ; @15mm Canon 7d Canon EFs 10-22mm Software: Photomatix 4 PRO Photoshop CS4 NIK Color Efex Pro Filters
Some people walk in the rain, others just get wet.
Made by
Julia Dávila.
~Roger Miller Pobrecilla!!!!!
▌Nuevo Post: De como comprar ropa formal y no volverse loca en el quinto intento :) . .
▌Website. ▌
▌Facebook. ▌
▌Twitter. ▌
▌Julia Dávila [Fotografía] ▌
If you wish to use any of my images for any reason/purpose please contact me (Chaulafanita@photographer.net ) or send me a flickr mail so I'll make them available for sale.
Berlin Wall, 1992
Made by
jdunlevy
Section of Berlin Wall, Mühlenstraße, Kreuzberg-Friedrichshain, Berlin. This was the East German side of the Wall, so it was unpainted until after the opening of the Wall late in 1989. This section of the wall was painted with 106 large-format scenes in 1990 and opened as the East Side Gallery. The painting of Leonid Brezhnev kissing Erich Honecker (from a photograph of an actual kiss between the two leaders!) is by the Russian artist Dmitri Vrubel. The German reads, Mein Gott hilf mir, diese tödliche Liebe zu überleben -- My God, help me survive this deadly love. Further information on this site:
in English
,
auf Deutsch
. (scanned from a print)
Tag 8: Splash!
Made by
moritzwade
30 day photo project. Day 8. My version of the famous Cookie Splash. :) The hardest part is to hit the damn thing when throwing with the left. *grr* Took me only about 130+ shots. When I first hit the cup, the flash didn't trigger at the exact frame that would've made my day. *even more grrr* But in the end: It's fun! :) See more at:
thirtydays.perceptual.de/
Strobist info: Poverty-wizard-triggered flash through white shoot-through umbrella to camera left. Plus natural light from the outside in the back. Rather wide aperture (2.5) with Canon 50mm f1.8. I did go a bit into the direction of a retro style with some cross-processing in Lightroom. PS: There's actually no cookie anywhere near this shot... I tagged it cookiesplash nonetheless. ;)
INGA, steady rollin' rhythm jazz guitar
Made by
Frizztext
www.myspace.com/alexinga
- seen (and heard) in Berlin, Friedrichshain, INGA plays a steady rolling rhythm guitar for her jazz improvising lead guitar partner ALEX; if in Berlin, you should visit every Sunday the Boxhagener Platz: a wonderful antique market / flea market, flohmarkt / Trödelmarkt feedback by Inga Streblow herself: If photoshooting would steal the power of the soul, then i wouldn't have soul anymore now. Thanks for photo of my guitar and me! You know your business mister !! INGA. + you can hear INGA in the background of my BERLIN slide show:
www.youtube.com/frizzguitar#p/u/9/nNzGENvYvow
at youtube ...
roof-climbing
Made by
Frizztext
freeclimbing in Berlin, Friedrichshain; I shot 50 pics and gave them a CD-ROM, now they can study their sporty action on TV-screen at home, sitting on a sofa... P.S.: because someone asked: it's not illegal; free-climbers are exercising there supported by professionals; you have to pay an entrance: berlin, friedrichshain, ravener street - it's geotagged [click on the map link, right side; yahoo map calls it friedrichs-BERG but the correct name of that neighbourhood (old East Berlin) is friedrichs-HAIN] - compare
flickrcomments.wordpress.com/2011/04/22/weekly-photo-chal...
old house with scarecrows
Made by
moggierocket
The decayed Berlin 5 or 6 storey buildings like this one are still to be found here and there, especially in Friedrichshain. But a lot of them are already renovated and you have to look hard to see that the building is the same under the layers of white paint. Even though the renovated ones probably look like what they looked like originally, I prefer these old looking battered ones. But how long before they too disappear under new layers of plaster and paint? Best seen large
Molecule Men (Berlin)
Made by
M Kuhn
While the rising sun disappeared slowly in a cloudy sky it bathed the
Spree
river in an unreal orange light. In front of the bridge there are the Molecule Men, a famous sculpture of Berlin. It it made of three figures, but the third is always hidden. Just right of it you can see the ferris wheel of a closed amusement park. Seen from the
Oberbaumbrücke
Oberbaumbrücke
Made by
Tafelzwerk
I always wanted to see the Oberbaumbrücke during the Festival of Lights and at this weekend I took the chance to take some photos. I made a HDRI out of 4 photos - unfortunately the fifth picture had a serious problem, so I had to delete it. I used aperture f/10 and exposure from 88 to 10 seconds (88, 59, 20 and 10). To create the HDRI I used Photomatrix. Some minor improvements with Lightroom later on. Visit
www.tafelzwerk.de
U-bahn Schlesisches Tor // Kreuzberg
Made by
Merlijn Hoek
This is a 10 second capture of one of my favourite U-bahn stations in Berlin; Schlesisches Tor. I used to live just around the corner more than 2 1/2 years. The architects Hans Grisebach and August Georg Dinklage created station with small towers made from briks unlike the most stations. Check also:
www.untergrundbahn.de/strecken/u1/s.htm
Technorati Profile
verboten!
Made by
moggierocket
The Germans can be very stern, we experienced. But we also met some very nice ones. Like this man, who didn't mind that I took a photo :-) In fact, this is , who happened to be in Berlin too when we were there so we made an appointment and spent the best part of a day together and we met his lovely wife too. View Frizztext's photo of
this same 'kassa'
with another cassiere in it!
Beautiful Bridge
Made by
Dietrich Bojko Photographie
This bridge is really very fascinating building! I always comed back to this location for take more pictureres from other positions and other lights! This time was very windy and the reflection on the water looks like ice, but I specialy like this one!!! Oberbaumbrücke, Spree river, Berlin, Germany DRI from 10 exposures: 30, ... 0,5 seconds.
Larger Version
(recommended)
Staircake
Made by
dmoch
If this house was a human body, the staircase would be the digestive system - and i would be a delicious piece of cake. If this house was a cake, it would be chocolate brownie with vanilla topping and cream. If i was a human body, i would be hungry now. Sorry for this, i didn't know what to write about this picture, other than that i like it. Also, i'm trying to come up with cheap excuses to talk about cake. Shot on Karl-Marx-Allee.
Parenthetical Girls
Made by
__J
03.12.2008, Deerhoof, Parenthetical Girls, Hawnay Troof @ Lido, Berlin.
www.myspace.com/parentheticalgirlsband
Highest position in explore: 122 on Friday, December 5, 2008 Also the band was kind enough to put my picture on their homepage, check it out
parentheticalgirls.com/
Let's get loud!
Made by
Frizztext
standing in front of a railway-station with many arriving and leaving trains having a busy automobile traffic in the background a group of musicians tries to win the battle of noises in berlin - view my slide show with embedded music at
www.clipcook.com/clip/4c4965d8-5661-4f67-ab95-ba39f649ae3e
two freeclimbers
Made by
Frizztext
I believe that anyone can conquer fear by doing the things he fears to do, provided he keeps doing them until he gets a record of successful experience behind him. - Eleanor Roosevelt (1884-1962, American First Lady) - freeclimbing in Berlin, Friedrichshain; I shot 50 pics and gave them a CD-ROM, now they can study their sporty action on TV-screen at home, sitting on a sofa...
The Morning After.
Made by
Mr. iMaax. ☜
We were partying in Berlin for like 8 hours. And after that we chilled in 'Alt-Treptow' at 6 in the morning. These are my sister's feet and her boyfriend's. This is at the 'bath-ship'. [Dunno how you call right in english. :D] Hope you like it guys..! :) |
My tumblr.
|
Stairway to...
Made by
keiththrn
One of the stairwells in the abandoned glass factory in Berlin. This place has been overrun with graffitists (artists and taggers), and has been subjected to a myriad of abuse, but it is still a fascinating place to photograph. Over 3,000 views...thanks to everyone who likes (or hell, even hates) this pic. :)
Videos:

Gebäude in Friedrichshain
Sozialismus rettet immer noch....berlin sozialismus friedrichshain


Friedrichshain hinterhof
Friedrichshain hinterhof, 21.05.2007...firedirichshain berlin germany deutschland


berlin
me @ friedrichshain and in the inner city of berlin...berlin friedrichshain city


Stadtrundfahrt 03
Friedrichshain Karl-Marx-Allee...Berlin 2005 Friedrichshain Zuckerbäckerstil


The Berlin Festival of Lights (2007) Oberbaumbrücke
The neo-gothic bridge between Kreuzberg (SO 36) and Friedrichshain...bei Nacht Berlin Oberbaumbrücke Linie U1 SO 36 Oranienstraße Kreuzberg Friedrichshain neo gothic


3rd eye in the bag
a short trip in berlin. from mitte to friedrichshain...berlin mitte friedrichshain


Berlin: Der Kreuzberg-Wasserfall
ist. Kreuzberg ist ein Ortsteil im Bezirk Friedrichshain-Kreuzberg von Berlin. Bis zur Fusion mit dem damaligen Bezirk Friedrichshain im Zuge der Verwaltungsreform 2001 gab es einen


hiroshima in berlin (stand day 151)
Hiroshima and Nagasaki atomic bomb memorial in volkspark friedrichshain Berlin Germany....hiroshima nagasaki memorial berlin volkspark friedrichshain stan day 151


Warehouse Berlin
Some warehouse party in Berlin, Friedrichshain...Berlin Warehouse Friedrichshain Club Party


Warehouse Berlin
Some warehouse in Friedrichshain...Warehouse Berlin Friedrichshain clubbing


Wäsche Waschen am 31.12.06 Teil 1
bevorstehenden Steuererhöhung bin ich nochmal in dem Waschsalon in der Greifswalderstraße 225 in Berlin-Friedrichshain gewesen.Anfangs war ich noch alleine dort.Aber bald gesellte sich ein


TV tower - Berlin Germany - fix point
1969 and 368,03 meters (1207,45 feet) hight...Berlin TV tower city Fernseturm hommage Kreutzberg Mitte Tiergarten Friedrichshain Wedding prenzlauerberg Treptow


wasteland berlin
east berlin graf in friedrichshain...graffiti berlin friedrichshain


Boxi - one week later
One week after the brunch with the 'bullen' and Boxhagener Platz is a different place .......Berlin Boxi Friedrichshain


Sylvester in Berlin City
New Year Party in Berlin - Party City of the World...Silvester Berlin Friedrichshain Germany Party New Year 2007 Feuerwerk Fireworks Unbelievably Crazy Fantastic Celebration


one_day_in_müggelland
#this is müggelland #music by Jeans Team: "das zelt"...Berlin Friedrichshain Müggelstraße Müggelland


Berliner Radwege: Kreuzbergstraße
Kreuzberg ist ein Ortsteil im Bezirk Friedrichshain-Kreuzberg von Berlin. Bis zur Fusion mit dem damaligen Bezirk Friedrichshain im Zuge der Verwaltungsreform 2001 gab es einen eigenständigen Bezirk


Bilder aus einer Stadt, die ich liebe
Berlin. Wo sonst?...berlin kreuzberg mitte friedrichshain neukölln treptow pankow reinickendorf prenzlauerberg tempelhof marzahn wedding


Sylvester in Berlin City
New Year Party in Berlin - Party City of the World...Silvester Berlin Friedrichshain Germany Party New Year 2007 Feuerwerk Fireworks Unbelievably Crazy Fantastic Celebration


Nearest places of interest:
Popular places: