Videos: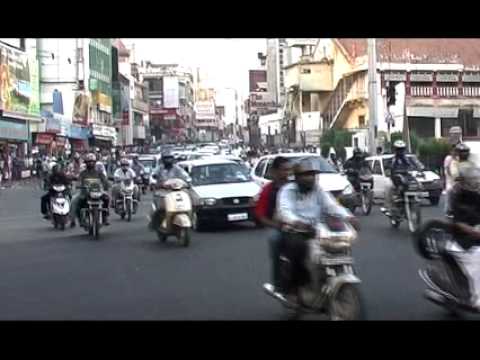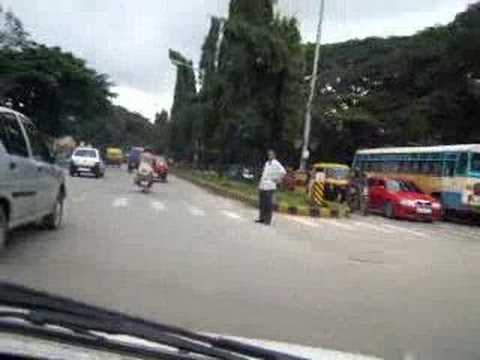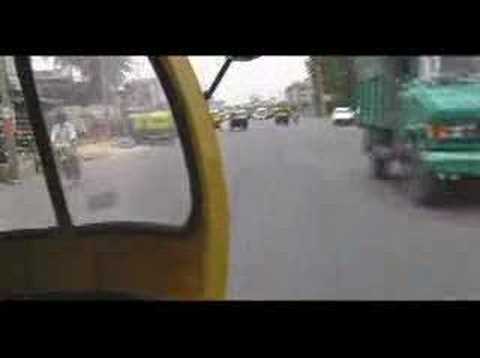 More videos
Bangalore
Bangalore (officially known as Bengaluru in English) (Kannada: ¬³°; pronunciation: help·info) in Kannada and /'bæNg@lO:(r)/ (help·info) in English} is the capital of the Indian state of Karnataka. Located on the Mysore Plateau in south-western Karnataka, Bangalore has an estimated metropolitan population of 6.1 million (2006), making it India's third-largest city and fifth-largest metropolitan area. Though historical references to the city predate 900, a written history of continuous settlement exists only from 1537, when Kempe Gowda I, whom many regard as the architect of modern Bangalore, built a mud fort in the city and established it as a province of the Vijayanagara Empire.
Although Bangalore is not known as a tourist city, there is still a lot to see. If you only have a limited amount of time in the city, you should consider taking one of or full-day city tours offered by KSTDC, the government tourist office. They are cheap and cover the city's major attractions with English speaking guides.
KSTDC also offers longer full-day and multi-day trips to places outside of Bangalore. These include pre-arranged transit, hotel, meals, etc.
Typically, the tours (including the city tours) do NOT include entry fees into the attractions. Bangalore, as with the rest of India, has a habit of charging foreigners a lot more than locals. For example, Tipu Sultan's Palace, which is on the half-day tour, charges Rs. 10 for Indians and Rs. 100 (or $2 USD) to non-Indians.
Landmarks
Vidhana Soudha - The legislative House of the State of Karnataka, this granite building was built by Sri K. Hanumanthaiya, Chief Minister of the then Mysore state 1951 to 1956. The then Prime Minister Sri Pandit Jawaharalal Nehru laid the foundation on 13th July 1951. It was built at an expenditure of Rs 1.84 crores. Marvel of neo-Dravidian architecture and one of the most imposing building not only in Bangalore but in India. One of the interesting feature of this building in grand stairs in its front. The grand stairs has a flight of forty-five steps 62 m (204 ft) wide 21 m (70 ft) deep giving a direct access to the foyer of first floor leading to an Assembly Chamber. The architecture of the building is based on Dravidian style, comprising richly carved bases and capitals for pillars, deep friezes, kapotha cornices, chaithya arches, heavy pediments domical finials, etc; At the same time, the construction has been on modern designs, making use of the present-day materials like steel, reinforced cement concrete glass, plastic, etc.
Vikasa Soudha - Is it possible to gild a lily? Well you judge for yourself. This ultra modern construction, adjacent to majestic Vidhana Soudha built in the same classic style, is supposed to come fitted with the latest gizmos to help govern the state. It was inaugurated sometime in February 2005.
Seshadari Iyer Memorial is a distinctive building constructed of red sand stone in Cubbon Park. It houses a public library and the Bangalore High Court, while the grounds include a children's recreation area with a toy train, fairground and theater.
Bangalore Palace was constructed by the Maharajahs of Mysore. For many years the building was neglected as a tourist attraction, but is now open to the public.
Tipu Sultan's Palace, which dates from about 1790, is the summer retreat for Tipu sultan. The two story structure is made mostly out of wood with finely embellished balconies, pillars and arches.
Temples
The Bull Temple is a typical Dravidian style temple, and is famous for its mammoth bull statue that was carved from a single boulder. Legend has it that the temple was built to appease a marauding bull that stole local crops, and that the offering was effective with the bull subsequently leaving the area. Since then, local farmers have held an annual festival to express their gratitude.
The Maha Bodhi Society Temple (see 'learn' section) is a relatively new structure, with the main shrine built as a replica of the historic stupa at . The temple grounds are very peaceful, and visitors are welcome to stroll around. In addition, the temple houses an excellent library of books on Buddhism, many of which are in English.
The Iskcon Temple, built on a hillock atop scenic surroundings, the is a perfect blend of modern technology and spiritual harmony. The huge cultural complex was built to promote vedic culture and spiritual learning. The annual Krishna and Balarama is attended by thousands.
Gavi Gangadeshwara Cave Temple, was built by Kempe Gowda. This temple with four remarkable monolithic pillars is dedicated to Lord Shiva. The temple also has a rare idol of god of fire. The annual festival is on and thousands of devotees flock to see the suns rays fall on the .
VenkataramanaSwamy Temple is a fine example of Dravidian architecture. This ancient temple was built by Maharaja Chikka Devaraya Wodeyar and is situated next to the summer palace of Tipu Sultan.
Dodda Ganapathi - one of the oldest temples in Bangalore.
Parks
Cubbon Park. A 121 ha (300 acre) green lung in the center of the city. Sitting in the shade of one its many magnificent trees and watching towering bamboo sway in the breeze, it is hard to imagine that you in the heart of a metropolis of over 6.0 million people and one of the world's most dynamic and fastest growing cities. There is also a toy train offering children's rides.
Lumbini Gardens. A new attraction in Bangalore. It is located near hebbal flyover and is on the lake front of Nagarvala lake. It has been recently developed with a grant of Rs 10 crore. Major attractions of the park include boat rides, wave pool and children's garden.
Wonder La Amusement park. A new attraction in Bangalore. It is India's biggest amusement and water part which belongs to V-Guard firm. This park boasts of several rides(both ground & water). This is one of the best spots to visit in Bangalore, which en dazzles in good quality. It is located in the outskirts of the city off Mysore Road.
The Lal Bagh. A meticulously cared for garden located on the southern fringes of the city. Throughout its 97 ha (240 acre), there are lotus ponds, fountains, glass houses and stone formations that date back over 3.0 billion years. Described as the most romantic garden in India, it was laid during the 18th century by Hyder Ali and Tipu Sultan. There is a small entrance fee.
Location is derived from the great work of
WikiMapia
Videos:

Jeremy Goes to Bangalore
on by angry monkeys. Yep, I knew living in Bangalore would be interesting....india bangalore travel asia expat world east cow dog monkey pee salaam


Driving in Bangalore (India)
you wd have to relay upon but your instincts and reflexes. Welcome to the land where the bigger vehicle rules the road....traffic bangalore


Autorickshaw Racing - Bangalore Inida - Fast And Spurious
Dangerous, illegal, and never discussed, the insane sport of autorickshaw racing in Bangalore India was infiltrated by two Americans. This grimy subculture of hot curry and


Train Crash between Hyderabad and Bangalore.
. The crash took place miles and miles from anywhere really, between Hyderabad and Bangalore. The railway company tried to blame terrorists. They said that they found


If you go to Bangalore...Veena Player
If you go to Bangalore and happen to be in the Basvangudi area of South Bangalore you just might luck out and stumble upon Raju, a traditional craftsman that


If you go to Bangalore...Malleswaram Market
go to Bangalore chances are you might overlook Malleswaram Market since it is not in central or South Bangalore. Malleswaram is one of the oldest neighborhoods in Bangalore and


Bangalore India, Family of four on motorcycle.
Traffic In Bangalore India. , Family of four on motorcycle...India motorcycle Bangalore traffic


Trip to Bangalore
Trip to Bangalore...Bangalore Fulton Vasudeva Young Palomino


Royal Enfield Bangalore to Hyderabad
A Great trip from Bangalore city to Hyderabad city in India....Bangalore Hyderabad India Bike bullet ride trip royal enfield long drive


Bangalore- A Presentation for the Embassy of India, Berlin
containing scenes from Bangalore, India made to the Embassy of India in Berlin during a visit to Germany by students of Mallya Aditi International School, Bangalore. Students


Bangalore by bike
Ride across Bangalore on a Royal Enfield Bullet...Bangalore motorbike road trip


Kerala from kochi to bangalore to goa - homecoming 2005
and Laalu. for that fantastic drive from Cochin to bangalore and goa: Vakkan, Fatboy and Josh. Bangalore boys: Dj Vishnu and Puff daddy Ranjit.


Swami Sri Gopalakrishna Baba - Pure Sai Love in Bangalore
, Bangalore, India - Phone: 00-91-80-26720863...sai baba puttaparthi sathya sri gopalakrishna shiva shirdi love swami prema dharma bangalore omtapas


Bangalore Market Tour
by Caedmon's Call is singing about Bombay, and not Bangalore. The song is from their Share the Well album....Bangalore Market Caedmon's Call


Bangalore with Sitar Music
Bangalore with Sitar Music...Bangalore Sitar


Parivar Prince, Bannerghatta Road, Bangalore
organizations. Home details at http://bangalore.craigslist.org/apa/241484501.html ...Bangalore Bannerghatta Road Home for rent


when i went to bangalore, india
90 mosquito bites. there are just two of the most serious bites....mosquito bites india pus gore horror sick gruesome


Bangalore, India Trip 2006
Colorado Springs, Co. Music was used with permission, Derek Loux, Fragrant Burning, ©2006 Forerunner Music....Antioch India Trip Bangalore


bangalore traffic cam
mass confusion shown here on this traffic cam in bangalore...bangalore traffic cam camera trafficcam confusion chaos


Nearest places of interest:
Popular places: