Find hotels near Bandung
Videos: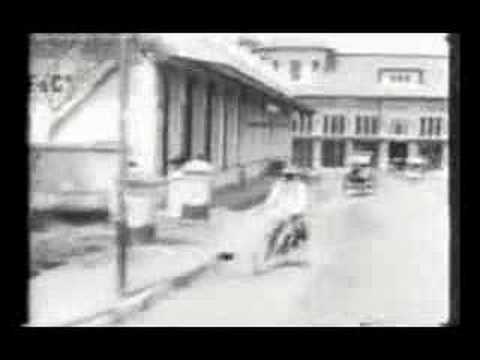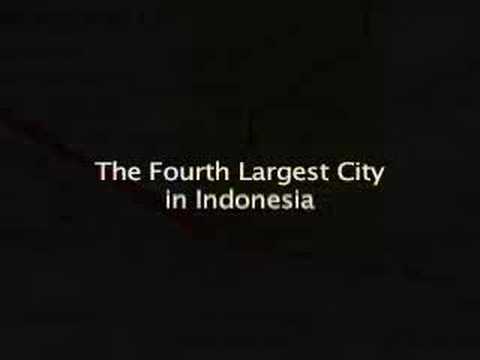 More videos
Bandung
Interesting places in Bandung:
Bandung (IPA pron.: /bVndUN/) is the capital of West Java province in Indonesia, and the fourth largest city of the country. Located 768 m (2,520 ft) above sea level, Bandung has relatively year-around cooler temperature than most other Indonesian cities. The city lies on a river basin and surrounded by volcanic mountains. This topology provides the city with a good natural defense system, which was the primary reason of Dutch East Indies government's plan to move the colony capital from Batavia to Bandung.
Architectural Jewels
In the late 18th and early 19th century, as locals called it the bandoeng tempo doeloe (old Bandung) era, there were many buildings built with an art-deco style. The city that had served as a weekend resort for European richmen has made these type of buildings possible. Unfortunately the city administration has a tendency to create a modern look of the city with suspension bridge, banks, malls and commercial areas, instead of preserving old historical buildings. The non-profit organization has been formed recently to save these jewels forever.
Make sure you see these buildings before they're gone.
Villa Isola, Jl. Dr. Setiabudhi 229.
Architect: C.P.W. Schoemaker. Built in 1932 for an Italian millionaire D.W. Berretty as a villa. It lies in the northern part of Bandung, overlooking the city to south and the Tangkuban Perahu mountain to the north. Villa Isola and its 2 gardens have a magnificent design by its architect, combining the unique landscape and the Indo-European architectural style. This monumental art was later used for a hotel, named Hotel de Luxe. Now it serves as UPI's (University of Education Indonesia) headmastership building.
Gedung Merdeka, Jl. Asia-Afrika 65 .
Architect: Van Gallen Last and C.P.W Schoemaker. Built in 1895 for a club house for rich people, named the Concordia Society. In 1955, this building was famous as the first Asian-African conference venue. Now it is a museum for that conference.
Savoy Homann Hotel, Jl. Asia-Afrika 112, (+62)-22-4232244. it was built in 1880, renovated in 1938 by a Dutch architect A.F. Aabers with an art-deco style as it is seen today. It still serves a hotel until now. The King and Queen of Siam, The Prince and Queen of Belgium, The Governor General of Indo-China, The Duchess of Westminster and even Charles Chaplin had stayed there three times. You can also still stay in this hotel and enjoying the old colonial time.
Grand Hotel Preanger, Jl. Asia-Afrika 81.
It has two sides: the old facade and the modern wing side. The old facade has an interesting story, as C.P.W. Schoemaker designed the art-deco style that is blended with local culture. It was a controversial issue at that time, but that gives a unique style.
Gedung Sate, Jl. Diponegoro.
Architect: J. Gerber, built in 1921. It was used as the head of the Dutch Indies Government Companies. The roof has a decoration of a popular food as now it is famous for the name, though it was not meant to be like that. In fact, it is a 6 ornaments, symbolizing , the cost of the building. Now, the complex is the office of governor and the local provincial house of representatives. Interesingly, this building mixes different architectural styles: Spanish style for the windows, Italian for the overal building, and between Balinese & Thai's for the roof. The facade faces directly to the Mt. Tangkubanperahu. The building is open for public, and at the end of the journey inside, you can sip a nice hot drink while watching the city view from the top floor.
Cipaganti Mosque, Jl. Cipaganti.
Architect: C.P.W. Schoemaker, built in 1933. It was the only mosque that was built in the European residential area in the northern part of Bandung. The central facade still has the original design, but the mosque has been expanded to both of its side.
ITB West and East Hall (Aula Barat & Timur ITB), Jl. Ganesha 10.
ITB is Institute Technology Bandung, the oldest institute of technology in Indonesia. It was built in 1918 by the architect Maclaine Pont. The most prominent Dutch East Indian architecture is the West and East Hall of this insitute, where a West Sumatran style of architecture was used.
Art & Science
Bandung has been the melting point between the local Sundanese culture with the high-end technology developed at the Institute Technology Bandung. There are some interesting places to visit:
Saung Angklung Udjo . is a traditional South-East Asian musical instrument, made by bamboo. Udjo Nalagena, a famous angklung artist, created an Angklung House in the outskirt of Bandung, where angklung is made, learned and played. You can enjoy an angklung orchestra played by 12 year old or less children or even be a part of this orchestra, holding one of the angklung instrument. The place is in the middle of padi terrace and bamboo field, a perfect location to feel the relaxness of a small village. It is one of the famous travel destination among westerners and is highly recommended.
Location: Jl. Padasuka 118, around 7km from Bandung.
How to get there: The easiest way is to rent a car to go there or ask your travel agent if there is a program to visit this place.
Bosscha Observatorium , built in 1923 by Nederlandsch-Indische Sterrekundige Vereeniging (Assoc. of Dutch-Indies Astronomers) is the only observatorium in . It lies in Lembang, a small suburb city in the northern part of Bandung. It is now part of the Dept. of Astronomy, Institute Technology Bandung.
Location: Jl. Peneropongan Bintang, Lembang 40391. Tel: (+62) 22-2786001. E-mail: administration[at]as.itb.ac.id
To visit there, ask the department administration first for a reservation. Some visiting notes:

Reservation must be made 1 month before.
Bosscha is closed on national holidays, Sunday and Monday.
Day visit at 9:00, 12:00 (except Friday at 13:00) and 15:00.
Public night (17:00-19:30), between April-October, with some presentations and demos. Ask there for a specific date as this public night is open at the 7th & 8th of the lunar month.
Special visit can be arranged and subject to their avaibility.
Geological Museum, houses 250.000 rocks and mineral collection, and 60.000 fossils. There are 3 major rooms in the museums: the geology of Indonesia, the history of life and the geology of human life. The building itself has an art-deco style, built in 1928 by a Dutch architect Wnalda van Scholtwenburg.
Location: Jl. Diponegoro 57, Bandung. (near Gedung Sate complex). Tel: (+62)-22-7203205.
Visiting time: every day 09:00-15:00 except Friday.
Location is derived from the great work of
WikiMapia
Top photos chosen by u all:
Moving Statues. H.C. Verbraak, S.J., Taman Maluku, Bandung, Java, Indonesia
Made by
Rana Pipiens
In Rotterdam, The Netherlands, in the shadow of the Laurenskerk, stands an iconic statue of Desiderius Erasmus, great European humanist. Aptly for a scholar he is holding an opened book. The more than life-size sculpture was designed by the Dutch sculptor and architect Hendrick de Keyser (1565-1621) and placed in 1622, just after his death, and it has since then been moved around at least three times. Ever since the seventeenth century legend has it that if/when (a double meaning of the Dutch word 'als') the statue hears the church bells ring on the hour, Erasmus will move to turn a page of his bronze book. This present photo of a handsome statue in Bandung is from an entirely different era. It is of Father Henricus Christianus Verbraak, S.J. (1835-1918). Verbraak was an army chaplain to the KNIL (The Dutch East Indies Army), notably during the cruelly gruesome wars the Dutch inflicted upon the independent, sovereign state, the Sultanate of Aceh on north Sumatra between 1873 and 1903. By means of this war, they sought free trade in pepper, access to oil, freedom from piracy in the Straits of Malacca, and colonial power over Sumatra. Many tens of thousands of the Aceh population were slaughtered or died of famine. But sometimes a violent, conquering army has people associated with it who try to be humane. Such a one was Father Verbraak. In fact, his humanity and Christian goodness is recognised even today by Indonesia. Of the statues of Dutch colonial luminaries in Bandung, this is the only one which survives, and it has a beautiful place in the lush gardens of the Taman Maluku, along which appropriately runs the Jalan Aceh. In 1893 - in the middle of these intemperate wars - A. Prell writes of Verbraak (translated from the Dutch): 'I don't think that any soldier - whether Christian, Jew, Mohammedan or pagan - departed Aceh without regarding Father Verbraak with deep admiration.' Just how broad his views on religions were is demonstrated by this - I think, moving - anecdote. Asked by someone: 'Father, will your prayer also help someone of another faith', he is said to have replied: My son, for God we are all equal and he will not reject you. You were a valiant soldier and are now dying for your country' (curiously mixing spirituality and the politics of nationalistic war). Whatever the case, Verbraak was - in some circles - notorious for rejecting proselitising. His services to the KNIL rendered him a number of decorations (see those on the left of his chest). This statue was made by the Dutch sculptress Gerharda Johanna Wilhelmina (=Gra) Rueb (1885-1972), who though not Catholic was greatly impressed by Father Verbraak's reputation. She made the model free of charge and it was cast by the Fonderie nationale of Belgium at Brussels. Shipped to Indonesia, again free of charge, by the Dutch steamer HMS 'Nederland', it was placed soon after the consecration of Bandung's St Peter's Cathedral - not far away on Jalan Merdeka today - in 1922. Here in Bandung this statue is also said to move. When the Angelus is tolled from the Cathedral, Father Verbraak bows slightly and prays. Looking at his face closely I thought the eys rather remarkable. I now gather from a source that towards the end of his life Verbraak suffered from a debilitating eye disease. The garden itself of the Taman Maluku is a delight, but the brook that flows through it is probably polluted; along it, though, there's a profusion of the purest of white Hippobroma longiflora - like Verbraak not native to these lands but comfortable here! The key for the Taman gate may be requested from the highly obliging Bandung Park Services nearby.
Strong Oleander, Bandung, Java, Indonesia
Made by
Rana Pipiens
Nerium oleander! What a friend always... It naturalises quickly and soon becomes native to even the most inhospitable areas as long as there's enough moisture and warmth and light, of course. I've seen it all over the world from Europe to the Americas, from Iran to Japan, from Sri Lanka to Southeast Asia; in pots on balconies in colder climes, in sere river beddings, on the edge of deserts, and in oases, in lush tropical gardens... This morning driving the long and crowded and polluted and smoggy Asphalt Route from Bandung to the Jakarta airport, my thoughts went back to this particular Oleander shrub. It's in a very congested area in Bandung in the middle of busses and motorcycles belching forth thick clouds of exhaust, backed-up cars emitting invisible pollution; the noise is deafening. Poor walkers nearly die of lung collapse (I know...). Yet, on the southeast corner of Jalan Pajajaran and Pasir Kaliki this pretty Oleander merrily blossoms and is pink with delight at the sun which is able to force its rays through the Dark Clouds of Pollution. I shot the photo, and was helped across the busy crossing by a couple of curious urchins - what could 'Mistttrrrr' be doing!? - who then serenaded me with their guitars. Of course they were tipped!
Frog's Flower, Hippobroma longiflora, Taman Maluku, Bandung, Java, Indonesia
Made by
Rana Pipiens
Considering the previous picture posted in this photostream of Father Verbraak and his history of Christian philanthropy as a chaplain in the KNIL during the Aceh Wars, another name for this flower might be appropriate: Star of Bethlehem. I found it along a dirty little stream in the gardens of the Taman Maluku hosting Verbraak's statue (a stream much too polluted for Frogs of my family...). Carolus Linnaeus in 1753 classified our Hippobroma as a lobelia. The Scottish botanist George Don - a member of a truly 'botanist' family - apparently coined the name 'Hippobroma longiflora' (1834). Among its many names in English are 'Horse Poison' or 'Horse Madness' (I would think the Greek '-broma'/'-bromos' is used a bit elliptically here.) and also Frog's Flower. Whatever the case, modern botanists are quite careful by writing only that 'it is 'said to kill horses or grazing cattle'. Our Hippodroma is a marvellously pretty and intricate flower. But like Verbraak, it is not native to Java. It comes originally from the West Indies, probably from Jamaica. In the course of the centuries it has become 'naturalised' in many tropical areas all over the world.
Tiled Roofs of Bandung - HDR
Made by
Dale Allman
Been a while since I have posted any photo's. Have spent 10 days in Bandung with some friends over there, they should most of the places around Bandung, but still a lot more to see and do over there. Will return one day to see more. This photo was taken on Pasupati Bridge looking over a river towards Bandung City. Had my friend stop the car on the bridge, which isn't allowed and quickly take some photo's. Enjoy - Canon 5D Mark2. - ISO 200, f11, 17mm. - Canon 17-40 f/4 L. Standard 3 exposure (+2,0,-2 EV) handheld
Processing
Photomatix - Tonemapped generated HDR using detail enhancer option Photoshop - Adjustment of curves to increase the overall contrast (Linear) - Adjustment of hue/saturation - Used Smart Sharpen on Background Layer - Reduced noise with Noiseware Pro - Sig/Borders Added Thanks for all the comments, faves, views, notes and invites!
Great Mosque of Bandung
Made by
Ferry Zuljanna
Masjid Agung Bandung, Great Mosque of Bandung in Indonesian language, had been shape renovated at least seven times. As a common for every center of traditional city in Indonesia, it is originally built in 1812 at a bamboo house with sago palm leaves roof (atap rumbia). After big burning in 1825, this mosqoe was rebuilt using wood and stone wall as the main construction. Similar to the other traditional mosques, this building roof originally conical shaped ('bale nyungcung'). In 1955, President Soekarno create a giant false dome using metal material which only last 17 years. In 1970, the roof back again to simple cone. The shape shown in photograph is a result of big renovation in 2002-2004. The two minaret (tower) 90 metres high is used also for tourists sightseeing. (Articles translated from bandungheritage.org)
Stranger #1
Made by
omar.maulana
This photo is my #1 entry for the 100 Strangers Project. Find out more abut the project and other photographer at
www.100strangers.com
This is my first attempt to approach a stranger, I choose the zoo because there are a lot of people that might be interesting to photograph, especially now, because of the holiday season, there should be plenty of people there. She is Ibu Itih, I met her at the entrance of Bandung Zoo. She is a peddler, selling peanut and rempeyek, for those of you that don't now what rempeyek is, it is a cracker made of peanut. Each pack of peanut cost 2000 rupiah (about 25 cents). She is old, maybe she's as old as my grandmother, but she still work to put some rice on the table.
I love Thee!
Made by
anfanglove
Kyon-Mikuru Pre-wedding shot. Haha...others especially the Haruhiists might hate this idea but I love Mikuru, yes I do love Haruhi as well, but seeing kyon together with Mikuru somehow pleases me. I think they would make a great couple. well, ok to be honest, kyon is with mikuru here becaus I havent got Haruhi >.< .... sad....so meanwhile, Kyon, enjoy your precious time with miss Asahina, when Haruhi comes, i dont know what will happen. Ok, just in case anyone wondering why this is submitted to the Strobist group, heres the strobist info(sorry forgot to mention the strobist info): 2 off camera flashes (yongnuo) placed camera left and right right behind the figures power set at 2 each. Triggered by a tronic I forgot the type, :p.
yellow oleander
Made by
wiwin.wr
Approx 5-6 cm diameter 9-10 cm length. Local name : bunga ginje. ---------- Thevetia peruviana is a plant native to central and southern Mexico and Central America. It is a close relative of Nerium oleander, giving it one common name as Yellow Oleander, and is also called lucky nut in the West Indies. Thevetia peruviana is an evergreen tropical shrub or small tree. Its leaves are willow-like, linear-lanceolate, and glossy green in colour. They are covered in waxy coating to reduce water loss (typical of oleanders). Its stem is green turning silver/gray as it ages. Source :
Wikipedia
Bararade yeuh....Kue Putu bambu!!!
Made by
MangAndri ...on/off
....Di masa kecil, saya selalu takjub bila melihat penjual kue putu mengerjakan pesanan Ibu. Saya memperhatikan dengan mata membola. Masuk tepung, keluar kue. Dalam waktu singkat pula. Saya juga terpesona dengan bunyi seperti peluit yang keluar bila bumbung bambu berisi kue diangkat, dan uap air panas yang menyembur dari lubang sempit itu membuat bunyi melengking. Ketrampilan penjual mengeluarkan kue putu dari tabung bambu pun terlihat memukau....
kulinerkita.multiply.com/photos/album/661/Ragam_Kue_Putu
Lihat Map untuk melihat pembuatan photo putu bambu ini
Silat
Made by
T e e J e
The distinctive forms of silat with other Asian martial arts, such as Kung fu, Taekwon-do or Karate, lie on the cultural aspect. Silat is not only for combative purposes. When accompanied with traditional instruments, such as kendang, silat transforms into a folk dance. In Minangkabau area (the West Sumatra province of Indonesia), silat was the oldest men's tradition known as silek and it is one of the components to perform the Minangkabau folk dance of randai. A silat form in West Java province of Indonesia, known as pencak, is usually accompanied with music, notably by the traditional Sundanese suling instrument.
Police in the Flood
Made by
Ferry Zuljanna
Indonesian police is one of the problem of Indonesia. Well known as one of the most serious corrupted country, Indonesia may have a very weak police institution. But in a case of flood like this, serving people is number one. A police officer in these pictures proof that. --- That day, April 20th, 2006, in the morning after delivered my son to his school, I took pictures by Olympus FE-100 compact camera. It was not rainy any more but the water flew as if there was a river right on the street. May government of Bandung take an immediate action for this situation.
nine blades propeller - neomarica gracilis
Made by
wiwin.wr
and looks like floating in the air ..... it's a yellow neomarica gracilis flower, nickname: walking iris. ---------- Neomarica ( Walking Iris or Apostle Plant ) is a genus of 16 species of plants in family Iridaceae, native to tropical regions of western Africa, and Central and South America, with the highest diversity (12 species) in Brazil. The genus name is derived from the Greek words neo, meaning new, and Marica, the Roman nymph. ---------- Source:
Wikipedia
House of Bosscha
Made by
Ni'ma
House of Karel Albert Rudolf Bosscha at Malabar tea plantation who died in 1928. Bosscha contributed to development of observatory in Lembang, Bandung, thus his name dedicated to the name of the observatory . Now, the observatory managed by Bandung Institute of technology (ITB). They have a program called Astrocamp that give an opportunity to people who want to observing moon, stars and others or just looking at telescopes collection. More detail about
Bosscha
The Crater of Mt. Tangkuban Perahu
Made by
Ni'ma
If you are in Bandung, West Java, take a look at the north side and you can find unusual shape of mountain. Yes, it is Mt. Tangkuban Perahu. Literally, Tangkuban means flipped and Perahu means boat, accordingly, the shape of the mountain looks like a flipped boat. It's still an active volcanic mountain. Its elevation is 2084 m asl. Just a kind of blink, our decision to go to the Mt. Tangkuban perahu last weekend after attending wedding party of
Bandung - Christmas Eve '10
Made by
khai_nomore
The traffic in the City of Bandung approaching Christmas. A virtual standstill - captured on my way back to the Hotel from an outing in the City. Intense security was in order to counter any unruly situation, the chaotic traffic is also due to city dwellers exodus to this old city for recreational and shopping trip. Most of them from Jakarta.
Voigtlander Bessa R3M, Voigtlander Nokton Classic 40mm F1.4 MC, Kodak Portra 160VC
orange bicycle
Made by
wiwin.wr
very much attracted to this bicycle.... at the Car Free Day event.... some peoples say that orange color mean the fastest. ---------- Maybe you have question why there were so much motorcycle at that kind of event ? At this moment, only car being prohibited to enter the area since it's CAR free day. Maybe next time they should announce this COMBUSTION ENGINE FREE DAY so only FOOD POWERED VEHICLES should enter here... ;-))
Artistic Redefined
Made by
Ikhlasul Amal
Someone ever told me that the fast growing of celluler business, especially SIM card and voucher, brings various over-exposed advertising, makes tiled poster covering wall, nothing left but new, redefined, artistic. SURGEON GENERAL'S WARNING: Smoking Causes Lung Cancer, Heart Disease, Emphysema, And May Complicate Pregnancy. Merokok dapat menyebabkan kanker, serangan jantung, impotensi dan gangguan kehamilan dan janin.
Dutch cemetery, Pasteur, Bandung
Made by
tlchua99
Opgericht Ter Gedachtenis - Ereveld Pandu
For people like me from Malaysia, we don't get to see a Christian cemetery that is so neat and lovely. For westerners, this scene may be very common. Not many people, even those staying in Bandung, knows about this cemetery. The Dutch were ruling Indonesia for many decades. It is one reason that Indonesia is a favourite tourist location for people from Holland.
The tallest monument in Bandung.
Made by
tlchua99
Standing 45 meters high, this monument was erected to commorate the struggles by the Indonesians in gaining their independence. It was built as a tribute to the people of Bandung who deliberately burned their houses to deprive the Dutch and British the right to occupy Bandung on 25 March 1946, turning almost half the city into a
Sea of Fire
. Lens: Sigma 8-16mm
Pencak Silat
Made by
T e e J e
A Silat form in West Java province of Indonesia, known as pencak, is usually accompanied with music, notably by the traditional Sundanese suling instrument. In modern usage, pencak and silat are seen as being two aspects of the same practice. Pencak is the performance aspects of the martial art, while silat is the essence of the fighting and self-defense.
Videos:

BANDUNG
KOTA KEMBANG BANDUNG TAHUN 1912...BANDUNG INDONESIA


Bandung - Parisj Van Java
Demo Reel for my producing directing class."Urang Bangga Jadi Budak Bandung euy...."...Bandung Parisj Van Java


Seattle to Bandung
Google Earth video of trip from Seattle, Washington to Bandung, Indonesia. View more info on LifeInContrast.com...Seattle Bandung TEFL


Savoy Homan Bandung
Savoy Homan Bandung The Savoy Homann Bidakara Hotel has been a part of Bandung tradition for over 100 years. Its facilities and services have been proven to generations of


Bandung tarian
traditional Sundanese dance in Gedung sate in Bandung...Bandung tarian


Bandung Tempo Dulu
Video Dokumenter Bandung Tempo Dulu...bandung tempo dulu video


Renang di Hotel Ardjuna, Bandung
Renang di Hotel Ardjuna, Bandung...Keluarga Heri Yanto


View of Bandung from the Top of Masjid Raya Bandung Tower
Jakarta-Bogor-Bandung tour....Emma Marissa Menara Masjid Raya Bandung Mosque Tower UTM Academic Tour Jakarta Bogor Lingkudau Ranau Dusun


Volcano in Bandung Indonesia
Taken at the Volcano in Bandung, Indonesia...Volcano


Green House in Bandung
my home and factory for babacool products...Bandung


Renang di Hotel Ardjuna, Jl. Ciumbuleuit, Bandung
enang di Hotel Ardjuna, Jl. Ciumbuleuit, Bandung...Keluarga Heri Yanto


bandung
trip to bandung...bandung


Kali Citarum, onderweg naar Cimahi en Bandung
April 2007...Indonesia Indonesie Java Kampong Bandoeng kampung


bandung kawah putih
kawah putih...kayatsu bandung kawah putih andi wawan harkim


mudik ke bandung
123456...cirebon germany bandung jakarta grage plered megu


VIP rit naar bandung
VIP bus rit naar bandung...blog indonesie


bandung anying!!
short trip...jalan


From Jakarta to Bandung
The next snippet from Indonesia, the trip from Jakarta to Bandung by train....Asia Indonesia Jakarta Bandung


Nearest places of interest:
Popular places: