Find hotels near Alcatraz Island
Videos: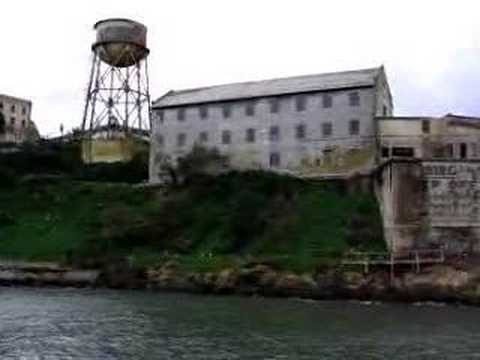 More videos
Alcatraz Island
Interesting places in Alcatraz Island:
Alcatraz Island (aka The Rock) is a small island located in the middle of San Francisco Bay in California, United States that served as a lighthouse, then a military fortification, and then a federal prison for the area until 1963, when it became a national recreation area.
Location is derived from the great work of
WikiMapia
Top photos chosen by u all:
Contrasted Confinement
Made by
Surrealize
This shot was taken this summer during my trip to San Francisco at one of the word's most famous former prisons,
Alcatraz
. The whole island is now a state park and really large tourist attraction. It was the 75th anniversary this past year and they even had a former inmate return on the day we were there to tell some crazy tales. There was this one about dropping the soap in the shower and... Alright, bad joke :) Sadly, you are not allowed to bring in your tripod, so I had to wait for what seemed like an eternity for folks to get out of the way and then hand-hold the 9 exposures used to bring out the tonal range and detail in the shadows / highlights. Then, I added a bit of noise to give it a gritty feel that prison truly conveys and bumped up the light at the end of the hallway in order to increase the contrast and better balance the piece. I had a really hard time selecting an image to post for my Flickrversary but decided to do something a little different than my usual vibrant pieces. In fact, I've got several really artistic black and whites that I've been waiting to release for awhile now so I may just start a series. It's hard to believe, but just one year ago today I joined this wonderful community and have enjoyed getting to know so many talented fellow photographers from all around the world. Thank you all so much for the comments and support of my work. I'm continually humbled and inspired by the amazing photography you all share here! To all my existing contacts, I'm really trying hard to dive into your streams and see all the great work I missed while I was away. I've gotten to many of you and if I haven't, I should be comin' 'round the mountain soon :) For all the folks who've sent contact requests but haven't heard from me yet, please know that I'm trying but have a healthy backlog and really enjoy going through each one, which takes some time. Please be patient if I don't get back to you right away but know that if you routinely follow my stream and post some sincere comments along the way, we'll get acquainted soon enough. Hope everyone is off to a wonderful new year!
Escape From Alcatraz
Made by
flipkeat
Explore #486 Oct 11 Here's another look at Alcatraz..the famous United States Prison which is now a popular San Francisco tourist attraction. It is also known as The Rock. Photo taken recently in San Francisco Bay, California, USA. According to Frommer's Alcatraz is the 2nd best tourist attraction after the Golden Gate Bridge! Alcatraz and history go hand in hand. Once home to some of America's most notorious criminals, the federal penitentiary that operated here from 1934 to 1963 brought a dark mystique to the Rock. The presence of infamous inmates like Al Scarface Capone, and the Birdman Robert Stroud helped to establish the island's notoriety. To this day, Alcatraz is best known as one of the world's most legendary prisons. Many people, though, are unaware of the wealth of other stories to be learned on the island. Alcatraz is now home to rare flowers and plants, marine wildlife, and thousands of roosting and nesting sea birds. Civil War-era buildings dotting the island give insight into the 19th century when the island served as both a harbor defense fort and a military prison. You can also see visible reminders of the American Indian Occupation that started in 1969 after the prison closed, highlighting an important milestone in the American Indian rights movement. LARGE
Inside Alcatraz Cell Block - Textured
Made by
dgmiami
Enjoy the original version (1300 x 954)... login and click all sizes above the picture I have wifi on my flight from Seattle to Dallas, so I figured I would take some time to finally attempt to use the textures tutorial i got from Trey Ratcliff (stuckincustoms here on Flickr). I played the video tutorial and followed Trey step-by-step. What is really cool is that you get to learn what he is thinking throughout the time he is processing the pictures in the tutorial. He gets right to the point as to what to do and the results are pretty spectacular. In this composition, I ended up using 5 textures! As you will see when comparing my original (in my photostream), the texture really adds something special to this shot. To me, it feels like it is a picture taken many years ago, perhaps when inmates still inhabited the cells of Alcatraz. Thanks for a great product Trey, it made my day (and my flight)! Trey's web site for the tutorial is at
www.stuckincustoms.com/textures-tutorial/
A Winning Night
Made by
mrperry
So I really wanted this angle for a different take on Coit Tower and the skyline. But I didn't quite know how to go about it. Shoot from Tiburon? nah...too far to reach with my 70-300. Angel Island? yea..if i want to camp there, so forget that. Then I thought OH how bout Alcatraz. But the night tours were sold out for the week. A few days go by, still no ideas come to mind. Then outta the blue, one ticket becomes available on Friday for the Monday cruise. Nice. And the night of the Giant's world series win! My grandfather, who was an avid Giants fan born and raised in SF is no doubt looking down happy to see his team finally win! And that wraps up my day in the Bay :) This is a 4 image pano stitched together with Hugin, then adjusted Levels, Saturation and Unsharp mask in PS 6.
BIGGER!
Alcatraz Island, San Francisco Bay, CA
san francisco . alcatraz island
Made by
southbites
Alcatraz Island (sometimes informally referred to as simply Alcatraz or by its pop-culture name, The Rock) is a small island located in the middle of San Francisco Bay in California, United States. It served as a lighthouse, then a military fortification, then a military prison followed by a federal prison until 1963, when it became a national recreation area. Today, the island is a historic site supervised by the National Park Service as part of the Golden Gate National Recreation Area and is open to tours. Visitors can reach the island by ferry ride from Pier 33, near Fisherman's Wharf in San Francisco. It was listed as a National Historic Landmark in 1986. More info:
en.wikipedia.org/wiki/Alcatraz_Island
Walking Down Broadway
Made by
JeremyHall
Taken in Alcatraz Prison. the stories told on the audio tour were fascinating. This place reeks of history. I took many photos on our recent tour of this landmark, but this was the most poignant to me. The length of the lines speaks to the seeming endless days and complete loss of a sense of time the inmates here must have felt. Each cell block corridor had a name, and this one in fact was called Broadway. It ran down the middle of the prison and met up with Times Square at the end of it. I am traveling, so apologies for not keeping up on my contact stream well the last couple of days. The mobile connection works well to upload but not browsing. I'll catch up tomorrow!
Alcatraz
Made by
Jim Boud
Check out my
VIDEO TUTORIALS
of the workflows I use to create my HDR images. For limited edition fine-art prints please email me at
prints@jimboud.com
Your comments and feedback are greatly appreciated! Please do not post large images/banners or invitations to award groups. ****************************************************************** A 3-exposure HDR of Alcatraz from Fisherman's Wharf. Canon EOS 60D Canon 70-200mm f/4L lens 200mm f/6.3 ISO 250 Multiple Exposures
Vintage Alcatraz
Made by
Tony DeSantis Photography
Alcatraz...What a tour! If you ever get to San Francisco this is a tour worth visiting. Book it early like days maybe even weeks before because if you do it on the day you arrive there is a good chance it will be sold out. For more information about this photo in camera and post processing technique:
PLEASE VISIT MY PHOTO BLOG
Tony DeSantis Photography on Flickeflu
The Werewolf of San Francisco
Made by
Sonora Guy
Okay, one more post from the Great Alcatraz FlickrWalk. Warning -- the description below is NOT for children. In 1941, William Johnston, the werewolf of San Francisco was executed for his slashings of women with a straight razor, their bodies bloodied, ripped and mangled as if by the claws of a werewolf. According to the national archives, a William Johnston was also an inmate on Alcatraz Island. Oh, and before I forget -- Beware the moon! Especially one that big. :-)
The Rock
Made by
Geoffrey Gilson
Alcatraz Island is an island located in the San Francisco Bay, 1.5 miles (2.4 km) offshore from San Francisco, California, United States.Often referred to as The Rock, the small island was developed with facilities for a lighthouse, a military fortification, a military prison, and a Federal Bureau of Prisons federal prison until 1963.
en.wikipedia.org/wiki/Alcatraz_Island
Please behave, or I'll send you to Alcatraz!
Made by
Nizam_Jusoh
"The Rock" - Alcatraz Island near San Francisco Summaries from WIKI: The United States Census Bureau defines the island as Block 1067, Block Group 1, Census Tract 179.02 of San Francisco County, California. There was no population on the island as of the 2000 census. It is home to the now-abandoned prison. Few famous inmates from this prison are Machine Gun Kelly, Al Capone, Henry Young and Robert Stroud aka Birdman of Alcatraz...
The Rock - Alcatraz Island
Made by
Konabish
View Large
So near, yet so far. View from port side .50-cal. waist gunner position aboard the WWII-era classic Witchcraft, a B-24J Liberator bomber -- the only flying B-24J remaining from the thousands produced during the war. Saturday, June 12, 2010.
www.cfdn.org
View from the Rock
Made by
petervanallen
Day 3, Sunday 5th July 2009 - San Francisco from the Isle of Alcatraz: There is a great view of the city from Alcatraz, I nabbed this one from the viewing area during the audio tour of the prison. From a selection of photos of our trip around the world, posted chronologically (camera clocks were not altered so there maybe a discrepancy between exposure data and stated dates).
Alcatraz watchtower silhouette
Made by
petervanallen
Day 3, Sunday 5th July 2009 - Alcatraz, San Francisco: Today we took an early evening boat trip to the isle of Alcatraz, this is a silhouette picture of the ladder on one of the watchtowers. From a selection of photos of our trip around the world, posted chronologically (camera clocks were not altered so there maybe a discrepancy between exposure data and stated dates).
Waiting In Pairs
Made by
inneri
This one really should be viewed large because of the layout. There is an eerie room in Alcatraz where there are shoes and clothing that they have placed where they would have been, waiting for the prisoners to wear them. They have now been there a long time, and there is this row of shoes that are just waiting, while the walls, and building become dust around it.
Not A Loose Cannon
Made by
Dominique Eclectique
This Cannon is not Loose ( LOL ) but still at the ready in Alcatraz Penitentiary in San Francisco Bay ~ Surprisingly Alcatraz used to be a fort for the army and used to have up to 111 cannons ( in the early 1860's ) . Thanks to Les Brumes for the texture.
www.nps.gov/archive/alcatraz/mil1.html
view of the city
Made by
fuzzy jr
i was cleaning out some files from the old alcatraz folder and came across this ... guess this time i'm really scraping the bottom of the barrel ... i don't think this is on any official tour of the rock, but if you look close, Char's owl is still there in the window, and it sure has a fine view of the city... is the throwdown still going on?
ALCATRAZ / prisoner #az85
Made by
4PIZON
That's me in the cell. Didn't really get the feel. I guess if some one had shut the door things would have been a little different! Gotta say though, I liked it. Some thing very unusual about Alcatraz that fascinates me. I like it! #AZ85 was Al Capone's #. Exposure: 10 sec (10) Aperture: f/6.3 Focal Length: 15 mm ISO Speed: 100
the doctor will see you now...
Made by
petervanallen
Day 3, Sunday 5th July 2009 - Alcatraz, San Francisco: Alcatraz Prison, a really spooky place and a fantastic attraction - well worth a visit. From a selection of photos of our trip around the world, posted chronologically (camera clocks were not altered so there maybe a discrepancy between exposure data and stated dates).
Room with a view
Made by
ARebbs
Those were the last O'Week shots from me, back to actual work. Check stream as he'll be shooting for a few more days. One of my favoruite shots from my trip. Shot in Alcatraz at the most coveted cell location on the entire prison. Lighting was incredible, this is completely straight out of my camera in B&W D300 mode.
Videos:

Alcatraz Island True Stories
years on Alcatraz from 1938 to 1962 Clif Fish talks about the great escape. This is the True Story of What Happened...san francisco ca alcatraz guards


Tour of Alcatraz Island
See title...SanFrancisco SF Alcatraz tour boat


Alcatraz Island
Video grabado en Febrero del 2007 en el City Tour. Alcatraz Island offers a close-up look at the site of the first lighthouse and US fort on


Alcatraz Island
Alcatraz Island...Alcatraz Island


alcatraz island
alcatraz island...alcatraz island san francisco jail places scenic panasonic gs500 kishan


AmyJ808's Stiffneck Presents: Alcatraz Island "The Rock"
Alcatraz is located off in the san fran bay. As a child watching specials on The Rock, I thought it possible to escape. After visiting the prision


Alcatraz Island - the dock
Approaching the dock side of Alcatraz Island by ferry....Alcatraz prison fortress


Alcatraz Island
Alcatraz Island...Alcatraz Island


alcatraz island
sea gull...sea gull alcatraz


AERIAL Alcatraz Island
AERIAL shot of Alcatraz Island and it's lighthouse MT888078_089_H264 We wrote the book on stock footage! More available at www.Beyondpix.tv...Alcatraz San Francisco


My California Trip - Alcatraz Island
Hanging outside on Alcatraz Island...California Alcatraz


Ship trip to Alcatraz island
Tourism in Sanfran...Alcatraz island


san francisco from alcatraz island
view of san francisco from alcatraz island...sanfrancisco alcatraz


Plane Stunts between Golden Gate and Alcatraz
The remaining half of a flying biplane stunt show performed by Sean Tucker between Alcatraz Island and the Golden Gate Bridge seen from the Marina in San Francisco. -


Alcatraz Island Ferry - Golden Gate Bridge View
Ferry to Alcatraz Island - San Francisco Background - Golden Gate Bridge View...San Francisco Alcatraz Ferry


San Francisco 2002 Alcatraz Island
Inside tour of Alcatraz Island...Alcatraz Island San Francisco 2002


Alcatraz Underground Dungeon
scenes tour of Alcatraz Island where he goes underground to the once dungeon where prisoners marks are still carved into walls....dungeon alcatraz island san francisco california


San Francisco Skyline (Nightime)
Skyline video of San Francisco taken from Alcatraz Island 1998...San Francsisco 1998 Skyline Alcatraz Island Nightime Travel California


Henry & Juliet: SFO '92
date to san francisco california. highligthing fisherman's wharf, golden gate bridge & alcatraz island....san francisco fisherman's wharf golden gate bridge alcatraz island


Nearest places of interest:
Popular places: