Find hotels near Al Ain
Videos: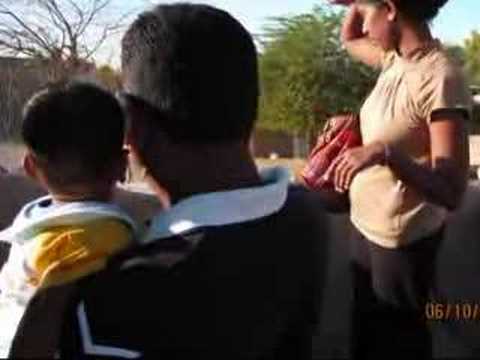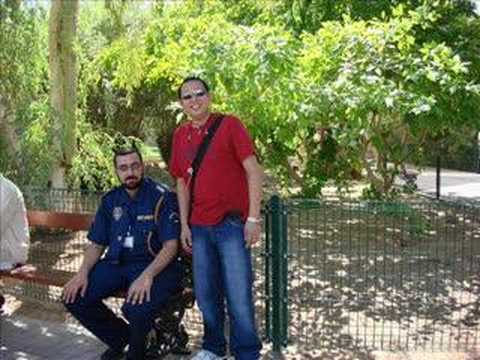 More videos
Al Ain
: العين (also transcribed as Al 'Ain), "the spring") is the fourth largest city in the United Arab Emirates with a population of 421,948 (2005 estimate). It is located in the emirate of Abu Dhabi, directly adjacent to the border with Oman. The freeways connecting Al Ain, Abu Dhabi and Dubai form a geographic triangle in the center of the country, each city roughly 150 kilometers from the (...)
Al Ain has several site that would be of interest to tourists:
Jebel Hafeet. The second tallest mountain in the United Arab Emirates (1350 m), Jebel Hafeet is surrounded by flat plains on three sides, which afford spectacular views, especially at sunset. The road to the top winds around hairpin turns for 12 km. There are three rest points for viewing, and then at the very top is a large parking area with a cafeteria and 360 degree view of the entire area. Take care on the road, some drivers enjoy the excitement of the twists and turns too much. There is a hotel (Mecure Hafeet) at the top, as well as Green Mubazara Park and Ain Al Fada resorts at the bottom. Free.
Camel Souq, Near Meyzad border crossing. Daylight. Recenctly relocated to the Meyzad area, about 5 km south of Al Ain, near the Oman border, the camel souq is open every day. Hundreds of camels are brought together to buy and sell. Dress conservatively. The traders are very friendly, especially to children. The non-Gulf Arab traders may ask for money ("baksheesh") for letting children sit on a camel. Many traders will pick up children unbidden so that they can be photographed. Free.
Al Ain Museuem and Fort. Free. Located on Al Ain Street (or "Main Street" as the locals call it), this fort was built to protect the oasis from raiders. It was used as the headquarters for Sheikh Zayed when he was the ruler of the Eastern Region of Abu Dhabi, prior to his ascending to Sheikh of Abu Dhabi itself. The museum recreates the way people of the region lived before the founding ofthe UAE.
Al Ain Oasis. The biggest of several oasises in region, the oasis is made up of thousands of date palms. The oasis is located between the main souq area downtown and Al Ain street. Narrow roads run through the oasis, so you can drive through it, or you can walk. A small restaurant/coffee shop is located in the middle. Walking in the oasis is especially nice when the sun is not directly overhead, as the palm trees offer cooling shade. Free.
Videos:

Riding out of Al Ain
Leaving Al Ain, UAE on my bike with the camera in my jacket again. Contains a couple of near misses for the thrill junkies. :P I


Al Ain Trip...
Al Ain Trip......Al Ain Ranga


Mt. Jebel Hafeet & Al Ain Zoo Adventure
) is a mountain primarily in the United Arab Emirates on the outskirts of Al Ain. The mountain actually straddles part of the border with Oman. The mountain


Afternoon Arabic Prayers in AL AIN UAE
sunset with a drink and cigar.Update!! Sources tell me this is just a call to prayer....UAE AL AIN ARABIC PRAYERS


AL-AIN by Waheed Javed
Al-Ain City picturized in night from Jabal Hafeet to Carrefour with Nemer Zeinedden Tiger (Gago Tarang Tago). This video was picturized by Mobile but the


AME Info archive: Al Ain, the oasis city
AME Info - http://www.ameinfo.com...al ain oasis uae abu dhabi united arab emirates dubai desert bedouin camel camels arabian


RICHS PYRO TEAM 2007 TRAVELS AL AIN AIRSHOW
Richs Pyro Team 2007 travels at Al AIN, UAE airshow, hotel and hanger...RICHS PYRO TRAVEL AL AIN AIRSHOW 2007 PYROFRICKY


Al-Ain
The Lost Love Al-Ain...Al-Ain


Al Ain aerobatic show
air show...aerobaticshow aircraft airshow airport mig29 airforce


tripto Al Ain
-car convoy trip to the city of garden, Al Ain (district of Abu Dhabi) on Eid Al Fitr, 12 October 2007/...Green


Al Ain Desert
Desert...Desert Al Ain UAE 4x4


Abu Dhabi
, Hilton Baynunah, Marina Mall, Al Hosn Fort), Al Ain, Jebel Hafeet, Camel Market, Rub Al Khali desert, Arabian Gulf and a


Jabal hafeet al Ain
we shot this in jabel hafeet...Jabal hafeet


al ain UAE excursion
along the rocks of al ain UAE...great


Camel Market in Al Ain
A Camel market in Al Ain taken in 2005 when we were on holiday....Dubai Al Ain Camel Market


Al Ain Abu Dhabi Travel selmckenzie Selzer-mckenzie
Al Ain Abu Dhabi Travel selmckenzie Selzer-mckenzie...Al Ain Abu Dhabi Travel selmckenzie Selzer-mckenzie


AL-AIN Al-Touba Roudabout and Khalifa Street
I am just in this place Abhishek aish aishwariya wedding marriage honey moon koi mazaq hay kiya bhai...Waheed Javed Shayan Jee وحيد جاويد


Trip to Al Ain, UAE (Kamal, Vineet, Pawan, Lalit)
Friends group of Kamal, Pawan, Lalit, Vineet from India....travel log


Jabel Hafet Al Ain
Al Ain. Experience the challenging hurly burly road going up at the top of Al ain's Man-made mountain....Jabel Hafet Ghimikeroz In Al Ain


Popular places: